As awareness of childhood trauma rises, new free therapy program launches for Philly students
Listen
5:12
The fire that destroyed her dad's third-floor apartment is the scariest thing that's ever happened to 8-year-old Dakota Johnson. It was five-thirty in the morning. Someone on the first floor of the building had fallen asleep smoking. Dakota and her dad, Kenneth Johnson, woke up to the sound of the fire alarm. First it seemed like it might be just a small blaze, but when Johnson opened the door to the apartment, smoke and soot rushed in. Dakota was too scared to crawl out into the hallway, so the two ended up fleeing through a window.
Physically, they were mostly all right, but Dakota's dad had inhaled some smoke. He'd also lost all of his belongings in the flames. The emotional toll of the experience was another story. Long after the fire was extinguished, Dakota's fear remained.
She'd always been sensitive, but in the days and weeks afterwards, she began to cry easily. She was afraid to go sleep. She was still a good student — her favorite subject is math, and she carries a backpack emblazoned "#GirlGenius" — but she started leaving class with stomach aches, and making frequent trips to the school counselor.
"I have nightmares about it sometimes," said Dakota, her voice small, her face buried in her mother's shoulder as she spoke. "I'm scared and I have" — she turns to mom Sheena Holbrook, whispers to her, "what's the word?" then turns back — "anxiety!"
Dakota lives in a neighborhood where trauma is common. The 22nd Police District in North Philadelphia has some of the city's highest rates of both gun violence and poverty. Like Dakota, children who experience that violence and fear may not be able to shake it so easily. Trauma can impact how they learn, triggering the "fight, flight, or freeze" instincts that can make it difficult for children to concentrate and absorb new information. Some studies suggest trauma may alter genetics, and be passed down generation to generation.
Now a new program is trying to break that cycle by offering trauma therapy to children living or attending school in parts of North Philadelphia. Run by the Joseph J. Peters Institute (JJPI), a Philadelphia leader in trauma research and treatment, the program is free to children aged 3 to 18, regardless of parents' insurance. Philadelphia already has a network of mental health providers offering trauma-informed therapy, but they are only open to Medicaid holders, and none had been based in the 22nd Police District.
That meant Dakota, whose mom has private insurance through her job, wasn't eligible. Holbrook works in the teenage girl unit of a mental health hospital, so she recognized the signs of trauma in her daughter. She called around looking for help, but found nothing affordable, and nothing in the neighborhood — until Dakota's school counselor gave her a flier for the new JJPI program. It operates out of a nearby church, close enough that Dakota doesn't have to leave school early for her weekly appointments.
Natalie Dallard, the project manager at JJPI, said it's important that the program is neighborhood-based. There are already many barriers to people seeking help, she says, and the neighborhood knew it needed a local resource.
"Residents realized something was affecting them and their children. There was a reason there was so much violence, so much hurt, so many people suffering from mental disorders," said Dallard. "There's a lot of people who are walking wounded, all living in this same neighborhood. They recognized, 'Hey, we need help with this.'"
Over the next two years about 120 children will receive therapy through the program, which is funded by a nearly $200,000 grant from the Pennsylvania Commission on Crime and Delinquency. It's a collaboration with Strawberry Mansion: A Sanctuary for Hope (SMASH), a local group that convened conversations about trauma over the past few years.
Dallard hopes the impact of the project will have ripple effects in the neighborhood's schools, where teachers may struggle to help traumatized children.
"If I'm in a classroom constantly worried about what if someone comes in and assaults me, I can't sit still," Dallard said. "That also spills over into acting out behaviors that interrupt the classroom. Teachers are spending less time on instruction because they're doing redirection with certain students. You end up with a chaotic situation."
Schools have also been helping to refer children to the program. Levi Lee, the main clinician for the program, keeps his clients' teachers and school counselors up to date on what they're learning, so schools can encourage students to use their coping skills too.
"The client is with the teacher for 8 hours of the day, that's a long time," he says. "What can they do to help them cope?"
Lee also holds workshops in schools to let parents know about the program. Dakota attends a nearby private school, where her mom found out about the treatment. About 40 other students have been referred to the program so far — coming from a mix of the roughly 30 private and public schools in 22nd Police District.
Natalie Dallard, project manager at Joseph J. Peters Institute, works to provide trauma therapy to children in North Philadelphia. (Emma Lee/WHYY)

Levi Lee, who grew up in North Philadelphia, is the main clinician for the childhood trauma program at Joseph J. Peters Institute. (Emma Lee/WHYY)
'Not that deep'
Lee is actually from North Philadelphia, so he knows the need for a program like this.
"The African-American community in general, we are raised to pull yourself up by the bootstraps and just keep it moving. But in some situations you need professional help to heal," he says. "Growing up in the inner cities of Philly, I've definitely seen my mom cry because she worked multiple jobs and couldn't pay the rent, dad in and out of my life, in jail. So dealing with those feelings as a young man in Philly, I understand."
With his clients, Lee uses an approach called "trauma-focused cognitive behavioral therapy." Unlike talk therapy, which can go on indefinitely, this is a limited period of treatment, roughly 16 to 22 weeks, depending on a patient's progress. The idea is to teach children lifelong skills they can use whenever trauma flares up.
When it does, most people respond one of three ways: they try to avoid it (the "flight" instinct); they respond with aggression (the "fight" instinct), or they "freeze," unable to act. In all three cases, trauma leads to cognitive distortions, what Lee calls "thinking traps."
"Some of their thoughts could be irrational," said Lee. The coping skills he teaches are all about helping clients recognize and respond to that. "Making them notice what is a fact and what is an opinion. When you're traumatized, you can get them mixed up."
Dakota, who started the program three months ago, knows how that feels. And because of her sessions with Lee, she knows how to counter those thoughts now.
"Sometimes when I'm scared at night I think there's about to be a fire, but there isn't," she said. When that happens, she uses her breathing exercises. "I have to blow my stomach up and then breathe out of my mouth slowly," she demonstrates. She lists off all the reasons why there's not going to be a fire right now. "There's nobody smoking, the stove is off, the lights are off." And she repeats a little mantra to herself.
"It's not that deep, it's not that deep, it's not that deep…" she whispers. "Because I'm safe, and I have breathing exercises."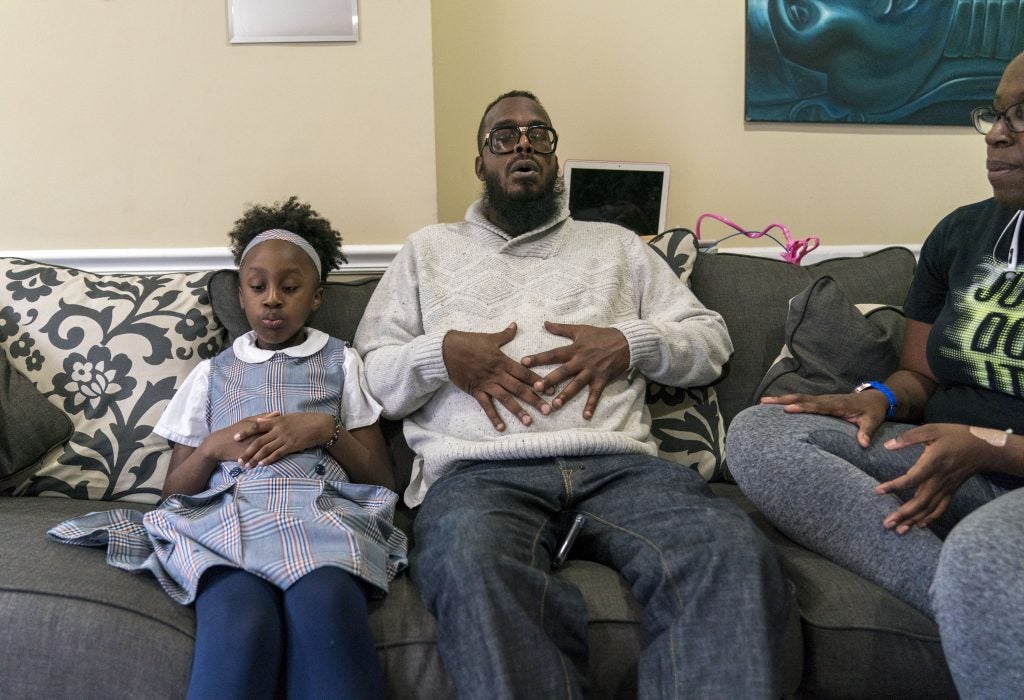 Although the program is aimed at children, it's also designed to educate the adults in their lives about the effects of trauma. Lee teaches his clients' parents how they can best support their children as they go through treatment. Dakota is lucky — both her parents work in mental health.
"If she comes downstairs and says her stomach hurts, I ask did you try breathing, did you try the coping skills," said Holbrook, her mom. "Most of the time she has, and she just needs the little extra push. Like if it's working, just keep it up."
Johnson, who experienced the fire with Dakota, went to some therapy of his own. Dallard hopes more parents with children in the program will seek help as a result.
"If I can get a child and parent to come in and the parent says, 'You know, the same thing happened to me and I realize I might have these issues too,' you can help entire families heal from intervening with one child," said Dallard.
Dakota is now in her final phase of treatment. It's been five months since the fire. She doesn't have the nightmares so much anymore, and she's having fewer stomach aches. But the thought of the fire still lingers. A few years from now, she hopes it'll be a distant memory.
"I'll still be a little scared maybe," she whispers, "but I probably won't be that scared."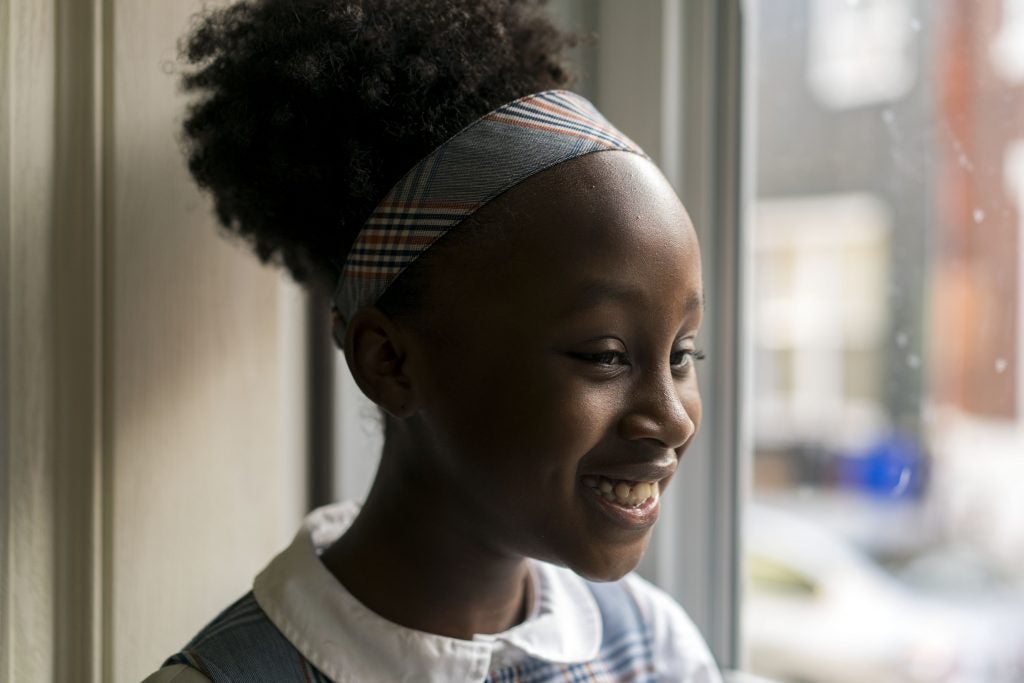 WHYY is your source for fact-based, in-depth journalism and information. As a nonprofit organization, we rely on financial support from readers like you. Please give today.