3 Democrats gunning to unseat N.J. Congressman Leonard Lance
A look at the three Democrats in the primary for New Jersey's 7th Congressional District seat.
Listen
4:56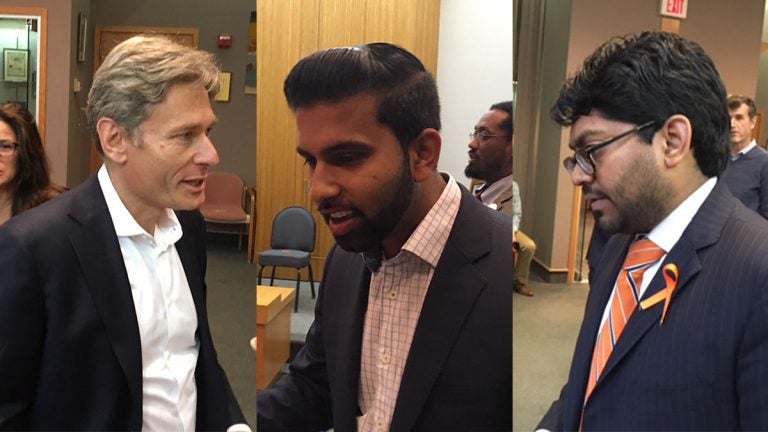 Primary election day in New Jersey is June 5, and Democrats in the 7th Congressional District in Central Jersey will choose from three candidates hoping to try and unseat five-term Republican U.S. Rep. Leonard Lance.
Lance's district is just one of 23 Republican-held congressional seats in the country that voted for Hillary Clinton, and he's considered a vulnerable target in the event of a Democratic surge this fall.
As an incumbent, Lance is favored over his two Republican primary opponents, Lindsay Brown of Clark and Raafat Barsoom of Annandale.
In this "Year of the Woman," the Democratic field in the 7th District is all male, but it has a different kind of diversity.
Two of the three candidates, Peter Jacob and Goutam Jois, are of Indian decent. The district has a significant South Asian population, but has yet to elect someone from that community to Congress.
The rematch
Jacob, a 32 year-old social worker, was the party's nominee two years ago. He's a progressive who has no taste for half measures. At a forum on gun control Tuesday, he said the Second Amendment was inserted in the Constitution as an act of racism.
"The Second Amendment is actually about slave patrols and killing indigenous populations," Jacob said, arguing Democrats should push not just for sensible gun controls, but the abolition of the Second Amendment.
And he has little patience for candidates who say they want to expand access to health care. He's for a nationwide, single-payer system of health care for all.
"The difference is, we're bold and brave and courageous and honest," Jacob said in an interview. "The future of the Democratic Party will not be determined by what you're going to settle for. The American people deserve the policies necessary to get them out of poverty."
Jacob lost to Lance two years ago by 11 percentage points. He has the smallest campaign fund of the three Democrats in this year's race, with about $27,000 on hand as of his latest campaign finance report.
The energizer
Also in the Democratic primary is Goutam Jois, a 36-year-old attorney who's worked in areas of civil rights, cybersecurity, and immigration.
He offers an activist, hands-on approach to politics. He paid an unannounced visit to Lance's office to urge him to join an effort to force a vote on a measure expanding background checks for gun purchases, and he posted video of the event on Facebook Live.
Jois, who ended up speaking with Lance's chief of staff, said the video has been viewed more than 6,500 times — without a boost from paid advertising.
Jois said he believes he's done more public events than any candidates, engaging with voters at train stations, telephone town halls and other public events.
He said in an interview that's the kind of congressman he'll be.
"If I'm elected, I'm going to answer my own phone 10 hours a week," Jois said. "We're going to have office hours in pizza parlors throughout the district, so you don't have to trek out to your congressman's office to come see me. My office will be open on weekends and evenings — it's about being accessible, and we're putting that into practice now, in the campaign."
Jois has the second largest war chest with $285,000 on hand — including $100,000 of his own money.
The diplomat
The third candidate in the contest, Tom Malinowski, 52, is a former assistant secretary of state in the Obama administration.
He's was named by the Democratic National Congressional Committee to its "Red to Blue" list, an embrace just short of endorsement, and he's backed by the county party organizations in the district. He also has the largest campaign fund, with more than $780,000 on hand.
He has nothing bad to say about his rivals, but argues he's better prepared to serve in Washington. He noted that he got involved in the nuts and bolts of congressional work as an advocate for the group Human Rights Watch.
"In 2005, I worked with Sen. John McCain to get the Detainee Treatment Act through the Congress. That was the bill that banned torture," Malinowski said in an interview. "I helped pass the Magnitsky Act, the sanctions on Russia that got our friend Mr. Putin so upset at us."
This is Malinowski's first run for elected office.
Lance and the GOP
The Lance campaign declined comment on his Democratic opponents.
Like many New Jersey Republicans, he's not in lockstep with his party's leadership.
He wouldn't vote for the GOP tax bill because of its limitations on federal deductions for local property taxes, and he voted against the GOP replacement for Obamacare.
The three Democrats who spoke Tuesday at a forum on gun control sponsored by the group Moms Demand Action were joined by one of Lance's Republican opponents, Lindsay Brown of Clark.
Her website describes her as a "certified millennial" who's "looking to change how political parties influence government."
She said at the forum she wants to bring back "the Republican Party of Teddy Roosevelt."
She said she believes in reasonable controls on deadly firearms, and — while she said she'd have to listen to many points of view on the subject — she has strong personal feelings about guns.
"Personally, I would like to round them up and melt them down and form a statue of a kneeling NFL player," she said.
WHYY is your source for fact-based, in-depth journalism and information. As a nonprofit organization, we rely on financial support from readers like you. Please give today.