Surrounded by Walruses: The Making of 'Haulout'
Listen
17:24
In 2018, brother and sister filmmaking duo Evgenia Arbugaeva and Maxim Arbugaev traveled to a beach in the Siberian Arctic — an area in Northeast Russia. When they arrived on this beach, the sand was almost black in color, and a horrifying smell of decay filled the air. The beach looked deserted, except for a man living in a small hut nearby.
His name is Maxim Chakilev. He's a marine biologist who waits for more than 100,000 walruses to pile their massive bodies on this beach in autumn. The walruses overcrowd the beach and sometimes die due to stampedes. This coming out-of-the-water phenomenon is called a haulout, and it's a result of climate change in the area.
After witnessing a haulout with Chakilev, Arbugaeva and her brother returned to the beach in 2020 to live with the biologist for three months and film his every move. For weeks at time, the hut was completely surrounded by the animals, making it impossible to leave.
They produced a documentary with The New Yorker on their findings last year called "Haulout" – and it's nominated for an Academy Award for best Documentary Short Film this year.
Filmmaker Evgenia Arbugaeva spoke to host Maiken Scott about the film.

Interview highlights
Why do walruses haulout on this beach?
"So, in an ideal world, walruses would not come out on land at all, or they would come out in very small numbers. They're migratory animals. And they would rest on floating ice during their migration and feeding. But because there is no ice in summer anymore, they're just forced to come out, haulout, on land to rest. And the reason why they come out on this particular beach is because their feeding ground, which is mollusks on the bottom of the ocean, is about 200 kilometers from this beach. So, what they do, they go feed, then they come back, and they rest on the beach, and then they go back and feed, and they do it about three times."
Inside the visual experience of a haulout
"I felt that I was in the film "Lord of the Rings," and there was the army of orcs. It was scary, and it was scary because they're not aggressive animals because especially when they're on the beach, they're in their unnatural environment. So, they're really vulnerable, and actually, they're so easily scared. So, any foreign smell or sound can scare them and kind of send this wave of panic in the whole haulout. So, we had to be really careful actually, not to scare them, not to use the stove, not to produce any smell, not to use a generator, which was quite challenging because we couldn't use batteries, or charge our batteries. But the sound was scary because you could hear the animals struggling, you could hear some voices, like very high-pitched voices of cubs that are looking for their mothers and being separated or being squashed by these bigger animals."
Maxim Chakilev's concerns about the walrus population and climate change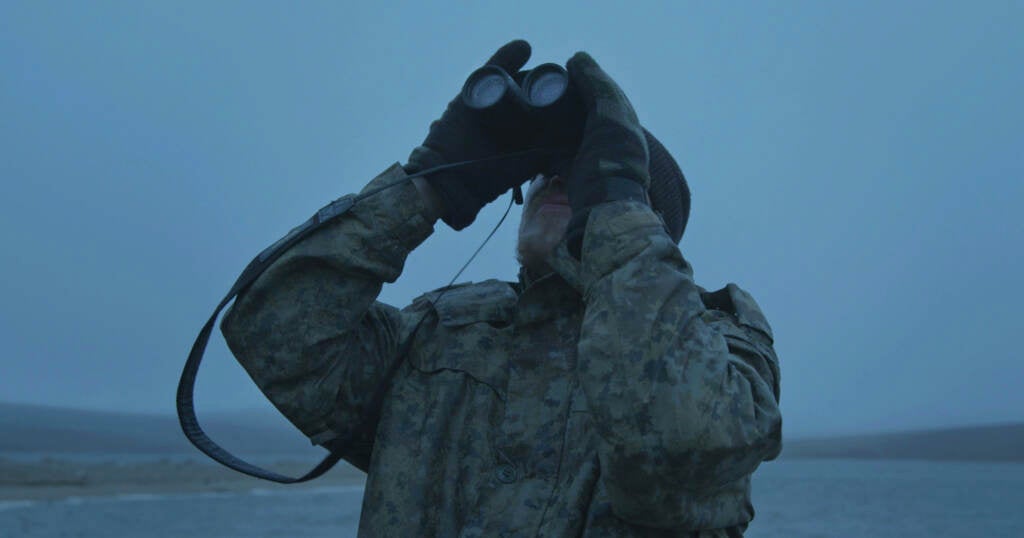 "The biggest concern, of course, is how this animal adapts to the new reality that this has been happening for a long time now. Maxim started his research 10 years ago … And unfortunately, as we know, this process is irreversible. So, there will be a possibility of a shrinking of the population of the animal. I think all biologists that are now working are concerned about the same thing really, of the disappearance of species and what can be done to protect them."
Filming during the hottest year on record in the Arctic
"We were anticipating, of course, that we'll be surrounded by walruses, but we didn't know for how long. And that was the record. The longest time walruses were on the beach. And so, we planned only for a maximum of a week being surrounded. And we had just enough water for that time. And when we realized it will be two weeks, and it went to almost three weeks, we started to be really worried about the amount of water that we had. And we had to be very careful not to wash our hands and just keep it for drinking."
The takeaway message from the film, "Haulout"
"We made this film because we wanted to show people what really is happening in the Arctic, and we wanted to make it in the way that is not heavily message-driven or narrated. We wanted people to see for themselves that this is the reality that animals in the Arctic are facing and that we just need to do something about it. We need to be realistic. I mean, there are so many ways to talk about climate change. Oftentimes, it's stories of hope, which I also support. There has to be hope, but there also has to be some realistic understanding of what is really going on. And I hope our film will contribute to that understanding."
WHYY is your source for fact-based, in-depth journalism and information. As a nonprofit organization, we rely on financial support from readers like you. Please give today.