North Philly Boricua Empowers Thousands Of Latinas To Get Moving, Breaking Generational Curses
Elaine Gonzalez-Johnson is a North Philadelphia native who decided to get moving in 2012. She founded Latinas in Motion to encourage women, especially, Latinas, to get active
Listen
5:27
Elaine Gonzalez-Johnson is a walking, talking, high-fiving ball of inspiration.
"When you have an idea and there is a deficit, it is absolutely your calling and it is absolutely your purpose to do it," she says, "I know that I know I was called to do this thing and I do it unapologetically."
The thing Gonzalez-Johnson says she was called to do is Latinas in Motion. The organization was founded in 2012 to inspire, encourage and empower women to get active.
"We pride ourselves in being women, specifically Latinas, who take care of ourselves through walking, jogging, running," says Gonzalez Johnson.
Breaking Generational Curses.
Latinas in Motion is a free organization and you don't have to be Latina to be a member. But part of their mission is to break generational curses tied to health within the Hispanic community.
According to the CDC, Hispanic adults are the less likely than other ethnic and racial groups to be active outside of work, with individuals living in Puerto Rico having the highest prevalence of inactivity outside of work.https://salud-america.org/latinos-have-highest-rate-of-physical-inactivity-due-to-structural-barriers/. There are many reasons for that, including structural barriers like labor intensive work or lack of access to parks, that make regular exercise more difficult. The inactivity has led to higher rates of obesity, heart disease and diabetes among Latinos.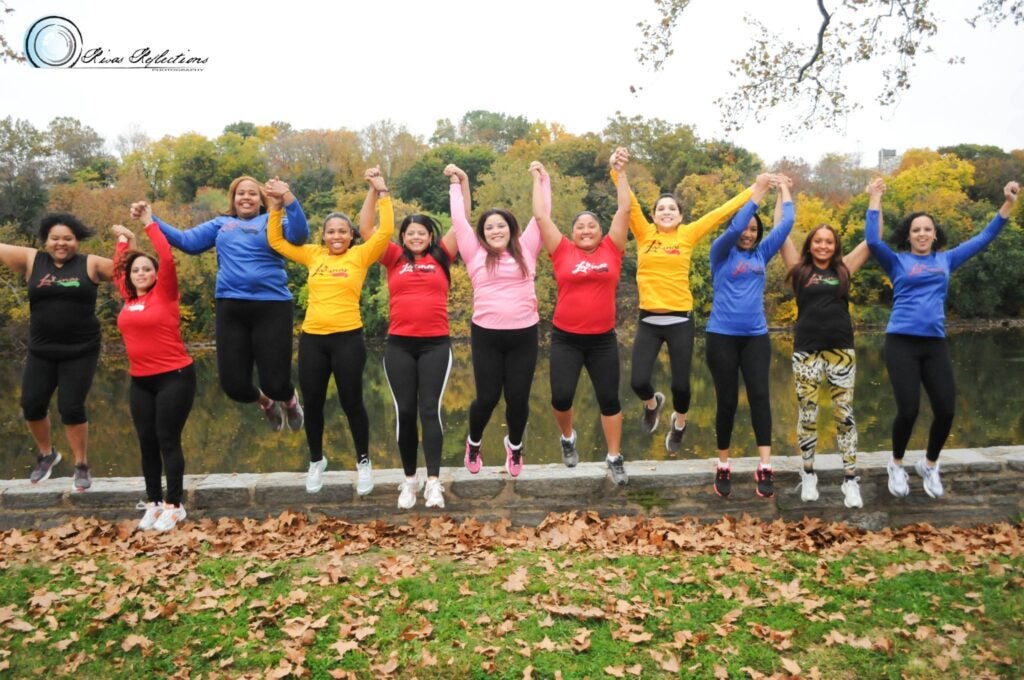 Gonzalez-Johnson says she grew up in the inner city of North Philadelphia and exercise was not something she saw around her, specifically running or outside athletics.
"It wasn't that my mom didn't let me go outside, it just wasn't safe to play outside," she says, "when you have these situations, and you grow up, fitness was just never something we talked about."
Gonzalez-Johnson have birth to her first child about 13 years ago. After gaining 52 pounds during her pregnancy, she says she battled post-partum depression and overwhelm. As a new wife and mother, she says she didn't know what to do to get her body back. So she started walking. Later, she began to run. Then, she signed up for the Broad Street Run, one of the most famous 10 mile races in Philadelphia, as motivation to get better.
"I have never in my entire life even ran a block, but I've always been a visionary," says Gonzalez Johnson, "and I've always been the type of person that is going to do what I say I am going to do."
So she did it. But as she crossed the finish line, Gonzalez-Johnson says she felt alone. Black Girls Run members were well represented. so were young runners from Students Run Philly.
"But me being Puerto Rican, I did not feel seen," she says, "I had no one to high-five me at the finish line."
Seeing the deficit inspired Gonzalez-Johnson to start Latinas in Motion. While running is a large focus, movement is the main goal.
"Whether that's dancing, running, walking, cycling, just making sure that we're putting ourselves first," she says.
And for those who gather every weekend, it's a vibe.
"We don't prioritize our wellness, we don't prioritize our mental wellness," says Gonzalez-Johnson, "so we make sure that when you leave your cup is full."
A Grandma turned Athlete.
"A girlfriend of mine mentioned Latinas In Motion, and I had never really heard much about it," says Zulma Lombardo, who joined in 2015.

Lombardo was looking for inspiration. She wanted to get active so that she could keep up with her 14 grandchildren and two great grands. But she didn't know where to start, so walking became her go to.
"I'm currently 56 years old and I didn't become really an athlete until later in my life," she says.
She says she watched women in her family deal high cholesterol and diabetes, even losing relatives to those illnesses at a young age. Her family didn't work out.
"Unless you consider picking blueberries in New Jersey exercise," she says.
Lombardo says she knew she needed to change. Soon after joining Latinas in Motion became a mainstay, and the women became part of her extended family. Eventually, Lombardo was asked to lead a South Jersey Chapter of the group. Today, they are 500 strong.
"This is a space that is created for all women and is very inviting of all women, of all shapes, sizes, colors, backgrounds," she says, "and I've met some of my best friends on in this group.
Lombard says Gonzalez-Johnson has inspired her to step up now she has inspired her family.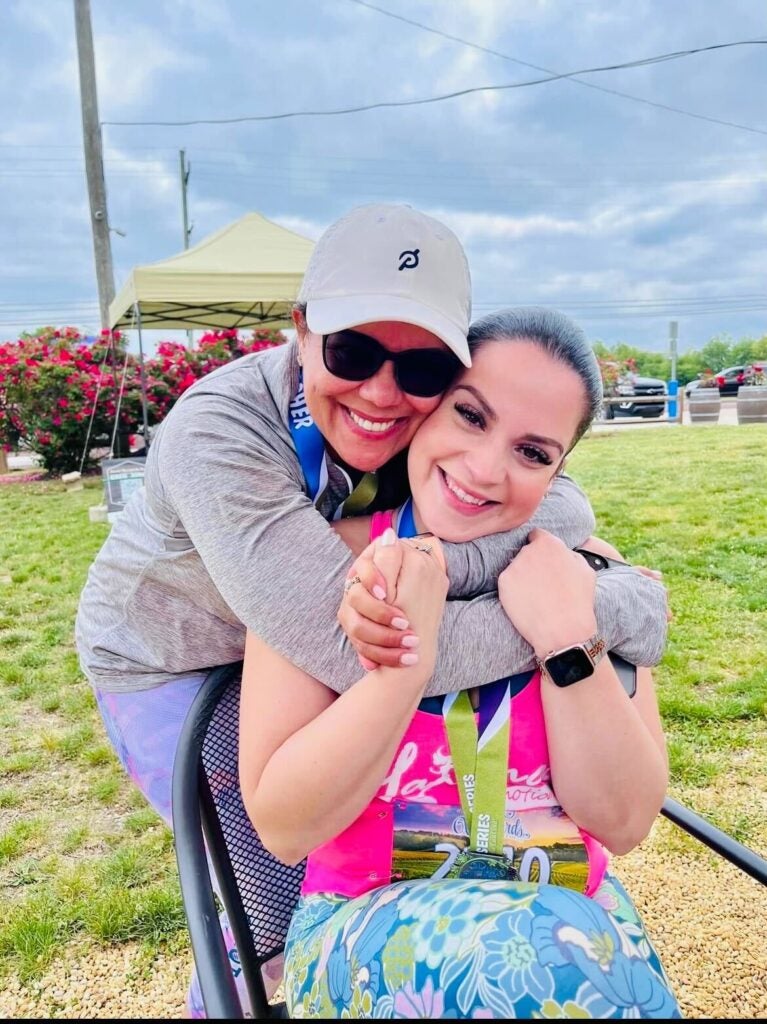 "Elaine is a good soul," says Lombardo, "she's very transparent, she is a woman of faith and a woman who whose family to her is paramount and she has become a friend to so many people."
Lombardo says the spark has transformed her husband who started walking in his 70s, thanks to seeing her exercise daily. He's since lost 70 pounds, adding years to his life.
"He has not missed one day on the treadmill in two years," she says proudly.
Inspiring Families.
"I was not interested in running or exercise or being healthy," says Darryl Johnson, "I was 'voluntold' to do so."
Johnson, nominated his wife, Elaine, for the Good Souls Project.
"She really thought outside of herself, and I felt like that's what a good soul does," he says, "they think outside of themselves that they want to protect and heal other souls."
Initially, Johnson says he thought Latinas in Motion would be a social gathering for his wife and her friends.
"But her vision was bigger," he says, "bigger than local, bigger than Philadelphia, bigger than Pennsylvania."
Today, Latinas in Motion has 17 chapters across eight states and boasts more than 5000 members nationwide. The group holds annual events including a 5K, a gala and a "run-cation," where they plan a trip for members to run a race at a specific destination.
Johnson says he is not surprised by his wife's vision or growth as an entrepreneur. He saw it from the very beginning. Then 24 years old, Johnson says he met Gonzalez as a young college student and was immediately impressed.
"She was 20 years old and had three jobs," he says, "I didn't meet anyone that young who wasn't really into fun and more into work and work ethic."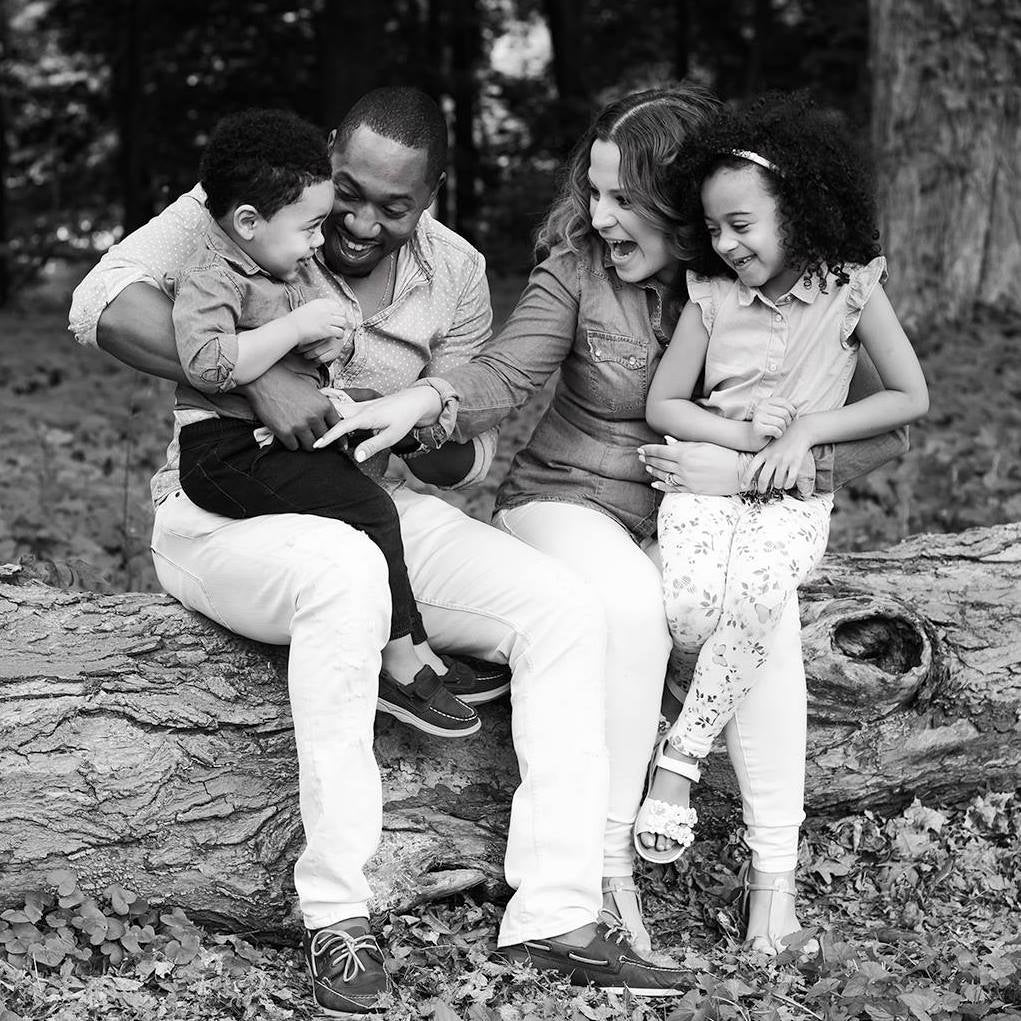 She has since applied that work ethic to their family, which includes two children, as well as Latinas in Motion. It has inspired the entire family. Their daughter, now 13, has taken on some 5Ks. And Gonzalez-Johnson has even gotten her mother to join them, as well as her husband.
"I have run multiple 5Ks and 10Ks and half marathons and three marathons and I'm really proud of that work," says Johnson. "But it would have never happened if Elaine didn't have the vision, if she didn't create Latinas in Motion."
Latinas In Motion- A Full Time Job.
Ten years ago, when the journey began, Gonzalez-Johnson says she was working as a college readiness counselor at a high school. She had earned a masters in higher education and had a plan to become the president of a university. But Latinas In Motion set her on a new course. In 2017, she resigned from her job of eight years to focus on Latinas in Motion full time.
"I just felt like I can give this 100% or I could keep playing it safe and give it 50%," she says.
Gonzalez-Johnson has not looked back. She's grown the organization. They sell merchandise and she earns money as a paid speaker. She also produces a podcast, "Mogul Mami" and provides coaching and training to others trying to launch successful brands. (link: https://www.mogulmami.com)
"I've been invited and have spoken at Harvard," she says. "I graduated from Edison High school—your girl would have never qualified to go to Harvard."
Gonzalez-Johnson says the vision is to establish Latinas in Motion in all 50 states.
"I think that's the biggest and most beautiful vision that I could have for this organization," she says.
And she's not afraid of what's to come.
"The beautiful thing about purpose is that when you have the courage to step out and do that thing you know for sure has your name on it, you will get trusted to do the next thing and the next thing," says Gonzalez-Johnson. "because I would have never believed that this was my life."
If you know someone who has performed an act of kindness, whether it be big or small and you think they serve as an example of compassion, generosity and service, nominate them here: whyy.org/goodsoulsform.
WHYY is your source for fact-based, in-depth journalism and information. As a nonprofit organization, we rely on financial support from readers like you. Please give today.