ZIP Photo Essay: Echoes of History and Signs of Reinvention in Paschalville & Elmwood, 19142
The neighborhoods of Paschalville and Elmwood in ZIP code 19142 might be completely unknown to most Philadelphians. Southwest Philadelphia is relatively far-flung from Center City, more than 7 miles away, surrounded by industrial development that runs along the Schuylkill River to the east, and the tranquil border of Cobb's Creek to the west. Although isolated, these neighborhoods are surprisingly well served by public transportation, with three trolley lines serving the area and regional rail nearby in Darby. The history of Philadelphia is deeply rooted in 19142. And today a new identity is taking shape, due to the ZIP's growing immigrant population.
Although William Penn gets all the credit for creating Philadelphia, he was not the first European settler in the region. Swedish farmers lived alongside Native Americans starting around 1644. Together, they created a small community called Kingsessing, today's Southwest Philadelphia. A tiny log cabin on Cobb's Creek (the oldest building in Pennsylvania) is all that remains of the Swedes of the 1600's, but other echoes of history are visible today.
The Blue Bell Inn, which once featured a large addition that was destroyed to make way for the Cobb's Creek Parkway. George Washington is said to have visited. (Dan Papa/Every ZIP Philadelphia)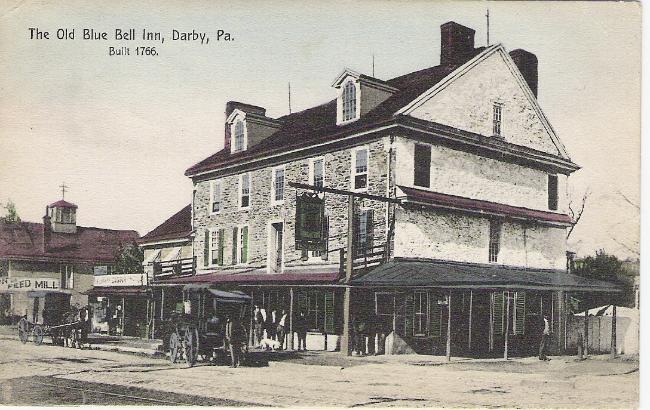 Postcard of Blue Bell Inn with large addition
Woodland Avenue was once part of The King's Highway, the first north-south road that eventually connected the early American colonies. The founders would have regularly used this road traveling to points south. One place they would have stopped is the Blue Bell Inn, built by Henry Paschall in 1766, still standing today at the traffic heavy intersection of Woodland and the Cobb's Creek Parkway. The Inn was the site of a small Revolutionary War battle in which British soldiers marching on Philadelphia killed some American troops hiding inside.
Today, the Blue Bell Inn is part of the Fairmount Park Conservancy and is occupied by caretaker Delia King, an artist with the Mural Arts Program. She chose to live at the Blue Bell Inn for the green space next to Cobb's Creek, which is great for her young son.
"There are a lot of improvements happening," she says regarding Cobbs Creek, "the Army Corp of Engineers are going to come and take out this dam – a huge environmental improvement that is needed. Also, Parks and Rec is going to link up the bike path to the wildlife preserve down the street."
Niema Nelson shows off a selection of ties that can be checked out from Paschalville Library as part of the Job Readiness Center. (Dan Papa/Every ZIP Philadelphia)
The Job Readiness Center in Paschalville library, also a historic building, completed in 1915 (Dan Papa/Every ZIP Philadelphia)
Just a block away at 70th and Woodland is the Paschalville Branch Library – a major community resource for this area. Mayor Kenney recently tweeted his approval of this library's tie rental program, which allows the public to check out a tie for a job interview or event just as they would a book.
"We just started the tie rental program a few months ago," says Niema Nelson who manages the Job Readiness Center at the library, "My co-worker Emilio took the ties that were donated to us after the job fair and repurposed the VHS cases for tie rental. You can check it out for three weeks. We have a bunch of different programs for all members of the community. We have ESL classes, we have summer reading for children, we have the citizenship corner for people looking for their green cards and citizenship papers."
When asked what she thought the neighborhood needs the most, she said, "From my perspective, this area of the city has the highest unemployment rate, which is the reason behind the Job Readiness Center. We recently got a grant from IMLS and it's specifically for job readiness programs, so there's going to be a whole lot more we will be able to offer."
"We are trying to use the library as a gateway hub. Anything you need, come to the library, and if we don't have it we can refer you to the place that does."
African and Caribbean businesses run all along the Woodland Ave commercial corridor. (Dan Papa/Every ZIP Philadelphia)
Bocar Diop in the restaurant African Small Pot, which he runs with his father. (Dan Papa/Every ZIP Philadelphia)
In the oven is the weekend special, Mauritanian Michoui, made from whole roasted lamb, and roasted chicken above. (Dan Papa/Every ZIP Philadelphia)
African Small Pot at 65th and Woodland (Dan Papa/Every ZIP Philadelphia)
In recent years, many African immigrants have found a home in 19142. They have arrived from all corners of the continent, often escaping regions with civil war conflicts, attracted by the African community that has been established since the 1990s. According to the Philadelphia Inquirer, the African population grew from 3,000 in the year 2000 to more than 10,000 in 2012. Along the busy commercial stretch of Woodland Ave, restaurants such as Le Mandinque and Taste of Africa are everywhere. Caribbean and Jamaican food can also be found peppered throughout.
Abdarahmane Diop runs African Small Pot at 65th and Woodland with his son, Bocar. They are originally from Mauritania and offer an impressive array of regional cuisine.
"My special dish today is Mauritanian Michoui," said Diop. "We do that every Friday and Saturday. We roast the whole lamb."
He gave me a glimpse into the oven where the prepared lamb and chicken was waiting to be served to a large party. Diop expressed that currently the restaurant is simply surviving and paying the bills, but he is confident that the economy will improve in the next couple of years.
Owner Steve Fred at V&S Elmwood Lanes (Dan Papa/Every ZIP Philadelphia)
The well maintained lanes at V&S. The alley has BYOB bowling on Friday nights. (Dan Papa/Every ZIP Philadelphia)
At 73rd and Elmwood, south of the rail corridor that bisects 19142, Steve Fred is keeping an unlikely tradition alive: bowling. V&S Elmwood Lanes is a modern renovation of a 40-year-old bowling alley that Fred used to often visit.
"I've been bowling here for 26 years," he said, "in 1990, I picked up bowling in the military, and my father-in-law bowled in a league here."
Fred bought the business six years ago to save it from closing.
"It's one of those things where it's a blessing and a struggle at the same time…this is a neighborhood place. I take the opportunity to mentor and connect with the youth, and help our seniors. Our revenue is still predominately league based."
A nearby Elmwood skating rink sadly closed recently, and Fred believes that the kids who live nearby need these recreational outlets. "It's cool in here, it's safe in here, it's fun. So what I find is that once people come in here and connect with us, and I make it a point to do that, they tell somebody else. We're a family business, and that is by design."
The site of the former GE West Philadelphia Works plant (Dan Papa/Every ZIP Philadelphia)
Like many other Philadelphia ZIP codes, 19142 has been hit hard by the loss of manufacturing jobs. In 1924 General Electric opened a factory at 69th and Elmwood that once employed 7,000 people. The plant closed in 2002 and was demolished, leaving a gaping three-block hole right in the center of the neighborhood.
Philadelphians always seem to be battling adversity of some kind, but these community members in Paschalville and Elmwood all seemed hopeful that 19142 is poised for an economic rebound.
"The diversity and the community around here is awesome," says Niema Nelson from the Job Readiness Center, "That's why I wanted to move here. I chose this section of the city."
WHYY is your source for fact-based, in-depth journalism and information. As a nonprofit organization, we rely on financial support from readers like you. Please give today.