With new towers coming to the Delaware River waterfront, proposed rules encourage public access
As developers descend on the Delaware River waterfront with plans for luxurious new high-rises, a bill is getting considered intended to protect public access to the river.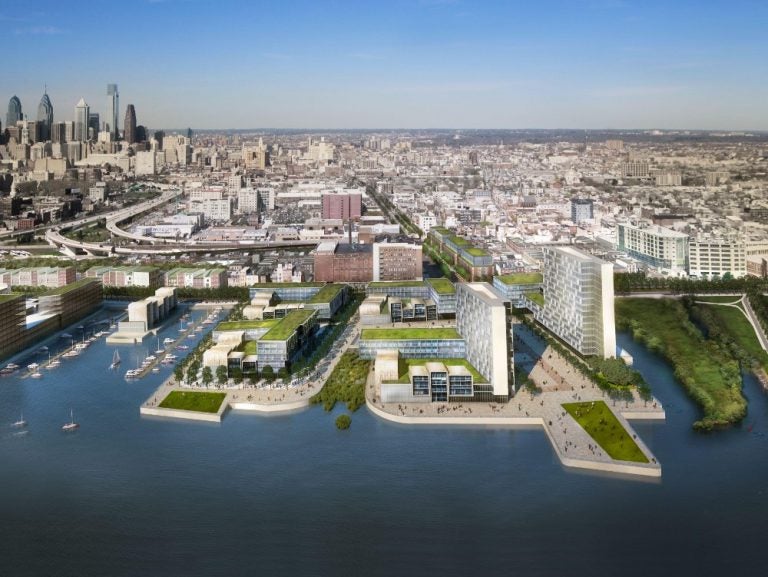 This story originally appeared on PlanPhilly.
—
As developers descend on the Delaware River waterfront with plans for luxurious new high-rises, city officials are considering a bill intended to protect public access to the scenic waterway.
Introduced by City Councilman Mark Squilla and recommended earlier this month for passage by the Philadelphia City Planning Commission, the bill imposes new limitations on what can be built on the city streets that lead to the river.
Squilla's bill would ban permanent structures that cut the Delaware River off from the public right-of-way on nine east-west streets between Oregon and Allegheny, I-95 and the river.
The nine streets — Tasker, Mifflin, South, Walnut, Berks, Cumberland, Market and Chestnut, along with Lehigh Avenue —  join eight streets designated as "River Access Streets" as part of The Central Delaware Overlay passed by City Council in 2013. The overlay came as part of a decade-long effort to rethink the region's relationship with an area that 20th-century planning decisions transformed into little more than a litter-strewn highway zone.
In addition to forbidding access-blocking buildings, the bill would ban auto-oriented uses such as gas stations or automobile repair shops on lots that abut access streets. Another rule for the zone between Washington Avenue and Spring Garden specifies that active uses, such as commercial space or shared residential lobbies, have to occupy at least 75 percent of the length of a lot, and only one curb cut is allowed per block.
The overlay encourages a variety of pedestrian-friendly infrastructure improvements such as new streetlamps and broader sidewalks on the streets that connect to the river.
Ian Litwin, the Planning Commission's Central District planner, described the bill as "a reaction to a number of [developers] that are trying to build things in the vehicle or vehicular sales category."
"This is to better protect the waterfront and prevent things we don't want to see," he said.
No projects were specifically named, but last year, controversy raged around plans put forward by developer Bart Blatstein to build a gas station Wawa on the riverfront. The gas station would violate the river access rule.
On Tuesday, the Delaware River Waterfront Corporation (DRWC) announced another project that will be affected by the zoning regulation. The 1.6-acre multi-use residential development by New York real estate investment group, the Durst Organization, will rise on a lot between Vine and Callowhill streets on the west side of Columbus Boulevard.
Durst has said that the company was drawn to the Delaware riverfront by the popular public spaces there, places like Race street Pier and Penns Landing.
In an interview with the Philadelphia Inquirer,  Durst chief development officer Alexander Durst said that he was particularly encouraged by recent regional investment into a planned 11-acre park that will cap I-95, creating a walkable connection between Old City and Penn's Landing.
When the debate about the pedestrian-friendly river access overlay unfolded years ago, the inclusion of Berks Street as one of the access roads provoked conflict between developers and citizen advocates.
The Development Workshop, a real estate industry advocacy group, argued that Berks should be excluded because it is too narrow to accommodate many uses, such as bike lanes or wider sidewalks, and would require that the city acquire land to expand it. The group also argued that Berks runs at an angle, so it doesn't afford unblemished views of the Delaware River.
The group did not have a comment on the new legislation.
"The original overlay legislation was meant to have twelve connector streets but certain stakeholders objected," said Matt Ruben, chairman of the Central Delaware Advocacy Group. "But as the waterfront has matured and developed, I think it's become possible to add some of those streets back in and add some additional ones. I view this as part of a long term aspiration for the waterfront."
WHYY is your source for fact-based, in-depth journalism and information. As a nonprofit organization, we rely on financial support from readers like you. Please give today.