Why Wildwood's beaches are so big
"How big are Wildwood's beaches?" It sounds like the beginning of a joke with several potential punchlines: "So big, you need a camel to get to and from the surf." Or "So big, they've hosted the world's largest kite festival, a national marble tournament, and 30,000 screaming Tim McGraw fans." But none of this is a joke, not even the camel bit — that's a proposal the city considered (and voted against) in 2000.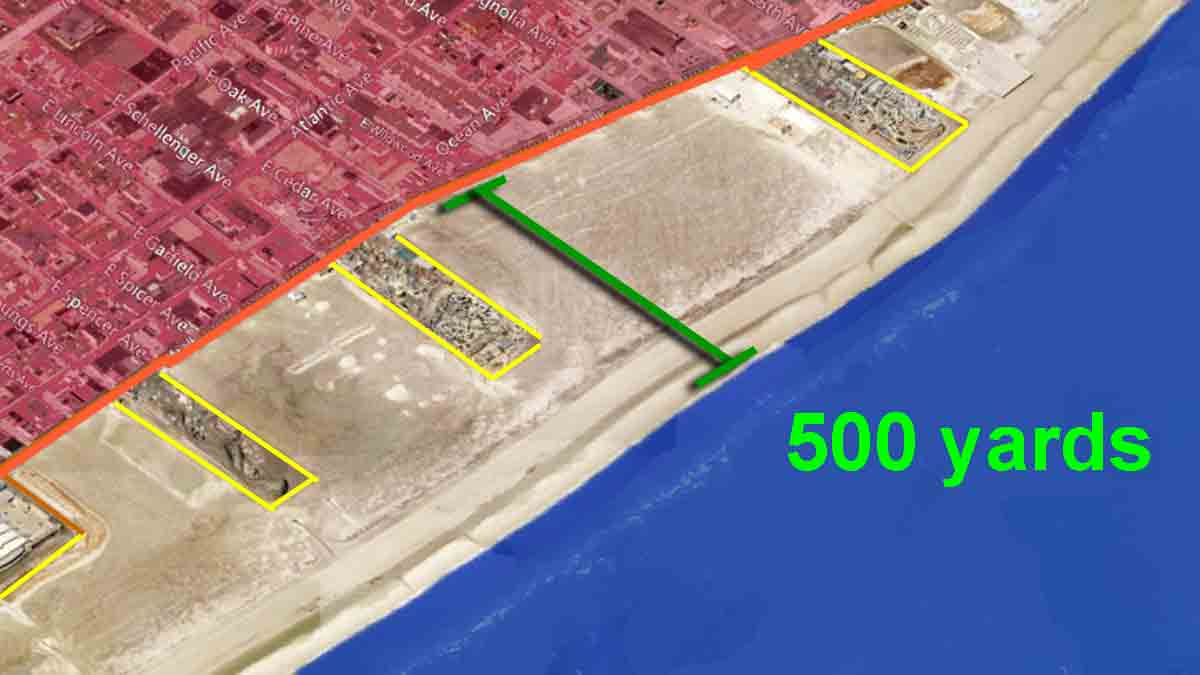 Wildwood's beaches, 500 yards wide at points, are the largest in New Jersey, which presents both challenges and benefits when it comes to marketing and ecological concerns. Whether you're a fan, or someone who prefers not to walk so far on vacation, one thing is certain: the sprawling strand is as much a part of Wildwood's identity as doowop architecture or Duffer's ice cream. Now, that landscape may be changing.
Why so large?
It started in 1911, the year Cape May — located about 10 miles south of Wildwood — finished digging its harbor. With massive dredges, a vast tidal marsh was transformed into a 500-acre marina. The harbor has been a great asset in many ways — during both world wars, it served as an important base for several military branches. Today, it's integral to Cape May County's ecotourism and fishing industries, and it's home to Training Center Cape May, the only Coast Guard boot camp in the country.
But the harbor has also created a headache. It's jetties extend 4,500 feet from its mouth into the Atlantic Ocean and, while this protects boats from rough water, it also creates an erosion nightmare. The north jetty traps sand on its north side — the Wildwood side — while starving beaches further south.
Exacerbating the problem, in 1922, Turtle Gut Inlet, located around Toledo Avenue in present-day Wildwood Crest, was developed. "And all that sand associated with the inlet marched ashore to the beach," said Stewart Farrell, PhD, Director of Stockton University's Coastal Research Center. Today, the sand in the natural ebb tidal flow that would have made its way to this channel gets diverted to Wildwood's main beach.
Meanwhile, eroding sand from barrier islands Avalon and Stone Harbor, located north of Wildwood, is naturally funneled into Hereford Inlet.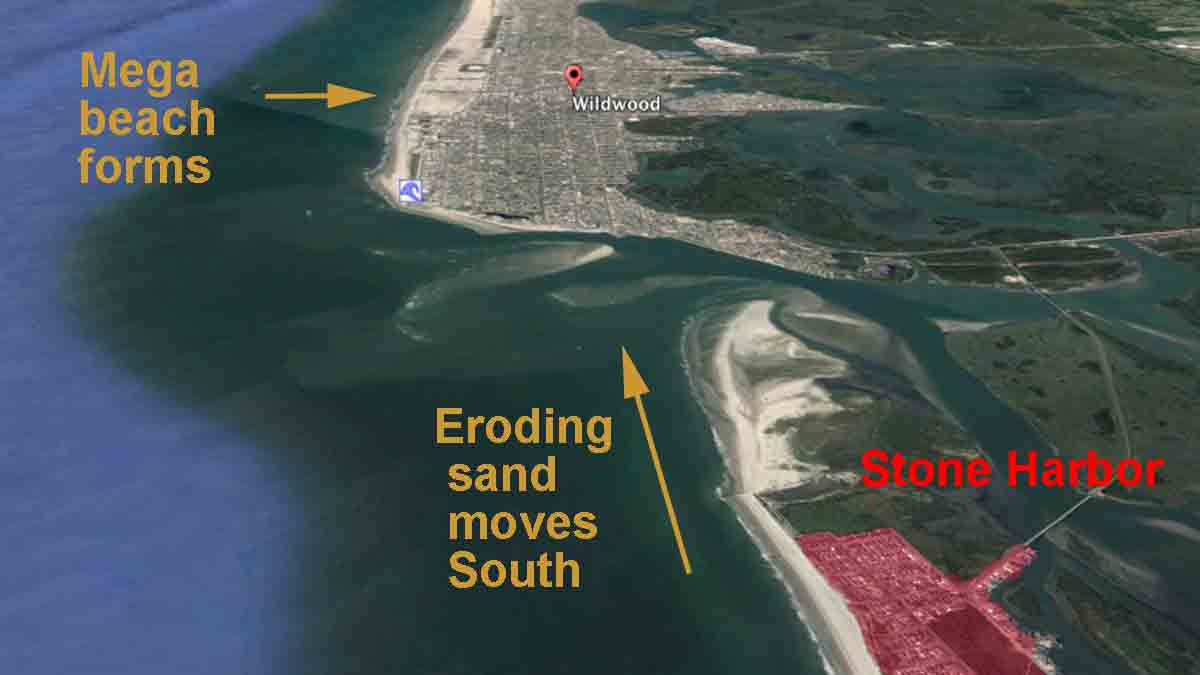 From there, on a 20-25 year-cycle, it makes its way via tidal action to Wildwood's main beach. According to experts, we're nearing the end of the current cycle. In other words: Wildwood's beach is finishing up another major growth spurt.
The upsides
Wildwood is the only island in New Jersey not threatened with shoreline retreat, which means more room to play. From the boardwalk extends the three colorful, pulsating piers of the world-class amusement park, Morey's Piers. In addition to their rides and attractions, Morey's makes use of the wide strand by hosting a variety of activities. For one of these, beach camping, participants are advised to bring large plastic sleds for lugging equipment across the sand without tiring.
This past summer, country star Tim McGraw played to a crowd of 30,000 on the beach. In 2012, Kenny Chesney performed for 20,000. Each concert raises tens of thousands of dollars for the city. The annual Race of Gentlemen, in which classic cars race along the shoreline, happens in October, while the annual Jeep Invasion puts nearly 2,000 vehicles and an obstacle course on the sand in June. Then there's the 16-team little league tournaments, 100-team soccer tournaments, and the largest beach frisbee competition in the world.
Even for those not seeking a special event but, rather, a run-of-the-mill beach day, the extra space can be a bonus. "The vastness is definitely a plus," said Sara Studzinski, a Cape May County native who lives in Denver. "It feels like you can actually enjoy yourself instead of being piled on top of each other. And I don't mind the walk."
The catch
But others argue there can be too much of a good thing. More beach means more to maintain for the city, and more to trek across for beachgoers, which can be offputting for the elderly and large families. And since long wheelchair walkways don't cover the width of the beaches, it can be difficult for the disabled who'd rather not call for the help of a lifeguard.
"I avoid these beaches because of my wheelchair," said Elaine Paliatsas-Haughey of Bellmawr. "I used to go there often as a kid. Wildwood was my family's beach of choice, but as my disability changed and so did the beach, the effort to go there wasn't worth it anymore."
Then there's a health concern. The beach has now grown to be two to three feet higher than city's storm drains, which means these drains are not able to empty into the ocean. Rather, there are water ponds on the beach, about 700 feet from the water's edge, creating pools sometimes two or three acres wide.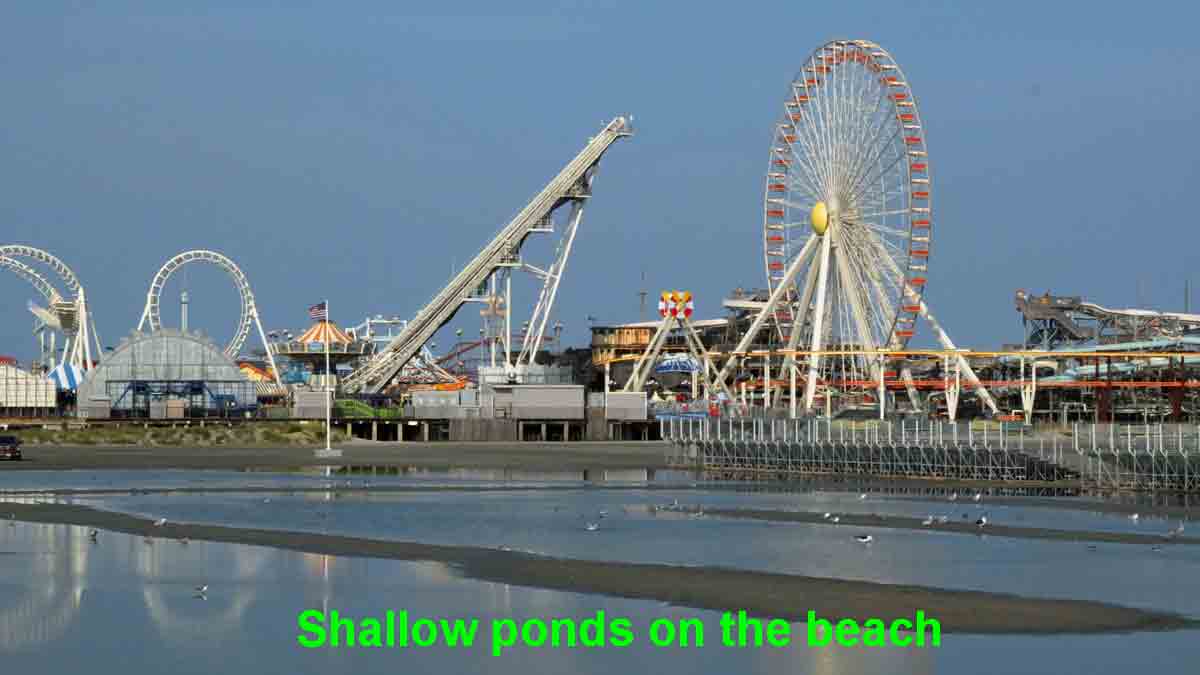 "Moms love them because they're six inches deep and 100 degrees," Farrell said. "But they're full of fermenting seagull poop, puppy poop, a little motor oil, transmission fluid, fertilizer runoff, and chloroform levels much higher than the safe limit. Ingesting this water is probably not fatal, but it will definitely make you feel crappy for a while."
When a heavy rain meets a high tide, the storm drains can't empty, causing severe flooding beginning on Pacific Avenue and extending for up to 15 blocks.
The solution
City officials have been battling with the storm drain-blocking sand for years, digging it out with industrial equipment on a daily basis, and coming up with creative solutions. Last spring, in a mutually beneficial deal, the city of North Wildwood agreed to take 33 dump-truck loads of the problematic sand from Wildwood and use it to replenish its own depleted beaches for $250,000. The method, called backpassing, was not a permanent solution — wave action has already reblocked the drains. So while the method was far cheaper than dredging, the city doesn't have much to show for its investment.
This fall, Wildwood announced a more permanent fix — with a $12.32 million grant from The New Jersey Department of Environmental Protection's Flood Hazard Risk Reduction and Resiliency Program, they'll be removing five outfalls altogether and building a large manifold pipe down the center of Pacific Avenue. This will lead to a pump station in on Leaming Avenue near the boardwalk that will suck the water out of the pipe and into the ocean, eliminating the flooding issue.
"I started complaining about this issue 17 years ago," said Wildwood Mayor Ernest Troiano Jr. "It fell on deaf ears. I was going to Washington and Trenton, and I was told there was nothing they could do for me — all the money was designated for towns with not enough sand, not too much. Finally, we had a meeting with the governor after Tropical Storm Jonas, and I told him I've kissed more ass than you can shake a stick at, and I'm still not getting any consideration. He told me we were going to get a solution, and I told him I hope so, because talk is cheap. I'm grateful to this administration for shutting me up."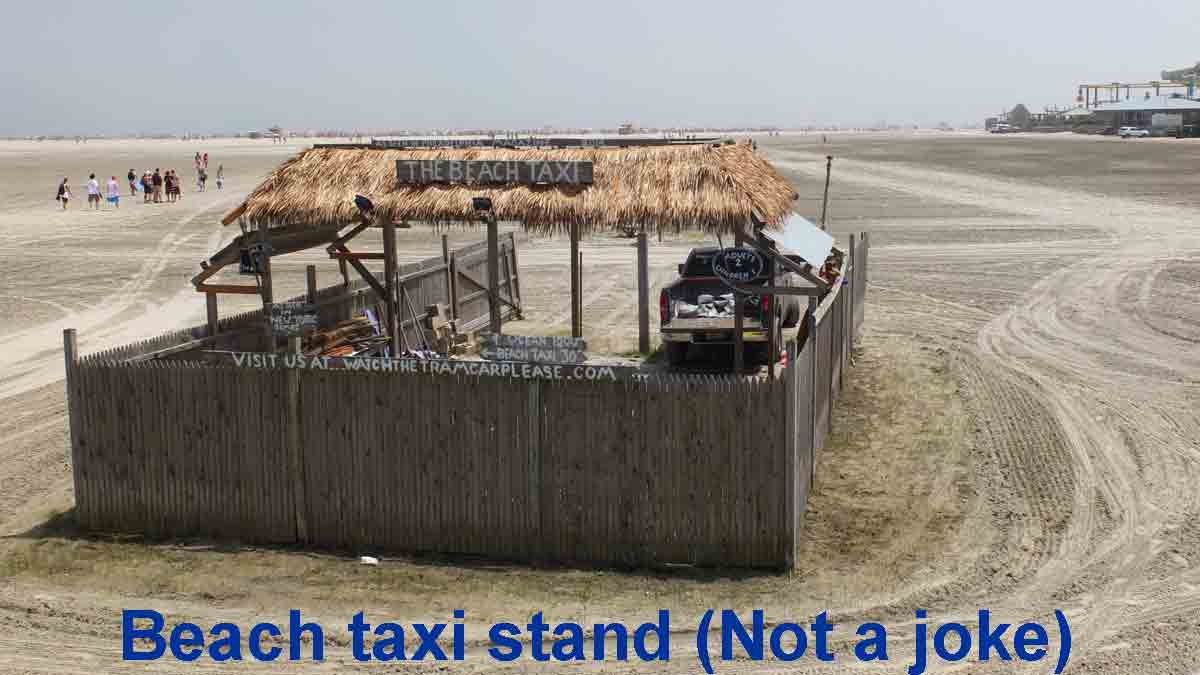 As for those who aren't into traversing such large stretches, the city offers a service in which six-seater, sand-enabled golf carts pick up beachgoers and taxi them across the sand from six designated locations. And the Army Corp of Engineers is expected to visit Wildwood officials within the coming weeks to discuss a longterm plan for shortening the beaches – maybe.
"They want to put a dune up, and cut off the beaches by 900 feet," Troiano said. "I told them I can live with the dune, but not 900 feet of beach taken away so the sand can be distributed elsewhere. These are really good people, so I'm confident we can come up with a solution that's beneficial to everyone. We've learned to use a big beach, and to make it work for us, so we have a lot of plans. I used to piss people off by telling them: 'We're so popular, even the sand wants to come here.'"
WHYY is your source for fact-based, in-depth journalism and information. As a nonprofit organization, we rely on financial support from readers like you. Please give today.