Why a liquor license in New Jersey is so expensive
Since 1947, the state has restricted the number of licenses a municipality can issue, basing the formula on population. The limit has been raised several times since; currently, a town may issue up to one plenary retail consumption license, which allows for on-premises consumption at bars and restaurants, per every 3,000 residents and up to one plenary retail distribution license, which permits off-premises retail sales at liquor stores, per 7,500 residents. A municipality may choose to allow fewer or none of these plenary licenses, while localities with fewer than 3,000 or 7,500 people may issue a total of one license per category.
But many current and prospective restaurateurs complain that these restrictions stifle the marketplace. The relatively limited supply has driven up the resale price of licenses astronomically and forced smaller operators to open BYOBs, which are legal in New Jersey but suffer from slimmer profit margins than their alcohol-selling counterparts. Because bars and restaurants have proven themselves powerful 21st century economic drivers, many municipal leaders wish to bring more into their communities. But without the incentive of a liquor license, few entrepreneurs are willing to take the risk.
The problem would be easier to solve if it weren't for the fact that 7,200 business owners in New Jersey have already spent up to $1 million each to purchase a license, and they don't want to accept competition from new establishments that receive far easier and cheaper access.
Why is a license so pricey?
License holders ("licensees") can resell their license on the private market — but only within the municipality that issued it originally. Potential buyers in competitive areas bid up the price to the point that the executive director of the New Jersey Licensed Beverage Association believes the state's most expensive license sold for approximately $1.8 million. Because these licenses get exchanged privately, it's difficult to track the sales, though she estimates they average $350,000. Chains and restaurant groups can afford to outbid startups, thus creating dining system that precariously balances locally owned BYOBs against sometimes distant corporations.
"New Jersey makes it hard to go into business because a potentially significant revenue stream is denied to you. Even chains can't find licenses from time to time," says South Jersey Assemblyman John Burzichelli (D-West Deptford), who's sponsoring the bill (A-2452) that could dramatically lower their price and increase the quantity available.
The millennial market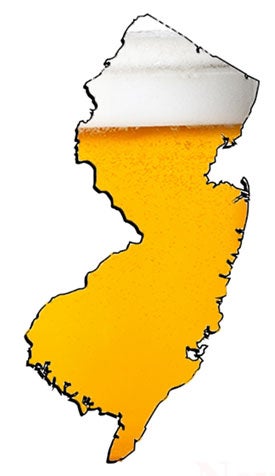 Hoping to stimulate growth in municipal downtowns, where millennials are choosing "live, work, play" lifestyles, Burzichelli wants to loosen the cap on plenary licenses and create two new restricted licenses that would allow restaurants that meet certain conditions to pay as little as $1,500. Though the bill would compensate existing license holders for any loss in revenue via a multi-year tax credit, current bar and non-BYOB restaurant owners are irate that their pricey licenses would risk severe devaluation.
As opposed to the plenary consumption license, which allows bar and restaurant owners to sell open containers of any alcoholic beverage for on-premises drinking and closed containers to take off-site, the restricted restaurant license (R1) would allow full-service restaurants between 1,500 and 6,000 sq. ft. to serve beer, wine and spirits exclusively to patrons dining at tables. The restricted beer and wine license (R2) would allow the same types of qualifying restaurants to serve just packaged beer and wine to their tables where customers are eating. R1 license holders would pay their town between $3,000 and $10,000 per year, depending on size, and could have a service bar; R2 licensees would pay half that amount and could not have a service bar. Both kinds of restaurants could presumably serve drinks to patrons waiting in the lobby for a table.
"Licenses aren't always available to smaller communities, and some larger population centers are also supportive (of the bill) because they view it as building a more diverse center," said the League of Municipalities' Mike Cerra, who indicates his members are overwhelmingly supporting the bill now that the league convinced Burzichelli to incorporate an opt-in feature instead of one that would require uninterested towns to opt out. "We'd see more mom-and-pop type restaurants, which are often run by people who live and work in the community and employ people from the community."
To compensate existing licensees, the bill also extends a credit against the corporation business and gross income taxes that's equal to 100% of the fair market value of the license before the bill takes effect. For example, if the bill passes and the law takes effect on January 1, 2019, the owner of Maria's Café could claim a tax credit that's equal to whatever her license was worth on the open market on December 31, 2017. So as not to deny the state all of this money in one year, the café's owner and her peers would have to take the credit over five years.
If she were to sell her license within that five-year period, she'd forfeit any outstanding credits due. Additionally, if a restaurateur sells or transfers the license within 15 years after claiming the entire tax credit, he or she must pay it back.
Opposing the bill
The New Jersey Restaurant & Hospitality Association opposes the bill in its current form, as do the Beer Wholesalers of New Jersey, New Jersey Licensed Beverage Association (NJLBA), and Garden State Wine Growers Association. The Garden State Craft Brewers Guild and New Jersey State Chamber of Commerce are taking a wait-and-see approach. Wineries, which can currently sell bottles at up to 15 BYOBs around the state, fear losing sales. Wholesalers argue that they'd have to add trucks and drivers to deliver what would surely amount to very small orders at these new licensed venues that focus much more on food than alcohol
The NJLBA says New Jersey simply doesn't need a blanket approach to a problem that the state's existing licensees didn't create. That said, Executive Director Diane Weiss says she'd be willing to discuss solving the issue case by case, perhaps allowing restricted licenses to communities suffering from lack of investment.)
To do otherwise could cripple the less successful licensees. Weiss said, "Some liquor licensees are really, really hurting. These people would never recover."
_______________________________________________________
NJ Spotlight, an independent online news service on issues critical to New Jersey, makes its in-depth reporting available to NewsWorks.
WHYY is your source for fact-based, in-depth journalism and information. As a nonprofit organization, we rely on financial support from readers like you. Please give today.