While PRA seeks redevelopment of Logan Triangle, some residents have a vision of their own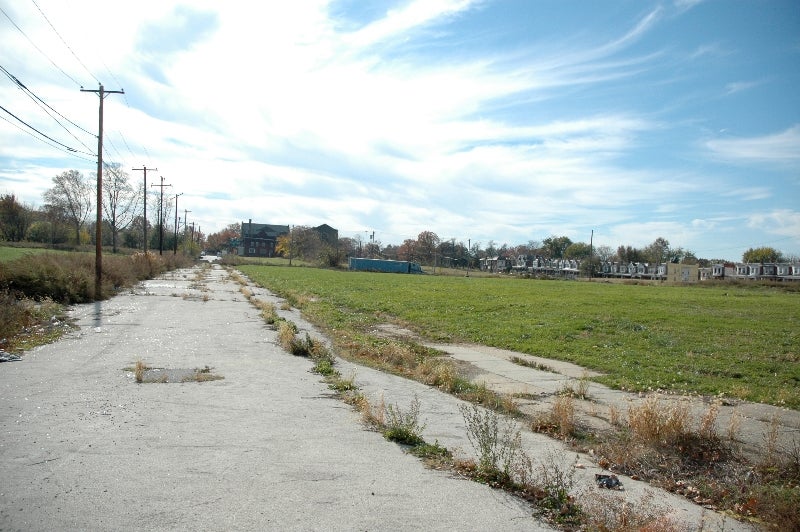 Playgrounds, soccer fields, orchards, greenhouses, flower beds, compost piles, a free health clinic and 300 solar-powered cottages for veterans and former inmates, all on 40 acres of undeveloped land in a long-neglected North Philly neighborhood.
It's a dream alive, says Paul Glover, who's part of a group of residents proposing to build the Logan Orchard and Market (LOAM). They're hoping to bring this Dymaxion vision to life on the Logan Triangle, where 1,000 houses once stood before slowly sinking into the soft ash foundation underground and cracking apart.
"We'll start small and grow like a coral reef of beauty and plenty," Glover said in a press release announcing a public meeting about the proposal next week.
The Logan Triangle sits northwest of Roosevelt Boulevard between 6th and 11th streets, bordered by Loudon Street on the north. It's been almost completely unoccupied for the last 20 years, during which it's been talked about, planned for, and charetted any number of times. In the last few years, the Philadelphia Redevelopment Authority has collected the remaining privately owned land through eminent domain.
The LOAM partnership has sprung up in the last few months, out of a sort of civic vacuum that's taken hold of the neighborhood since Logan CDC abruptly shut down last summer because of funding issues. Glover, who ran Green Jobs Philly and helped create a local currency in Ithaca, NY, in the early 1990s, drafted the orchaard proposal a few years ago. In the last few weeks, the group met with Brian Abernathy, the director of the PRA, to pitch their plans for the site and ask for some of the land to get started.
"There was nothing whatsoever about it that he could tolerate," Glover told PlanPhilly. "It was an impediment to his trajectory."
Abernathy confirmed that the PRA is in talks with a developer—who he wouldn't name—to build a mixed-use housing project on the site. But he said the proposal is in keeping with an inchoate neighborhood plan that Logan CDC was in the midst of completing when it went out of business. He said PRA is helping residents complete the neighborhood plan as well as an area plan specifically for the Triangle, both of which he expects to be released in September.
And no matter what happens there, there will have to be plenty of greenspace, according to Abernathy, since much of the land is unfit for any type of real development. He said he'd declined to hand over a parcel or two that the LOAM group had requested for a pocket park because of the last-minute nature of the request.
"I think the plan itself isn't fully baked yet," Abernathy said.
For example, Abernathy said, it's a bad idea to have transitional housing for returning citizens without also having onsite reentry services. And as for the solar cottages, even though they're going to be tiny houses—Glover says "cottage" is a better word to use "in a neighborhood where people already feel like their lives are small by comparison"—Abernathy thinks 300 is too dense, from an urban planning perspective.
The greenhouse idea is intriguing as well, Abernathy said, since any agriculture there probably shouldn't go directly into the soil. He said affordable housing would be ideal, but doesn't seem to think it's viable. A health clinic would be great too, but Abernathy doesn't believe LOAM has the budget to make it happen.
Abernathy said he's steadfastly pursuing the PRA's own redevelopment plans for the Logan Triangle. But he said he's committed to earning the neighborhood's trust and incorporating the LOAM group's best ideas into the end use of the space.
"What they've had to endure [in Logan] for the last 30 years is unfair, and I don't want to be a part of it," Abernathy said. "So whatever I can do to move it forward, I'm going to do."
The LOAM partnership will talk about its plans at 7 p.m. on Monday, July 13, at the Friends Center, 1501 Cherry Street, in Center City. Abernathy said that representatives of the PRA will be there.