What's up with empty Fishtown parcels near SugarHouse?
March 1, 2010
By Kellie Patrick Gates
For PlanPhilly
Something is happening on the west side of Delaware Avenue, one structure away from the corner of Shackamaxon Street, across the road from the SugarHouse Casino site.
But exactly what is going on is a bit of a mystery
A few buildings have recently been demolished, and Fishtown historian Kenneth Milano said the ones that are gone were no big deal in terms of historical significance.
The one building Milano says is important still stands: The Edward Corner Marine building, one of the last visible links to Fishtown's maritime past. (Check out PlanPhilly's coverage.) Lights have recently been put up on the outside of that old building, which was a going concern until 1960.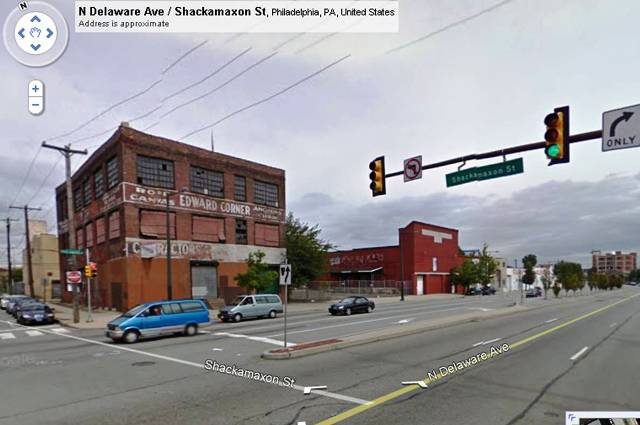 Handpainted signs on side of the Corner Building advertise rope, canvas, anchors and chains. "It's the last of the maritime trade buildings that show some kind of sign," Milano said.
Neither the city's planner for Fishtown, David Fecteau, nor Fishtown Neighbors Association President Neil S. Brecher know what's planned for the cleared lots. People who live or work nearby have heard options ranging from a multi-use development with residential and retail space to a convenience store. Some have heard that the Corner Building will be revamped into the residences. The same real estate developer tied to the property plans to turn two former warehouses on Delaware Ave. at Brown Street into apartments.
Permits for the demolition at 1106-1124 Delaware Avenue and electrical work issued by the city's department of Licenses and Inspections list 1000 Delaware Avenue Associates LP as the property owner. The demolition permits, issued on Oct. 14, give a Fort Lee, N.J. address for Delaware Avenue Associates. The electrical permit, issued Feb. 18, gives the 5th floor of the Corner Building as the address. No demolition permits have been issued for the Corner Building.
The phone number which Delaware Avenue Associates give on the demolition permits is the same number as that of real estate developer Michael Samschick's Core Realty Management, and calls to Delaware Avenue Associates for comment were referred to Samschick.
Samschick is working on a project up North Delaware Avenue at Brown Street that would re-use existing buildings for residences. Called "Waterview Grande," the proposal calls for a mixed-use redevelopment of two eight-story cold storage facilities built in the 1930s. It would have 192 apartments if built out.
Samschick, who has not yet responded to multiple messages left over several days, has a lot going on in the neighborhood.
He owns 1080 North Delaware just across Shackamaxon Street. A company listed as 1080 Delaware Avenue Associates, LP, DBA has been approved as a vendor of real estate services by the Pennsylvania Gaming Control Board.
Milano said Edward Corner was a long time president of the Kensington Soup Society – a soup kitchen. "He was a big time philanthropist."
Stay tuned. We'll let you know what we find out about this developing story.
Contact the reporter at kelliespatrick@gmail.com