Weighing options to fight opioid crisis, few U.S. lawmakers tout supervised injection site
With the DOJ trying to shut down Philly's supervised injection site before it opens, it seems unlikely even lawmakers who support the idea will provide help to make it happen.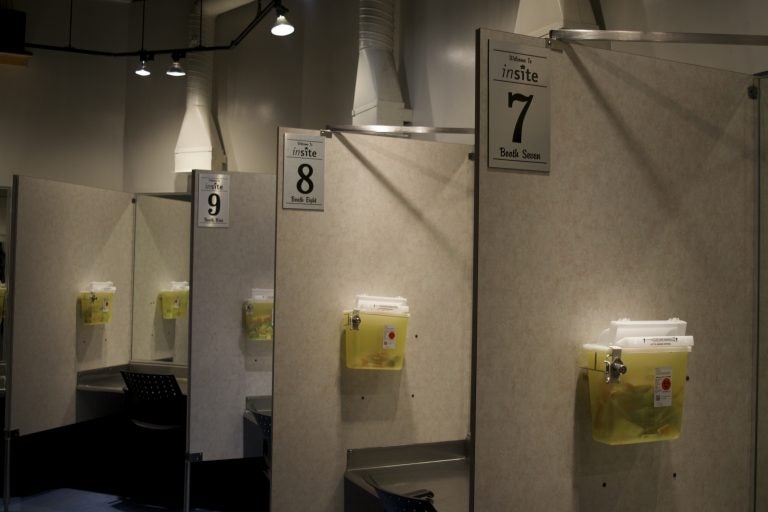 Last month, the U.S. Department of Justice sued to stop a supervised injection site from opening in Philadelphia. The nonprofit Safehouse is still trying to move forward to create a place where drug users can use illegal drugs under medical supervision. While some members of Congress from the region are open to the idea, none is pushing to legalize such a facility.
Lawmakers, however, want to combat the epidemic of opioid overdoses that claim 70,000 lives every year in the U.S. It's killing more people in one year than the American military lost in the entire Vietnam War.
"This is a devastating issue … it is an epidemic because we're playing catch up," said GOP Rep. Brian Fitzpatrick of Bucks County.
A former FBI official, Fitzpatrick is now a co-chair of the decidedly bipartisan Heroin and Opioid Task Force. And while the task force is bipartisan, many proposed solutions to the opioid epidemic are not. The idea of a supervised injection site in Philadelphia doesn't sit well with Fitzpatrick and many other Republicans.
"My gut tells me that it's a bad idea," Fitzpatrick said.
The federal suit is an effort to block the nation's first legal spot for drug users to shoot up without the fear of overdosing or contracting diseases.
Pennsylvania U.S. Sen. Pat Toomey, like many of his Republican colleagues, said he doesn't know much about this lawsuit. Still, Toomey said he doesn't like the idea of experimenting.
"I am not a fan of safe injection sites. It's a policy that – we're condoning lawlessness and, arguably, facilitating an addiction problem that needs to be solved," Toomey said.
It's a different story for some of the Senate's Democratic presidential candidates.
"The ideas behind this – to me – are very compelling," said presidential aspirant and Democratic U.S. Sen. Cory Booker of New Jersey.
Booker hasn't studied the specifics of the case, but he explained why he's open to the idea.
"If you can actually achieve the goals of reducing overdoses, giving people better access to treatment, giving people pathways to safety and security where they're not spreading infectious diseases — these kind of things are noble goals and ideals," Booker said.
'We have to do something about it'
Across the globe, there are more than 100 supervised injection sites. Proponents want to rebrand them as "overdose prevention centers." U.S. Rep. Dwight Evans, a Philadelphia Democrat, is also undecided about whether safe-injection sites are appropriate for this country.  But he is adamant that federal prosecutors have no business interfering in what he called a local matter.
"We have a serious problem – OK? And you know, obviously, something has to be done," said Evans, who added that a discussion with city officials would be preferable to a federal lawsuit,
"We have a problem – it's an epidemic and we have to do something about it."
Evans says he thinks they could help.
In an effort to save lives, Evans said he was "willing to try out the best methods that work," adding that he is not sure the supervised injection sites would qualify.
"I don't know enough about it to be able to say that to you," he said.
Fitzpatrick, who has toured the Philadelphia neighborhoods hardest hit by opioid overdoses, said while he's not sold on the idea he is open to listening to those who want them.
"In the fight against opioids we want to get to the best place for all these people – if there's any light at the end of the tunnel for any of them, and any method that offers that, then I think we all ought to keep an open mind about it," he said.
Fitzpatrick said he hopes the heroin task force will continue bringing Democrats and Republicans together to address the opioid crisis. For now, though, the panel's long "to-do" list doesn't include supervised injection sites.
WHYY is your source for fact-based, in-depth journalism and information. As a nonprofit organization, we rely on financial support from readers like you. Please give today.