Weekly Entertainment Guide – Somewhere Over the Rainbow
Robin Bloom on what's going on this week in the Philadelphia region.
What's Happening
Philadelphia Museum of Art Contemporary Craft Show
The 40th annual Philadelphia Museum of Art Contemporary Craft Show returns November 10-13 to the Pennsylvania Convention Center. Widely recognized as one of the leading shows of fine craft in the country, it features 195 artists from around the United States, selected from more than 875 applicants. Museum quality works include glass, ceramics, wood, basketry, both wearable and decorative fibers, metal, paper, leather and mixed media, as well as one-of-a-kind handmade furniture and both precious and semi-precious jewelry, 12th and Arch Streets, Philadelphia. All work is for sale. Pictured: Michael Mikula, participating artist.
Pennsylvania Ballet's "Revolution"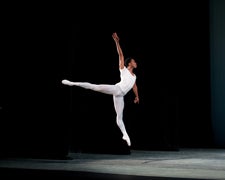 Pennsylvania Ballet's Revolution features a repertoire that includes George Balanchine's Square Dance (pictured), which pays homage to American folk dance set to a score by Antonio Vivaldi and Arcangelo Corelli, The Third Light, a company premiere by David Dawson, and a world premiere by Brian Sanders. There will be five performances November 10-13 at the Merriam Theater, 250 S. Broad Street, Philadelphia. Catch a "prelude," pre-show discussions held in the theater prior to most performances. Photo by Alexander Iziliaev.
Philadelphia Asian American Film Festival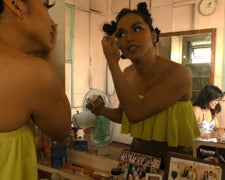 The Philadelphia Asian American Film Festival returns for a 9th year, November 10-20. The largest Asian American film festival on the East Coast offers over 70 films by and about Asian Americans along with special events including discussions with filmmakers, celebrity chef catering, live musical performances, a two-day academic conference, live theater performances by local Asian American and Pacific Islander artists, and more. The festival opens with the Philadelphia premiere of "The Tiger Hunter," a comedy drama starring Danny Pudi (who will be in attendance along with director Lena Khan for a Q&A and reception). Additional films include "It Runs in the Family" (pictured) and closing film "Mele Murals" about a young generation of Native Hawaiians reclaiming their indigenous culture through graffiti art. Director Tad Nakamura and graffiti legend Prime will conduct a film Q&A and live mural painting. Screenings take place at several locations in Philadelphia.
Delaware Antiques Show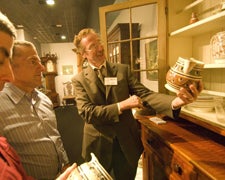 Winterthur's 53rd annual Delaware Antiques Show returns to the Chase Center on the Riverfront in Wilmington, DE, this Friday, November 11 through Sunday, November 13. Furniture scholar Dr. Reinier Baarsen, Senior Curator of Furniture at Amsterdam's Rijksmuseum, joins more than sixty dealers from around the country to offer a wide array of antiques, including furniture, rugs, ceramics, jewelry, paintings, and more. Related programs and events include an opening night party on Thursday, November 10, 5pm, keynote lecture with Baarsen on Friday, November 11, and more, 815 Justison Street. Photo courtesy of Winterthur/Delaware Antiques Show.
Exit Zero International Jazz Festival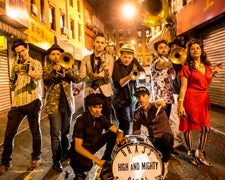 Exit Zero International Jazz Festival returns to Cape May November 11-13. Performers include the Wynton Marsalis Quintet, Squirrel Nut Zippers, Frank Bey Blues Revue, Pat Martino Trio, Red Baraat, High and Mighty Brass Band (pictured) and more at various venues in Cape May, New Jersey. Photo by Michael Weintrob.
Michener Art Museum's "The Death of Impressionism?"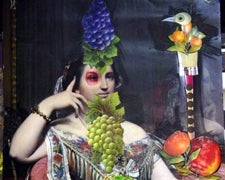 Michener Art Museum explores transformations, changing patterns of taste, and cultural shifts in the past 100 years of American art with The Death of Impressionism? Disruption and Innovation in Art, opening November 12. Featuring Impressionist, modernist, and contemporary paintings by more than forty artists including George Inness, Edward Willis Redfield, John Folinsbee, Charles Frederick Ramsey, Charles Rosen, Chris Jordan, Rae Sloan Bredin, Lilias Barger, Helen Mirkil, M. Elizabeth Price, Jane Irish, and Illia Barger, and more, through February 26. Related programs and events include lecture series and gallery talks with a member reception on November 11, 6pm, 138 South Pine Street, Doylestown, Pennsylvania. Pictured: Peter Paone Ingres' Mistress #5, ca. 2002, 36 x 24 in, 38 x 26 in (framed), Mixed media, Collection of the artist.
Everyone Orchestra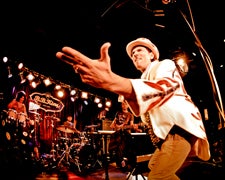 You're in for a treat with the Everyone Orchestra, coming to Ardmore Music Hall, Saturday, November 12, 8pm (doors open at 7:30pm). Conductor Matt Butler (pictured) is joined by diverse musical guests including Steve Kimock, Marc Brownstein and Aron Magner (The Disco Biscuits), Al Schnier and Vinnie Amico (Moe.), Jans Ingber (The Motet), Snarky Puppy Horns- Chris Bullock and Jay Jennings. There are sure to be surprises with live group improvisation and collaboration, 23 East Lancaster Avenue, Ardmore, PA. Swift Technique opens. Photo by Suzy Perler.
Lyric Fest's "A Neighborhood of Friends"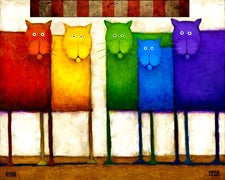 Lyric Fest continues to champion art song and the shared song experience with A Neighborhood of Friends – A World of Song, Sunday, November 13, 3pm. The performance highlights America's patchwork quilt of world cultures and celebrates the rich traditions of our country's many immigrant communities with an eclectic program for all ages ranging from Brahms to Randy Newman. Actor Jake Miller and student actor Mia Rosof-Mallory frame each song in its origin and meaning. Vocal artists include Jean Bernard Cerin, baritone, Cristina Nassif, soprano, Misoon Ghim, mezzo soprano, and Laura Ward, piano, Main Line Reform Temple, 410 Montgomery Avenue, Wynnewood, Pennsylvania. Pictured: "Rainbow Cats" by Dan Kessler. Photo courtesy of Lyric Fest.
Onstage
"The Wizard of Oz" at Walnut Street Theatre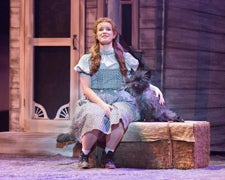 Follow the Yellow Brick Road to see the stage adaptation of the classic musical The Wizard of Oz at Walnut Street Theatre. The holiday production is on the mainstage through January 8 and features all of the beloved Oscar-winning songs from the movie. Starring Adrienne Eller as Dorothy, Christopher Sutton as the scarecrow, Bill Van Horn as the Wizard, along with Lyn Philistine, Fran Prisco, Christopher Sin, Nichalas L. Parker, and Ellie Mooney, with Glenn Casale making his Walnut directorial debut. Open captioning and ASL and audio described performances available, 825 Walnut Street, Philadelphia. Photo by Mark Garvin.
Inis Nua's "Dublin by Lamplight"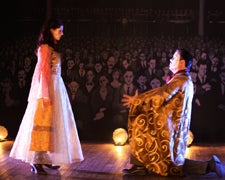 Inis Nua Theatre Company remounts the most popular, best-selling production in its history, Dublin by Lamplight, by Irish playwright Michael West, November 9-20. The North American premiere was presented in April 2011 and went on to play at the First Irish Theatre Festival in New York City. Directed by Tom Reing and featuring Mike Dees from the original production along with co-op students from Drexel University's Mandell Professionals in Residence Project. Six actors portray forty different characters with Commedia dell'arte makeup stylings at Drexel's Mandell Theater, 3201 Chestnut Street, Philadelphia. Photo by Katie Reing.
"Mauritius" by Act II Playhouse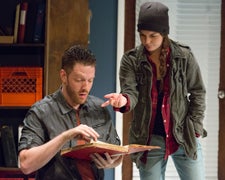 Onstage at Act II Playhouse is the crime drama, Mauritius, Theresa Rebeck's contemporary thriller that focuses on two half-sisters sparring over rare stamps from the island of Mauritius. After their mother's death, one sister attempts to sell the stamps for a fortune, and unwittingly steps into the dangerous black market of stamp collecting. Directed by David Bradley with a cast including Jake Blouch, Brian McCann, Stephen Novelli, Campbell O'Hare, and Julianna Zinkel, through Nov. 20, 56 E. Butler Avenue, Ambler, Pennsylvania. Photo by Mark Garvin.
Villanova Theatre's "Marisol"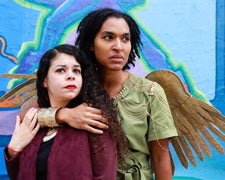 Villanova Theatre addresses society's fascination with the end of times with José Rivera's provocative, political and post-apocalyptic play, Marisol. Called "anti-apathy," the production transports audiences into a dark, dystopian New York that is at once familiar and strange. The playwright weaves elements of magical realism with relevant real world experience, inspired by playwrights Gabriel García Márquez and Sam Shepard. Directed by James Ijames with Rachel O'Hanlon-Rodriguez in the title role through November 20 in Villanova University's Vasey Hall, Lancaster and Ithan Avenues, Villanova, PA. November 17 is Speaker's Night, offering a post-show discussion with the playwrights, cast and crew. Free parking in VU's main lot. Photo by Kimberly Reilly.
Each week, the Entertainment Guide spotlights interesting local arts offerings happening now, including music, dance, theater, museums, special exhibitions and other arts events from across the region.
To submit an event to be considered, email Robin Bloom at artscalendar@whyy.org.