Weekly Entertainment Guide – Oktoberfest
Listen
Robin Bloom on what not to miss this week in the Philadelphia region.
What's Happening
Terror Behind the Walls at Eastern State Penitentiary
The annual Terror Behind the Walls, the massive haunted house inside the castle-like walls of the abandoned Eastern State Penitentiary, is back and scarier than ever with Hollywood-quality sets, custom-designed props, animatronics, digital sound effects and a cast of more than 200 performers in a theatrical production that consists of six haunted attractions. New this year, the "Hex Challenge," invites visitors to step further into the story by entering a secret room before each of the six attractions (available for additional fee), and experience "Lock Down" with an all new twist. Choose whether to explore the prison passively or actively. Try the hour-long, After Dark VIP guided tour by flashlight or try the "Fright and a BITE" Dinner Package. Ranked among the top haunted attractions in the country, "Terror Behind the Walls" is the largest and runs on select evenings through November 5 at 22nd Street and Fairmount Avenue in Philadelphia. Photo by Andrew Garn.
DesignPhiladelphia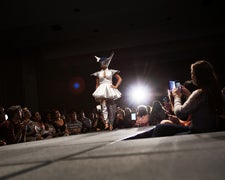 DesignPhiladelphia Festival returns with more than 100 events, October 6-16. With the theme of HOME, festival programming highlights hundreds of local artists, architects, and designers and the positive impact they are having on our city. The oldest design festival of its kind in the country, the 10 day festival features a wide range of design disciplines and activities include panel discussions, fashion shows, workshops, studio tours, book signings, exhibitions, and more taking place at universities, cultural institutions, civic associations, city agencies, retailers, manufacturers, and startups across the city. Design your own experience by creating a personalized schedule and view an interactive map of all events. Presented by the Center/Architecture + Design. Photo courtesy of Design Philadelphia.
Night Market Philadelphia – Navy Yard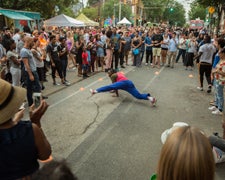 The last Night Market Philadelphia of 2016 takes place at a new location – the Philadelphia Navy Yard – Thursday, October 6, 6pm-10pm, at Broad Street and Intrepid Avenue. The street food festival features many of the city's best ethnic and regional restaurants and food trucks, plus music and more, rain or shine. Presented by the Food Trust. Take a free shuttle or take advantage of free parking. Photo by Dave Tavani for The Food Trust.
Brauhaus Schmitz's "Oktoberfest"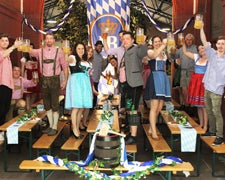 Transport yourself to Munich for the largest Oktoberfest in the Philadelphia area, October 7-9 at the 16,000 square-foot 23rd Street Armory, 22 S. 23rd Street, Philadelphia. Look for the Bavarian blue and white, traditional food provided by Chef Jeremy Nolen, authentic festival tables and benches imported from Germany plus a lofted stage area for musical acts including Alex Meixner and Die Heimatklange. Presented by Brauhaus Schmitz.
"Robot Revolution" at the Franklin Institute
A new groundbreaking exhibition, Robot Revolution, opens at the Franklin Institute on Saturday, October 8, bringing visitors "face-to-interface" with 40 cutting-edge robots on display. Some of the most innovative global robotics companies and universities demonstrate the breakthroughs and capabilities of these hi-tech machines. The debut exhibition is divided into four sections that focus on various aspects of the fields of robotics: cooperation, skills, smarts and locomotion, supported by Google.org with additional major support from The Boeing Company, through April 2, 222 North 20th Street, Philadelphia. Photo courtesy of J.B. Spector/Museum of Science and Industry, Chicago.
"Live and Life Will Give You Pictures" at the Barnes Foundation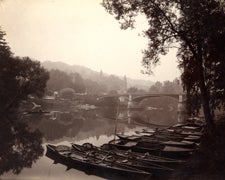 The Barnes Foundation's first-ever photography exhibition of over 170 vintage images that capture the spirit of France in the late 19th to mid-20th century opens October 8. Live and Life Will Give You Pictures: Masterworks of French Photography, 1890-1950 features works by a range of innovative practitioners who experimented in their documentation of modern French life. Look for works by Berenice Abbott, Eugène Atget, Ilse Bing, Brassaï, Henri Cartier-Bresson, Edgar Degas, André Kertész, Jacques-Henri Lartigue, Dora Maar, and Man Ray, contemporaries of the impressionist, post-impressionist, and early modern artists embraced by Albert C. Barnes. Drawn from the private collection of Michael Mattis and Judy Hochberg, nearly a third of the prints have never before been exhibited. Hung salon-style and organized thematically, the exhibit is on view through January 9, at 2025 Benjamin Franklin Parkway, Philadelphia. Pictured: Eugène Atget, Boulevard de Strasbourg, Paris. 1912. Gold chloride print on printing-out paper. 8 ¾ x 7 inches. Collection of Michael Mattis and Judy Hochberg.
Philadelphia Open Studio Tours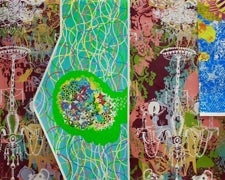 The annual Philadelphia Open Studio Tours returns for the 17th year, October 8-9, for studios West of Broad Street and October 22-23 for studios East of Broad Street, as hundreds of professional visual artists in several dozen Philadelphia neighborhoods open their studios to the public for the display and sale of their artwork, guided tours, workshops, artist talks and more, noon-6pm each day. Free. A list of participating artists, neighborhood maps, and free mobile app and smartphone guide available are online to plan your own itinerary. Guided trolley tours available October 9 & 23, 1pm. Presented by the Center for Emerging Visual Artists (CFEVA). Pictured: "Pattern Process," Ben Volta, on display at the Pennsylvania Academy of the Fine Arts, Alumni Gallery, Historic Landmark Building, 118-128 N. Broad Street, Philadelphia.
Pearl Street Block Party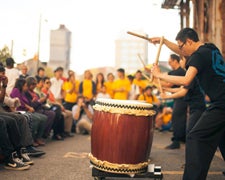 Asian Arts Initiative hosts the 4th annual Pearl Street Block Party, Saturday, October 8, 1pm-5pm, a neighborhood festival of arts and community that celebrates Chinatown North/Callowhill as a diverse, creatively rich, and burgeoning cultural hub, and provides an opportunity for Philadelphians to participate in all kinds of interactive art-making. The 1200 block will come alive with a myriad of activities, including live performances, music, activity tables, displays, and interactive artwork by a diverse range of local artists, Pearl Street between 12th and 13th Streets, via Asian Arts Initiative, 1219 Vine Street, Philadelphia. Photo courtesy of Asian Arts Initiative.
Cape May's Victorian Weekend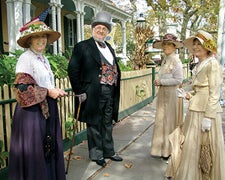 Learn about local Victorian heritage at the 44th annual Cape May Victorian Weekend, Friday, October 7 through Monday, October 10, as the Mid-Atlantic Center for the Arts & Humanities hosts events including house tours, living history programs, food and wine events, a crafts and antiques show, murder mystery dinners and more in Cape May, New Jersey. While there, check out "Scarecrow Alley" on the grounds of the Emlen Physick Estate, 1048 Washington Street. Photo courtesy of the Cape May Mid-Atlantic Center for the Arts & Humanities.
South Jersey Pumpkin Show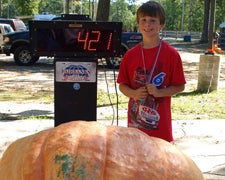 The South Jersey Pumpkin Show is Friday, October 7 through Sunday, October 9, with music, vendors, dining, contests, children's activities, costumed all breed dog parade, NJ Big Pumpkin Weigh Off (pictured) and more, rain or shine, Salem County Fairgrounds, Woodstown, New Jersey. Photo courtesy of the South Jersey Pumpkin Show. #SassySays
River City Festival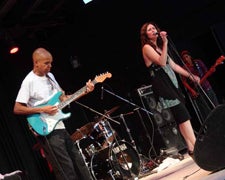 Celebrate historic Fishtown at the 9th Annual River City Festival, Saturday, October 8, beginning at noon with a 5K fun run through Fishtown, followed by live local music by Creepoid, Amanda X, TJ Kong and the Atomic Bomb, Creem Circus, Ben Arnold, and Deb Callahan (pictured). Fun for the whole family (including pets) with food, beer garden, pet tent, crafts, and children's activities, Penn Treaty Park, 1199 North Delaware Avenue, Philadelphia. Photo by J Hunter. #SassySays
Old City Fest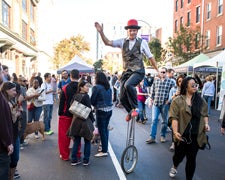 Old City District hosts the Old City Fest, celebrating the art, history, and culture of the neighborhood on Sunday, October 9, 11am-6pm, with over 100 vendors, 30 restaurants, fashions shows, street performers, live music, and family activities along North 3rd Street (from Market to Race) and Arch Street (from 2nd to 4th). Admission is free, pay as you go. Photo by CJ Dawson Photography.
Outfest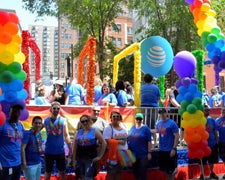 Philly Pride's Outfest, the 26th annual National Coming Out Day celebration – called the largest celebration of its kind in the world – is Sunday, October 9, beginning at noon with all full day of entertainment plus vendors, groups, and numerous activities, 12th/13th and Locust Street in the "Gayborhood," Center City, Philadelphia, Free. Photo by Patrick Haggerty. #SassySays
Pinelands Music Festival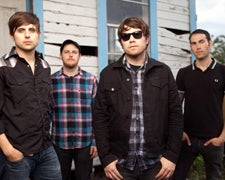 The Pinelands Music Festival comes back to Millville, New Jersey, Sunday, October 9, 1:30pm-10:30pm with live music from more than 20 bands including Hawthorne Heights (pictured), Hidden in Plain View, Don't Look Down, and more along with food trucks, vendors and more, Cumberland County Fairgrounds, 3001 Carmel Road, Millville, New Jersey. Photo by Evan Dell Photography.
Look for #SassySays for pet friendly events. Let us know if your event is pet-friendly! Email artscalendar@whyy.org and put #SassySays in the subject line.
Each week, the Entertainment Guide spotlights interesting local arts offerings happening now, including music, dance, theater, museums, special exhibitions and other arts events from across the region.
To submit an event to be considered, email Robin Bloom at artscalendar@whyy.org.