Weekly Entertainment Guide – Fête
Listen
Robin Bloom offers a selection of festivals to consider this week!
What's Happening
The Philadelphia Folk Festival
The Philadelphia Folk Festival celebrates its 55th year, August 18-21, at the Old Pool Farm in Upper Salford Township near Schwenksville, PA. The seminal summer event – the longest continuously-running outdoor music festival of its kind in North America – features Los Lobos (pictured), The Lone Bellow, Del & Dawg, The Wood Brothers, Anderson East, Darlingside, Buckwheat Zydeco, Marty Stuart and His Fabulous Superlatives, Buffy Sainte-Marie, Peter Yarrow, Pine Leaf Boys, and many more, with lots to do for families, including crafts, The Great Groove Band, jugglers, storytellers, kid-oriented musicians, food and more. Photo by Jon R. Luini/chime.
Philadelphia Podcast Festival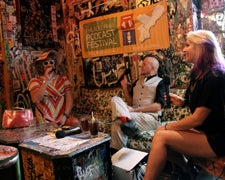 The Philadelphia Podcast Festival is back for a 4th year, August 19-28, showcasing more than 30 Philadelphia podcasts at four venues with live episode recordings, designed to entertain and educate through the digital medium. Podcast participants include Story Shuffle, Black Tribbles, Overdue, Sex with Timaree, Stark Raven Mad: A Game of Thrones Podcast, and more. Hosted by Philadelphia Podcasting Society in partnership with Tattooed Mom, 530 South Street, which hosts most events along with Amalgam Comics and Coffeehouse, Art Church of Philadelphia and Moonshine Philly. Photo by Click Save Photography.
Mustard Seed Film Festival
The first South Asian film festival in Philadelphia, the Mustard Seed Film Festival, kicks off August 19-20, exploring themes of identity and home specific to the South Asian experience, both of the subcontinent and diaspora. Look for documentary and fiction films from Bangladesh, Bhutan, Indian, Kashmir, Nepal, Pakistan, Sri Lanka, Trinidad and Tobago, and the United States, plus panel discussions and workshops. A free night of screenings takes place Friday, August 19 with dance performances, food and music below the Reading Viaduct beginning at 4pm. Screenings on Saturday, August 20 will take place at the Drexel URBN Annex Screening Room, Twelve Gates Arts and a special lunch showing at Dana Mandi Restaurant. Films include "Valley of Saints" (pictured).
Delaware River Waterfront Festivals
The annual Festival of India takes place Saturday, August 20, 1pm-6pm, celebrating India's Independence Day and the Greater Philadelphia region's vibrant Indian community, with music, food, art, vendors and more. On Sunday, August 21, transport yourself to the islands with the 30th annual Caribbean Festival, 12pm-8pm. All events at Great Plaza, 101 S. Columbus Boulevard at Market Street, Philadelphia. Photo courtesy of the Delaware River Waterfront Corporation.
Franklin Square 10th Birthday Celebration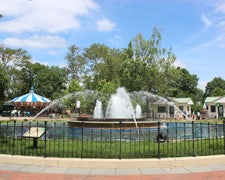 One of Philadelphia's five original squares, Franklin Square is celebrating its 10th "birthday" and offers a Philly Mini Golf course, Parx Liberty Carousel and special events including free outdoor yoga, Saturday, August 20, 9:30am-10:30am and Saturday Night at the Movies, Saturday, August 20, 7pm-11pm. Bring a blanket and enjoy Aladdin! Movie admission is free. Games and pre-show activities start at 7pm and movie begins at 9pm, 6th and Race Streets, Philadelphia. Photo courtesy of Historic Philadelphia.
Star Wars Day at Please Touch Museum
Dress as your favorite character at Please Touch Museum's Star Wars Weekend, Saturday and Sunday, August 20-21, beginning at 12pm. Operate an R2D2 unit, enjoy a galactic dance party, play with iconic toys from the 1970s to today from the museum's collection, plus art activities, character meet and greets and more, Memorial Hall, 4231 Avenue of the Republic, Fairmount Park, Philadelphia. Photo courtesy of Please Touch Museum.
Pirates on the Delaware!
Fort Mifflin brings the colorful history of piracy on the Delaware River to life with Pirate Day, Saturday, August 20, 10am-4pm. Explore 18th century history and interact with pirates and soldiers. Battles take place at 11am and 3pm along with a scavenger hunt, guided tours, treasure dig, drills with wooden muskets, live parrots and live music. Dress as a pirate (circa 1772), Fort Mifflin & Hog Island Roads, Philadelphia. Photo courtesy of Fort Mifflin. #SassySays
Collingswood Crafts and Fine Arts Festival
The 12th annual Collingswood Crafts and Fine Arts Festival is Saturday, August 20 and Sunday, August 21, 10am-5pm, with over 175 craft and fine artists from all over the country presenting contemporary works in wood, clay, glass, metal, fiber and more, along with food, entertainment, family activities, silent auction and more, along downtown Haddon Avenue, Collingswood, NJ. Free. #SassySays
Tyler Arboretum's Bugs and Butterfly Festival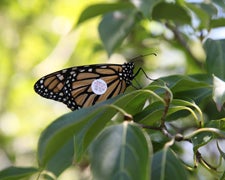 Learn how to create a butterfly friendly habitat in your home garden at Tyler Arboretum's Bugs and Butterfly Festival, Sunday, August 21, 10am-2pm, as the monarch butterflies are tagged and released for their southern migration. Check out the Academy of Natural Sciences' Amazing Arthropods Touch Table to see or hold your favorite insect friends. Pieter's Apiary will have live bees in a demonstration hive, plus games, crafts, food, and more, with regular admission, rain or shine, 515 Painter Road, Media, PA. Photo courtesy of Tyler Arboretum.
Obon Festival at Shofuso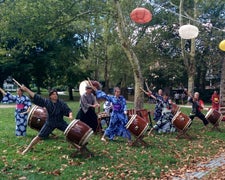 Celebrate Obon at Shofuso Japanese House and Garden, Sunday, August 21, 11am to 4pm. The seasonal festival honors the Japanese holiday by hosting a Bon Odori dance, which traces its history to the story of Mokuren, a disciple of the Buddha, plus arts, and crafts, and other activities for children and adults, on the grounds of the Horticulture Center, Lansdowne and Horticultural Drives, Philadelphia's West Fairmount Park. Shofuso was built in Japan in 1953 using traditional techniques and materials and moved to Philadelphia on the site of several previous Japanese structures continuously maintained since the 1876 Centennial Exposition. The traditional-style house with its hinoki roof, the only one of its kind outside of Japan, can be toured, along with the gardens, koi pond and island. Photo courtesy of Shofuso Japanese House and Garden.
Look for #SassySays for pet friendly events. Let us know if your event is pet-friendly! Email artscalendar@whyy.org and put #SassySays in the subject line.
Each week, the Entertainment Guide spotlights interesting local arts offerings happening now, including music, dance, theater, museums, special exhibitions and other arts events from across the region.
To submit an event to be considered, email Robin Bloom at artscalendar@whyy.org.