Weekly Entertainment Guide – 'Down Past Passyunk,' Cinedelphia and Jazz Appreciation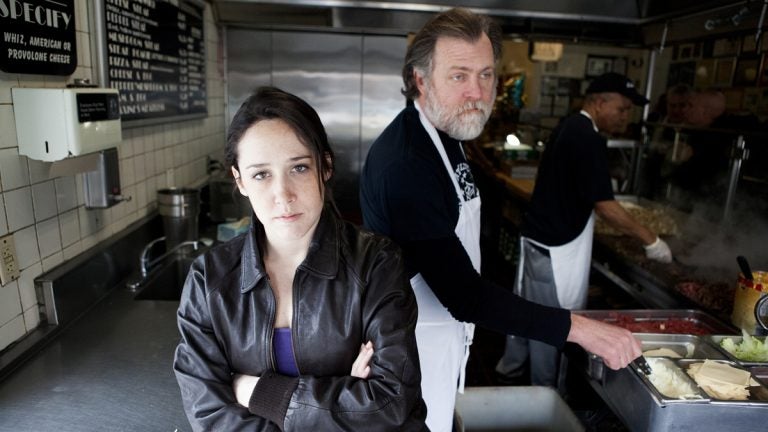 Looking for something to do this week? WHYY's Robin Bloom has some recommendations on what's happening around the Philadelphia region. Here are her picks:
Onstage
"Ain't Misbehavin'" at Delaware Theatre Company
Delaware Theatre Company closes its 35th season by celebrating the 35th anniversary of "Ain't Misbehavin'," onstage through April 27. The Tony Award winning 1978 hit musical that starred Nell Carter and Irene Cara is a rousing revue and tribute to the black musicians of the early 1900s, featuring the music of Thomas "Fats" Waller. Songs include "Mean to Me," "Honeysuckle Rose," "Black and Blue," and the legendary title song. Directed by the original Broadway director Richard Maltby, Jr. (who created the show with Murray Horwitz of NPR), with a hand-picked cast of veteran Broadway actors including Doug Eskew, Debra Walton, Eugene Fleming, Cynthia Thomas, and Kecia Lewis, 200 Water Street, Wilmington.
"Down Past Passyunk" at InterAct Theatre Company
Cheesesteaks take center stage in InterAct Theatre Company's world premiere of A. Zell Williams' "Down Past Passyunk." Inspired by the Geno's Steaks controversy, the new play tells the story of cheesesteak shop owner Nicky Grillo, who insists that customers order in English, and embroils his business in controversy affecting everyone from his closest friends and family and to his diverse neighborhood. Directed by Matt Pfeiffer and starring Philadelphia actors Brian Cowden, Alex Keiper, Kittson O'Neill, William Rahill, Alice Yorke, and William Zielinski, along with New York based actor Bobby Plasencia, April 4-27 at The Adrienne, 2030 Sansom Street, Philadelphia. A special "InterAct with Us" event features Philadelphia and cheesesteak-themed Quizzo with Johnny Goodtimes following the 8pm performance on Saturday April 19 at The Café, 2011 Walnut Street, Philadelphia. Related events also include "Young Friends Night" on Thursday April 10 and a "Speaker Sunday" discussion with the playwright on Sunday, April 27 at 2pm.
"Last Call at the Downbeat" at Society Hill Playhouse
"Last Call at the Downbeat," an original show detailing jazz icon Dizzy Gillespie's famous stint at Philadelphia's Downbeat nightclub in November of 1942, opens in the Red Room of the Society Hill Playhouse April 4-13. Written by JazzBridge co-founder Suzanne Cloud, music direction by Duane Eubanks, and starring Gavin Whitt, the show features filmed interviews with the only surviving member of the Downbeat house band, drummer Charlie Rice, as well as historic photos, and more, 507 South 8th Street, Philadelphia.
Stagecrafters' "The Importance of Being Earnest"
Stagecrafters presents the Oscar Wilde classic "The Importance of Being Earnest," through April 13. The farcical satire on Victorian society's hypocrisies is directed by Yaga Brady, who has moved the comedy to the early 1920s setting, 8130 Germantown Avenue, Chestnut Hill. "Meet the Cast & Director" Q&A session following the April 4 performance.
Music
April is Jazz Appreciation Month
Celebrate Jazz Appreciation Month in Philadelphia. Famed for fostering jazz icons like John Coltrane, Billie Holiday, Stan Getz, Eddie Lang, Joe Venuti and Dizzy Gillespie, the city is currently home to a thriving contemporary jazz scene. Organized by the Philadelphia Jazz Project led by Homer Jackson, JAM salutes Philadelphia's jazz history and showcases local talent. In addition to the many gigs at city venues this month, events include "Dizzy Hours" on Mondays, a "Kid's Jazz Party" at Franklin Square Park on Saturday, April 12 from 11am-2pm, and free concerts at the Free Library of Philadelphia featuring the Tal Shtuhl Trio on Monday, April 21 at 7:30 and an ensemble of local favorites drummer Ronnie Burrage, saxophonist Rick Tate, guitarist Alain Bradette, bassist Nimrod Speaks and vocalist Shenel John on Monday, April 28 at 7:30pm. Activities continue through April 30 at a various venues in Philadelphia.
Pimps of Joytime at North Star Bar
After a nearly sold out West Coast tour, "Janxta Funk" rockers from Brooklyn, the Pimps of Joytime, arrive on the East Coast this month to debut their new songs. They'll be in Philly on Saturday, April 5 with the Philadelphia Funk Hustle at the North Star Bar, 2639 Poplar Street. Doors open at 9pm.
PRISM Quartet's "Heritage/Evolution 1"
PRISM Quartet celebrates its 30th anniversary with concerts in New York and Philadelphia. The series kicks off Friday, April 11, 7:30pm with "Heritage/Evolution 1," featuring world premieres of new works by jazz saxophonist, composer and Fulbright scholar Steve Lehman and Rudresh Mahanthappa (pictured), who has broken new musical ground with his innovative brand of jazz, fusing the musical traditions of his Indian heritage, World Café Live, 3025 Walnut Street, Philadelphia.
Food & Fun
PHAIR, Philadelphia Open Air Market, returns for a second year, now partnering with South Street Headhouse District, at its new location under the Shambles and along 2nd Street Plaza at 2nd & Lombard Streets. The atmosphere mixes the tradition of the open air markets held there since the 1700s with the artisan flair of a European style market, offering a variety of artists, crafters, designers, photographers, jewelers, vintage dealers, farm stands, food trucks, and more. Opening Saturday, April 5, 10am-5pm and held every Saturday (except April 12 – will be on Sunday, April 13 instead) through November 22.
Celebrating 10 years, "Let Them Eat Cake: Fantasy Weddings" comes to Philadelphia this Monday, April 7, 6pm. The fondant food fest has grown into the Northeast's largest wedding cake competition, offering the opportunity for guests to witness cake artistry and sample creations from more than 40 professional bakers, pastry chefs and student bakers from around the tri-state region, competing in categories including Most Artistic, Best Tasting, Best Theme, Best of Show, and People's Choice at the DoubleTree Hilton, 237 Broad Street, Philadelphia. Participants include Garces Catering, Wonderland Cakes, The Restaurant School, the Art Institute of Philadelphia, Classic Cakes, Granny Schmidts, and more and celebrity judges include chefs Marc and Benny (City Cakes NY) and former White House chef John Moeller. Also, live music, a Tablescape competition, and more to benefit City of Hope.
With the Kids
Día del Niño at Please Touch Museum
Please Touch Museum celebrates children and childhood with the annual "Día del Niño," the International Day of the Child, Saturday, April 5, 9am-5pm, featuring music, dance, theater, crafts, and more, including performances by Jose Rico and the Mexican Cultural Center of the Delaware Valley, the Telemundo Weather Wall, soccer demonstrations with the Philadelphia Union and Eastern Pennsylvania Youth Soccer, Philadelphia Eagles Drum Line Pep Rally, Eagles cheerleaders and mascot Swoop, Memorial Hall, 4231 Avenue of the Republic, Fairmount Park, Philadelphia.
"Our Feathered Friends" at Morris Arboretum
Morris Arboretum aims to improve bird habits with a three season celebration of "Our Feathered Friends," special bird-themed events, classes, trips and tours from April through October, kicking off Saturday, April 5, 8am-3pm with a day full of activities. Enjoy "Home Tweet Home," more than 30 designer birdhouses crafted by artists and bird lovers on display through the garden. On Saturday, April 12 and 19 is the annual Japanese Cherry Blossom Festival, in partnership with the Subaru Cherry Blossom Festival of Greater Philadelphia.
Poetry
The 18th Annual Poetry Ink: 100 Poets Reading is Sunday, April 6, noon, as Moonstone Arts Center hosts an open, festive, participatory event with academic poets, famous poets, free form poets, street poets, unknown poets, spoken word poets, published poets, unpublished poets and more. Each reader gets 3 minutes, Gershman Y, Broad and Pine Streets, Philadelphia. Coffee supplied – you bring dessert!
Film Fest
Cinedelphia Film Festival returns for a 2nd year with video-era oddities, rarities, and Philadelphia-centric films, presented by Video Pirates. The carefully curated schedule (by festival founder Eric Bresler), showcases interesting work rarely seen in Philadelphia. A pre-festival, free showcase of video store shorts at Viva Video! Kicks it off on Friday, April 4, 8pm, 16 W. Lancaster Avenue, Ardmore, PA. Festival highlights include an opening night screening of "Video Wars" (1983), a rare James Bond spoof shot in Philadelphia, Thursday, April 10, 7:30pm, world premiere of the feature length Video Pirates "Life of Pia," Friday, April 11, 8pm, a unique screening of "The Shining" (1980) projected backwards and forwards with a live score by local band Psychic Teens, Tuesday, April 22, 8pm. All festival screenings April 10-29 are at PhilaMOCA, 531 N. 12th Street, Philadelphia. Pictured: "Son of the White Mare" (1981).
Art Appreciation
The Mural Arts Program tour season officially kicks off this month, with new trolley tours including "Philadelphia Reimagined Landscapes Mural Tour" and "America's First Highway Mural Tour," offering the opportunity to experience many of the over 3600 works of public art that make Philadelphia the "City of Murals." With trolley, walking, bicycle, and public transit tours, many begin at The Gallery Artist Studio to see the mural-making process first hand, 9th & Market Streets, Philadelphia. Pictured: "Spring," originally by David Guinn, restored by Phillip Adams, 1315 Pine Street, Center City Philadelphia (photo by Jack Ramsdale).
"Slavery at Jefferson's Monticello"
A new exhibition at the National Constitution Center examines the complex legacy of the 3rd president of the United States. "Slavery at Jefferson's Monticello" considers the contradiction of the man who penned the phrase "life, liberty, and the pursuit of happiness" and inspired a young nation while leaving that promise unfulfilled for a whole segment of the population, including the six enslaved families that lived and worked on his plantation. Featuring almost 300 objects including excavated artifacts from Mulberry Row, narratives from descendants of the Fossett, Granger, Gillette, Hemings, Hern, and Hubbard families (recorded through the "Getting Word" oral history project), a rare printing of the Declaration of Independence, and more, April 9 through October 19, 525 Arch Street, Independence Mall Philadelphia. Organized by the Thomas Jefferson Foundation at Monticello and the Smithsonian's National Museum of African American History and Culture (NMAAHC). $3 off opening weekend admission in celebration of Jefferson's birthday on Sunday April 13.
The Fairmount Arts Crawl celebrates 10 years this Sunday, April 6 from 2-6pm, as Fairmount restaurants and businesses open their doors and highlight the work of a wide variety of artists and their media, along with outdoor musical performances, family activities, and more, centered around 22nd & Fairmount Avenue in Philadelphia.
Learn about the traditional Indian Bharatanatyam dance style from a master. Internationally renowned classical Indian dancer Malavika Sarukkai comes to Philadelphia for a limited engagement beginning April 6. The weeklong residency features master classes, lectures, and public workshops at various venues, culminating in a one night only performance of her seminal work Ganga: Nitya Vaahini (The Eternal River), Saturday, April 12, 8pm, at Annenberg Center for the Performing Arts, 3680 Walnut Street, Philadelphia. Presented by Sruti, the India Music and Dance Society.
Delaware Art Museum hosts a South Asia Festival celebrating the cultures of India and Pakistan, Sunday, April 6, 12pm-3:30pm. Featuring traditional performances by North Indian music sitar player Allyn Mine and tabla player Sudev Sheth, South Asian Classical and Bollywood dance performances by the Jhankaar Bollywood Dance Troupe, and South Asian Fashion show, along with art projects, henna art, calligraphy demonstrations and more, 2301 Kentmere Parkway, Wilmington. Presented by Delaware Lahore Delhi Partnership for Peace.
Marissa Nicosia contributed reporting to this week's guide
To submit an event to be considered for the Weekly Entertainment Guide email Robin Bloom at artscalendar@whyy.org.
Like us on Facebook to add the Weekly Entertainment Guide to your News Feed.
WHYY is your source for fact-based, in-depth journalism and information. As a nonprofit organization, we rely on financial support from readers like you. Please give today.