Weekly Entertainment Guide – 30 years of Mural Arts, BalletX, Itzhak Perlman returns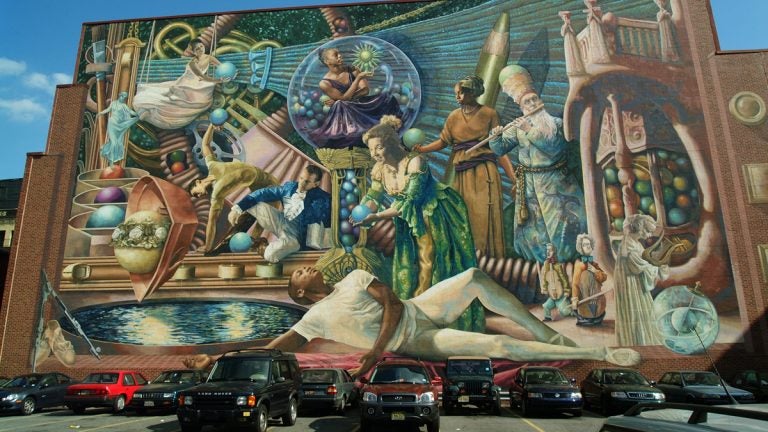 Looking for something to do this week? WHYY's Robin Bloom has some recommendations on what's happening in the Philadelphia region. Here are her picks:
Art Appreciation
PAFA exhibit celebrates the "City of Murals"
What began three decades ago as an attempt to deal with a graffiti problem has evolved into an internationally-renowned leader in the field of socially engaging art-making. The City of Philadelphia Mural Arts Program has involved thousands of community members in free mural-making activities, resulting in over 3600 murals. The Pennsylvania Academy of the Fine Arts celebrates the 30th anniversary with "Beyond the Paint: Philadelphia's Mural Arts," opening November 15 through April 6, 2014, Samuel M. V. Hamilton Building, 128 N. Broad Street, Philadelphia. Offering archival and documentary material including audio, photography and videos (with new commissions by artists Josh MacPhee, Temporary Services, and Megawords), the extensive exhibition showcases all aspects of the organization that helped build and sustain a vibrant local community of artists, many of whom are PAFA students, alumni and faculty. Programming accompanies the exhibition, with something for everyone including family workshops, classes, tours, camp for kids, and more.
Gerald Cyrus: Portrait of Camden, New Jersey, in Photographs 2001-2008
Philadelphia-based photographer Gerald Cyrus, known for his black and white photographs that documented the vibrant music scene of Harlem and Manhattan in the 1990s, has focused his lens on the residents of one of the most dangerous cities in the United States. "Gerald Cyrus: Portrait of Camden, New Jersey, in Photographs 2001-2008," is on view at Haverford College, displaying 35 black and white portraits – taken using a Polaroid adaptor on a film camera – that tell an intimate and personal story of those who live in the impoverished city, through December 1 in the Atrium Gallery, Marshall Fine Arts Center, Lancaster Avenue, Haverford, PA.
Dance
In its seventh season as the resident dance company of the Wilma Theater, BalletX glides onstage with three world premieres from award-winning choreographer and filmmaker Gabrielle Lamb, New York-based choreographer, dancer, and filmmaker Adam Barruch and BalletX Co-Artistic Director Matthew Neenan. Lamb's HeedfulNeedful explores ancestry and the story of family ghosts―both past and future―and how their presence can influence and shape the decisions of the living. Barruch's new ballet, If The Heart Runs, examines the transformation of human sensuality across time. Neenan's new ballet, There I Was, blurs the line between music and dance with the themes of love and despair. Performances run November 20-24, 265 South Broad Street, Philadelphia. New this year is a unique dance appreciation initiative called The X-Process, featuring interactive lectures, artist conversations, and a new company blog that will take participants behind the scenes. Special events include an Opening Night pre-performance Q&A on November 20, Young Xers Night on November 21, and A Pie, A Pint, & The Process on November 23.
Known for its wit, theatrical sensibility, and penchant for pop culture, KEIGWIN + COMPANY celebrates its 10th anniversary with four Philadelphia premieres, set to the music of Roy Orbison, Nina Simone, Aretha Franklin, Frank Sinatra and others. Performances take place as part of Dance Celebration at the Annenberg Center's Zellerbach Theatre, 3680 Walnut Street, Philadelphia, November 21-23. The fun packed show includes Love Songs, a series of playful duets that explore the various stages of love; The signature Keigwin work, Mattress Suite, six solo and duet pieces examining love, life and the search for self while dancers in white underwear inhabit a queen size mattress; Triptych, an abstract full-ensemble work set to a pulsing electronic score that indulges in concepts of duration, repetition and pattern; and Girls, a tongue-in-cheek piece featuring a trio of female dancers playfully weaving in and out of rain curtain. A post-show talk back, Student Discovery performance for schools, and a free master class for the dance community will be held November 22.
SHARP Dance Company's "Perceptions"
SHARP Dance Company performs "Perceptions," its fall show highlighting new dancers and including guest dancer Joe Cotler from Koresh Dance Company, guest choreography by Steven Vaughn of Parsons Dance, original music by composer Jason Andrew, and real letters written by the community about someone who has changed their perception of life, Friday, November 22, 8pm, Saturday, November 23, 8pm, and Sunday, November 24, 3pm, Christ Church Neighborhood Theater, 20 N. American Street, Philadelphia.
Onstage
Stick Fly at Arden Theatre Company
Onstage at Arden Theatre Company is "Stick Fly," by playwright Lydia R. Diamond. Set during one summer weekend in Martha's Vineyard as the LeVay brothers bring their girlfriends home to meet their parents. Directed by Walter Dallas, former artistic director of Philadelphia's Freedom Theatre (Pennsylvania's first African-American theatre), and starring U.R., Juliana Zinkel, Biko Eisen-Martin, Jessica Frances Dukes, Jerome Preston Bates, and Joniece-Abott Pratt, through December 22 at 40 N. 2nd Street, Philadelphia. Post-show discussions held following the November 17 and December 15 performances at 2pm and on November 20 and December 4 at 6:30pm. Open captioned and audio described performances take place Friday, November 22, 8pm and Saturday, November 23, 2pm. The Scene, Arden's young professionals networking event is Friday, November 15.
The stage adaptation of the 1983 film is on tour and headed for Philadelphia November 19-24. Alex Owens, a Pittsburgh steel mill welder by day and bar dancer by night, dreams of one day becoming a professional performer. Featuring a score that includes the biggest hit songs from the movie, "Flashdance – What a Feeling," "Maniac," "Gloria," and more, along with 16 brand new songs written for the musical, and celebrating the film's 30th anniversary at the Academy of Music.
Opening this weekend at Montgomery Theater is "Miracle on South Division Street," the most recent play by Tom Dudzick. The heartfelt and funny holiday story of faith lost and found, and how we must all adjust to life's curveballs, stars Marcia Saunders, Mikaela Kafka, Victoria Healy and Ryan Tygh, is directed by Tom Quinn, and is already extended through December 8 at 124 Main Street, Souderton, PA. Opening night post-show party on November 15 sponsored by Prism Brewing.
Tickets are going fast for "The Servant of Two Masters," the University of Delaware's Resident Ensemble Players' staging of the commedia dell'arte, adapted by Jeffrey Hatcher and Paolo Emilo Landi. The madcap Italian comedy of lovers, lawyers, servants, and 27 plates of meatballs, is onstage through December 8 in Thompson Theatre, Roselle Center for the Arts, 110 Orchard Road, Newark, DE.
The Drama Group's "Radio Golf"
The Drama Group presents August Wilson's "Radio Golf," the final play in the 10 play cycle chronicling African-American life in the 20th century, set in Pittsburgh in the late 1990s, where a successful and idealistic Ivy League educated entrepreneur aspires to be the city's first black mayor. Directed by Robert Bauer and starring Monroe Barrick, Kim E. Brown, Vincetta Easley, Kamili O. Feelings, and Marc C. Johnson, November 15-30 in Pilling Hall at the First United Methodist Church of Germantown, 6001 Germantown Avenue, between High Street and Walnut Lane, Northwest Philadelphia. Opening night, November 15, every ticket purchased will admit two people. A post-show discussion follows the Friday, November 22 performance.
Mystical Arts of Tibet
Losang Samten Mandala Residency
The Philadelphia Folklore Project welcomes Losang Samten, teacher of meditation and Spiritual Director of the Tibetan Buddhist Center of Philadelphia, back for his Sand Mandala Residency, November 18-22, 1pm-7pm. Watch Samten create the "Wheel of Life" Mandala in colored sand or create your own. A Mandala is an intricate diagram of the universe, popular since around the 12th century, with various purposes and meanings, such as religious or political, 735 S. 50th Street, Philadelphia.
The Tibetan Monks from Drepung Loseling Monastery share authentic cultural traditions that date back 600 years in a presentation of "Sacred Music, Sacred Dance," Friday, November 22, 8:30pm. Watch multiphonic singers perform music and chants for purification and healing as well as dances of the Black Hat Masters, Skeleton Lords and Snow Lions, in McPherson Auditorium, Goodhart Hall, Bryn Mawr College, Bryn Mawr, PA. The Drepung Loseling monks appeared with Philip Glass in a live performance of his Academy Award nominated score to the Martin Scorsese film Kundun.
Classical Music
Itzhak Perlman returns to conduct and perform with the Philadelphia Orchestra for the first time on subscription concerts, for four performances, November 21-24, leading Beethoven's Two Romances for violin and orchestra as soloist, and conducting the great Philadelphia strings in Dvorak's Serenade for Strings. Also on the program is Beethoven's Second Symphony and the Brahms Academic Festival Overture, Verizon Hall, Kimmel Center, Philadelphia.
Astral Artists presents the Varshavski-Shapiro Piano Duo in its Philadelphia recital debut, Sunday, November 17, 3pm at the Trinity Center for Urban Life. Stanislava Varshavski and Diana Shapiro both perform two-piano works and works for four hands by Schubert, Rachmaninoff, Lutoslawski, Mendelssohn, and Rachmaninoff, 2212 Spruce Street, Philadelphia.
The Philadelphia based Meiravi Quartet performs four quartets, spanning two centuries, including Holocaust-era Czech composer Erwin Schulhoff's rarely heard String Quartet No. 1, Prokofiev's String Quartet No. 1, Shostakovich's Quartet No. 1, and an excerpt from local composer-in-residence Peter Nocella's String Quartet No. 1 in Blue, Sunday, November 17, 3pm, in University of Pennsylvania's Irvine Auditorium, 3401 Spruce Street, Philadelphia. Reception follows the performance.
Get ready for the holidays
Fairmount Park Holiday Gingerbread House Display
The third annual Fairmount Park Holiday Gingerbread House Display is back at The Shops at Liberty Place, with thirteen structures on view, modeled after Fairmount Park historic sites and handcrafted by Philadelphia chefs. Look for Cedar Grove by Chef Gerald Drummond of STARR Restaurant Group, Mount Pleasant by Chef Peter Scarola of R2L, Woodford Mansion by Chef Diana Anello of Bredenbeck's Bakery and more, through November 22, 16th and Chestnut Streets, Philadelphia. Free and open to the public. Presented by the Fairmount Park Conservancy.
The Clay Studio's annual holiday exhibition "Gifted," hand-made objects including plates, bowls, mugs, ornaments, tiles and more, representing a wide aesthetic range of dozens of artists, affordably priced for holiday gift giving, through December 30 at 137-139 North Second Street, Old City, Philadelphia.
Celebrate the early arrival of Hanukkah at the Big Yiddish Dance Party, returning to The Rotunda for a second year with a night of traditional klezmer music and dancing. Musicians include Dan Blacksberg on trombone, Michael Winograd on clarinet, accordionist Lauren Brody, and drummer Dave Licht (founding member of the Klezmatics), with dancing led by Steve Weintraub, Sunday, November 17, 7pm, 4014 Walnut Street, Philadelphia. Free with donations encouraged.
Yifei Kong contributed reporting to this week's guide.
To submit an event to be considered for the Weekly Entertainment Guide email Robin Bloom at artscalendar@whyy.org.
Like us on Facebook to add the Weekly Entertainment Guide to your News Feed.
WHYY is your source for fact-based, in-depth journalism and information. As a nonprofit organization, we rely on financial support from readers like you. Please give today.