In State of the State, Murphy seeks changes to N.J. tax-incentive program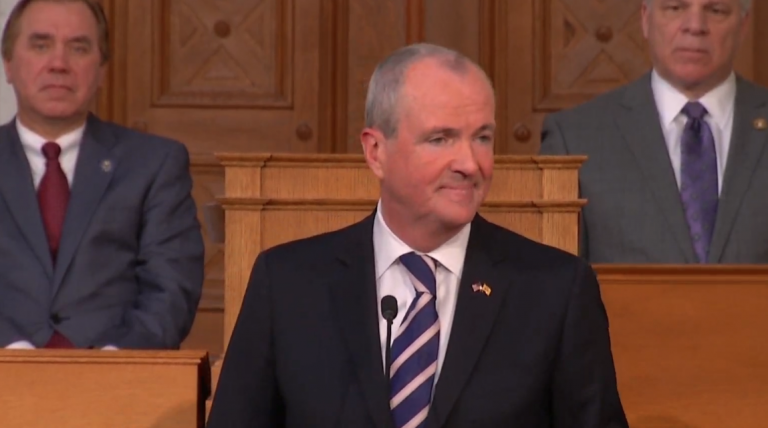 Updated: 7:22 p.m.
Gov. Phil Murphy looked back in time during his first annual State of the State address to New Jersey voters Tuesday, emphasizing a recent audit his administration conducted of the state's generous tax-break program that was expanded under his predecessor, former Gov. Chris Christie.
But in a speech short on new ideas, Murphy also reiterated his hopes that the Legislature would send him bills to hike the minimum wage to $15, legalize recreational marijuana, and offer driver's licenses to undocumented immigrants.
Murphy said he wants "to build a state that leads for all the right reasons and in all the right ways, the state others point to and say, 'that's what the future looks like.'"
The audit of the Economic Development Authority's incentive programs found that the authority handed out tax breaks to companies without checking if they created the jobs required by their agreements.
Murphy, a Democrat, proposed a new tax incentive system that would cap the amount the state can dole out, set stricter requirements for companies, and reduce what he called cronyism.
"It is about fostering the new economy rather than simply helping a few big corporations," he said.
State Senate President Steve Sweeney, D-Gloucester, who supported the law signed by Christie to expand the tax break offerings, said the audit highlighted problems of enforcement.
"To say the programs we did were bad, I just don't agree," Sweeney said after Murphy's address. "But I believe there's room for improvement."
The two have agreed to work on a law to replace the current tax-break programs, which expire in the summer.
But that may require thawing the frosty relationship between Murphy and Sweeney that caused several big-ticket legislative items — a $15 minimum wage, legalized recreational marijuana, driver's licenses for undocumented immigrants — to languish in 2018.
Still, Murphy noted that he signed nearly 170 bills into law in his first year in office, tackling issues from paid sick leave to gun control to protections for LGBT residents.
"Working together with Senate President Sweeney, Speaker Coughlin, and each of you," he told lawmakers in attendance, "we had a productive year. And because of that, I can proudly say that the state of our state is stronger and fairer than it was one year ago."
Yet Republican lawmakers assembled for Murphy's address said they wished the governor had floated new proposals for dealing with the state's high cost of living and notoriously burdensome property taxes.
Assembly Minority Leader Jon Bramnick questioned how Murphy would pay for some of his top priorities.
"Gov. Murphy has a really big heart," Bramnick said. "We just don't have the wallet to match his heart."