Urban farms still struggle to put down legal roots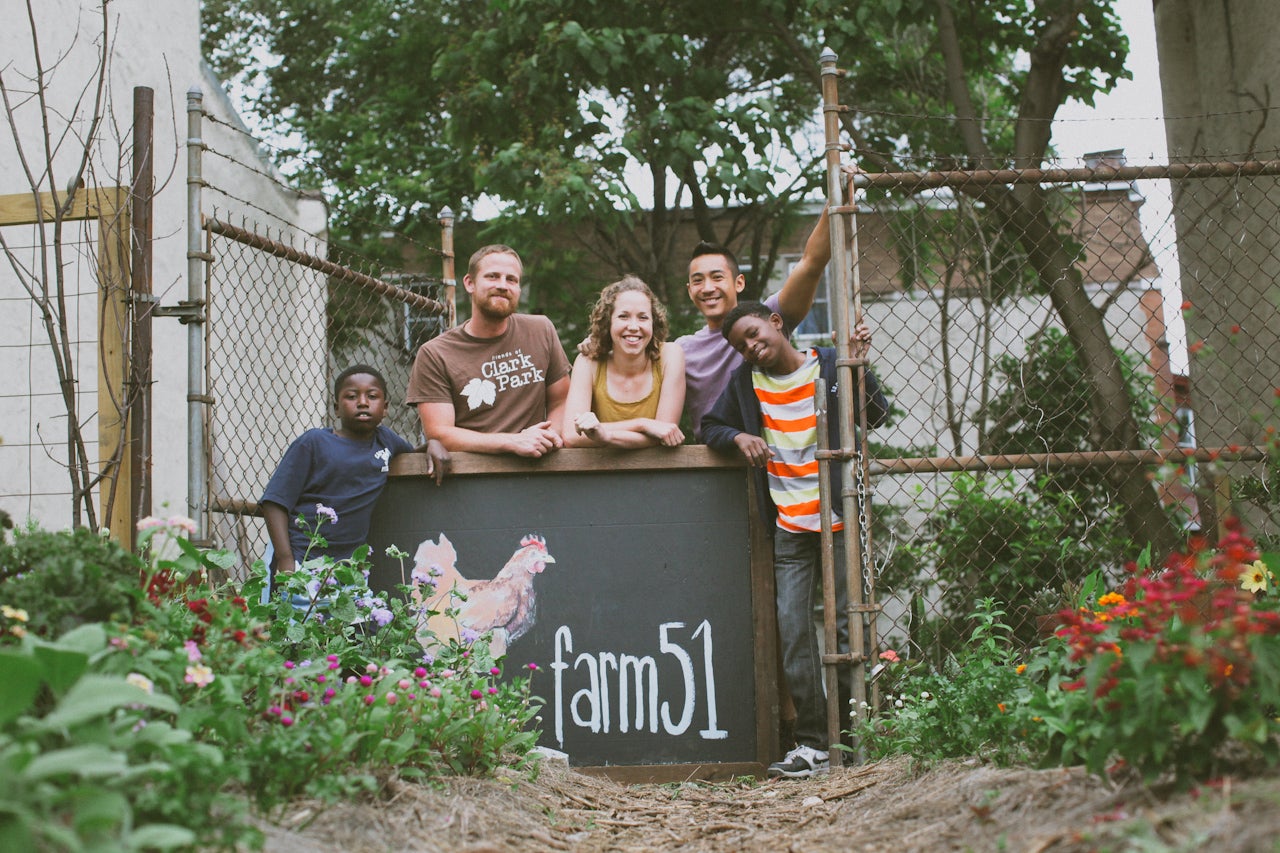 Which would you choose for your block: A weed-choked illegal dumping ground or a quasi-legal market farm growing everything from sunflowers to spinach?
Turn the corner of 51st onto Chester and you can't miss Farm 51. It's the double-wide site bursting with green, where tidy rows of crops are punctuated by a riot of floral color.
You wouldn't know it to look at Farm 51 but only half of the land is owned by the farmers, Andrew Olson and Neal Santos*, who live next door. The other half is a tax-delinquent property that is being pushed toward sheriff's sale.
Just a few years ago 5103 and 5105 Chester Avenue were just two busted teeth in a row of houses, knocked out by tax delinquency and dereliction. But Olson moved to the block in 2008 and his green thumb saw potential. It began as, and remains, a labor of love.
Back then the lots were in bad shape, thick will tall weeds. "Over the course of the past five years we found a handgun – a glock – bullets, license plates… bottles and bottles of urine. It was everybody's dumping ground. We found drug paraphernalia, the usual, kids' toys," Santos told me sitting in their yard, an understated urban oasis.
Olson and Santos have worked with the help of supportive neighbors to reclaim the overgrown sidewalk and these lost lots, bit by bit, by hand. Now, instead of earth that hides firearms or license plates, Farm 51 is sprouting kale, carrots, peppers, beans, and helping to connect neighbors, too.
"Our proudest moments are when we have farm stand. People come from all walks of life," Santos said. "Our one customer who has had really bad diabetes, comes week after week for food that is healthy, food that he knows where it's coming from. I think that's a testament just to the value of what we're growing here."
Farm 51 has proven so popular that they've started accepting WIC Farmers Market Nutrition Program coupons to provide access to affordable produce, and expanded operations to space at the Schuylkill Center for Environmental Education. Farm 51 produces more than 1,000 pounds of produce annually, Santos said.
(Neal Santos)

(Neal Santos)
Like Farm 51, many gardens start out guerilla as neighbors start tending land that no one else cares to maintain, taking responsibility for places others won't. Some of these properties are willfully abandoned, some have tangled title. Some are owned by dead people. Some are owned by public agencies with more than enough vacant properties to keep them busy. Most upstart gardeners are agnostic to the ownership of the lots. They're just trying to grow something from what someone else has left fallow and forgotten.
"The city has relied on gardeners to be land stewards for at least 30 years. But there's been nothing in place… to actually support those spaces and make them permanent," explained Amy Laura Cahn, director of the Public Interest Law Center of Philadelphia's Garden Justice Legal Initiative.
Overall Philadelphia's community gardens and urban agriculture operations are gaining ground. Signs of hope include the revived Neighborhood Gardens Trust (a community land trust to preserve urban farms and green space), and the new zoning code's inclusion of urban agriculture as a land use. Yet for all of this progress it's still challenging for urban agriculture projects to put down legal roots in order to become stable parts of the cityscape.
It's a story on repeat in this city. This season it's Farm 51's turn to struggle with legality and show how important it is to build better mechanisms for urban agriculture projects to have stronger odds of survival.
Olson and Santos purchased the house at 5107 Chester Avenue in 2012, and the next year they were able to acquire 5105 as their side yard, securing half of Farm 51. But last month a notice was posted on Farm 51's gateway, indicating that 5103 Chester Ave could soon be offered at sheriff's sale.
"This parcel has been tax-delinquent going back to at least 1985. We believe that the owner of record is deceased. Which makes it one of many parcels around the city in the same situation," said Cahn. It's not clear why 5103 is being pushed toward sheriff sale, Cahn said, but the wheels are in motion.
In April, GRB, a collections agency used by the city, filed a petition requiring interested parties to demonstrate why 5103 Chester Ave shouldn't be listed for sheriff sale. No one responded so a judge issued an order permitting the sheriff sale process to proceed, and again interested parties were given notice. The trouble was it wasn't until this second stage that Santos and Olson found out that half of Farm 51 was headed for sheriff sale.
Cahn helped Santos and Olson file a petition to be considered an interested party, as demonstrated by their investment of time and energy into the property, the improvements they've made, the value to the community of the food they've produced and the safety they've increased.
The goal, Cahn said, is to "negotiate a solution that doesn't just put the parcel up for the highest bidder."
Should the property go to sheriff's sale a speculator could purchase it and do nothing, simply holding out for a day when the market in this part of Kingsessing is hot enough to turn a tidy profit.
The city, via GRB, has until July 14 to respond to Farm 51's motion to intervene, and ideally Cahn says they will be able to go to a hearing before a judge.
Meantime the best hope is that GRB, representatives from Councilwoman Jannie Blackwell's office, and Cahn will be able to negotiate some solution that enables Santos and Olson to continue their neighborhood market farm. So far Cahn and Santos said Councilwoman Blackwell's office has been receptive to helping.
"It feels like everyone is doing their job. [The] city's doing its job. City council's doing its job…. But why it's so confusing is still the question," Santos said. "How do we make it easier? There's no real enemy here."
For now Farm 51 is stuck in limbo. New tools are on the horizon, but many Philly gardens are stuck in a twilight zone before the Land Bank gets up and running, and before state legislation enables expanded "conservatorship" powers for vacant lots (instead of just vacant buildings).
Short of these developments, each case like Farm 51's (or the nearby St. Bernard Community Garden last year) will be fought with the clock ticking and a sheriff sale pending. That requires last-minute wrangling, quick involvement of district council members, and cash.
But why should this be a problem for district councilmembers to solve? How come there isn't a better way forward for people who are caring for tax-delinquent and previously unsafe properties?
"We think there are over 400 gardens in the City of Philadelphia and about half of them are either on private land or on a mix of private and public land," Cahn said. For the gardens, the stewards who tend them, and the neighborhoods who benefit from stable (if sometimes temporary) vacant land greening, what's needed is predictability and a fair process.
Santos and Olson may not be the lawful owners, but their contributions should be valued, and they should have a voice because no one else is speaking up to claim the space. When property is abandoned and someone picks up the slack, we should consider how to best harness that effort, not obstruct it.
Cases like Farm 51's are important reminders that the city's gardeners need a land bank that values their work. To make sure that long-standing gardens can continue, the land bank's strategic plan will need to establish clear priorities for community uses like gardens and functional mechanisms by which urban farms can find new legal footing, with unambiguous pathways for ownership. Otherwise we will literally lose ground to the highest bidder.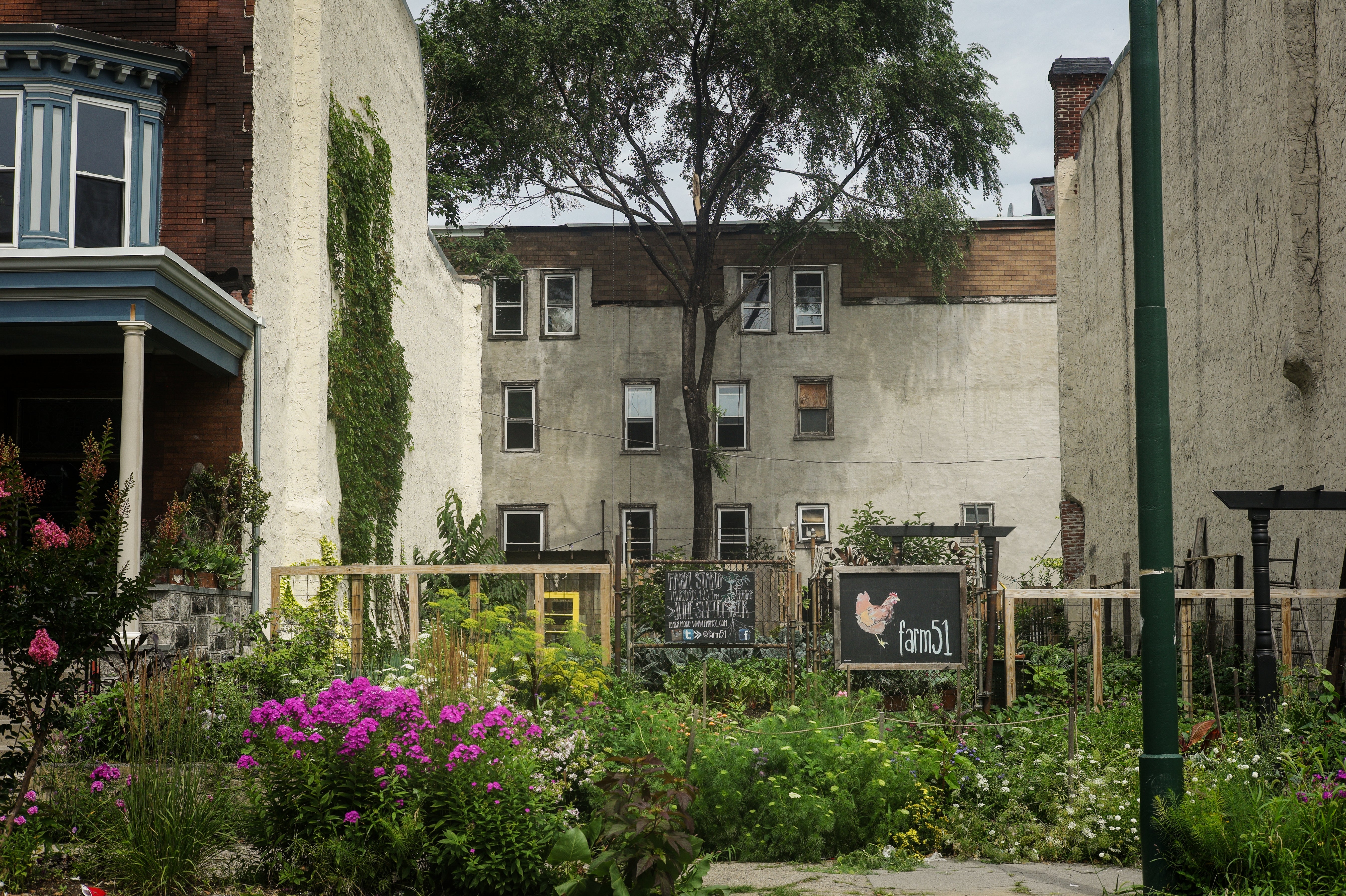 WHYY is your source for fact-based, in-depth journalism and information. As a nonprofit organization, we rely on financial support from readers like you. Please give today.