Upgraded classification for 750 miles of N.J.'s rivers and streams
This story originally appeared on NJ Spotlight.
—
For the first time in more than a decade, the state is significantly upgrading protections for 749 miles of rivers and streams across New Jersey, ensuring that they cannot suffer any degradation in water quality.
The classification affords a higher level of protection for some of the most ecologically sensitive waterways — from the Maurice River in Cumberland County to the south branch of the Raritan River in the Highlands to segments of the Pequest River in Warren County.
"Category One (C-1) waterways provide drinking water and sustain important fish and aquatic resources,'' said Department of Environmental Protection Commissioner Catherine McCabe, who noted the designations help preserve ecosystems that protect important wildlife habitats.
Cleaner wastewater discharges
Besides providing 300-foot development buffers along the waterways, the new classification means that any wastewater or other regulated discharges would have to meet more stringent water-quality standards.
The designation makes both environmental and economic sense, according to the DEP. "It is generally more cost-effective to prevent degradation through water-quality protections, such as upgrading waters to Category One designations, than to restore the waters after they have been degraded,'' the agency said in its proposed rule.
The designations were proposed in amendments to the state's Surface Water Quality Standards rule in the New Jersey Register. The last time the DEP proposed adding to C-1 waters was in 2008 when 686 miles of rivers and stream achieved that distinction.
Protecting mussels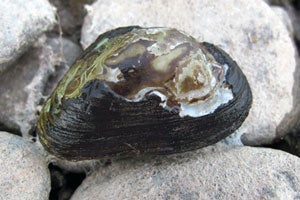 In this instance, the agency proposed upgrading 734 miles of waterways for their exceptional ecological value, with suitable habitat to sustain threatened and endangered species, such as the dwarf wedgemussel. Another 53 miles were designated C-1 for their exceptional fishery resources. Thirty-eight miles overlap both categories.
The proposal was hailed by environmentalists, who spent much of the past decade fighting efforts by the Christie administration to roll back protections for streams and rivers.
"The C-1 program has been stymied over the last decade and this is the start of getting it back on track,'' said Doug O'Malley, director of Environment New Jersey. "These upgrades will start to make up for lost time.''
The new designations include waters flowing through 67 municipalities ranging from the Upper Delaware and Lower Delaware to the Atlantic Coastal regions to the Ramapo River in Bergen County.
"More than any other state, we live on top of and right next to our streams providing drinking water,'' added David Pringle, a spokesman for Clean Water Action. "They can't be protected enough.''
State's three-tiered system
The state uses a three-tiered system to designate waterways, with the top tier being those designated as Outstanding Natural Resource Waters, which are to be set aside in their natural state for posterity. They account for 3,527 miles; many of which are in the Pinelands National Reserve.
Another 6,831 miles are currently designated as C-1, earning protections for exceptional ecological importance as sources of drinking water or for recreation and fishing. All other waterways (23,521 miles) are Category Two, those streams and rivers not meeting federal water-quality standards.
Only 5 percent of New Jersey's streams, according to Jeff Tittel, director of the New Jersey Sierra Club, are not meeting criteria for fishing and swimming. "There are still streams out there that need upgrades for drinking water and going into reservoirs,'' he said.
Eventually, the Sierra Club would like the state to designate all streams and rivers in the Highlands as C-1 waters, he said.
Still, the DEP proposal won plaudits. "It is a very positive step that is long overdue,'' said Michael Pisauro, policy director of The Watershed Institute.