University of Delaware students rally in support of DACA [video]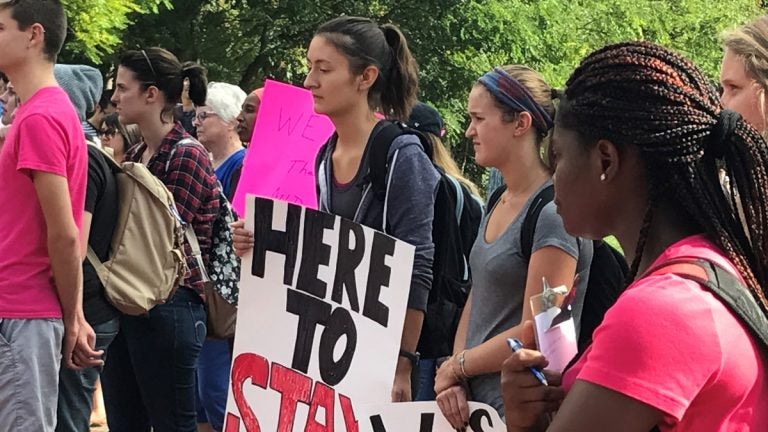 What's going to happen to DACA students? While that is being debated, some University of Delaware students rallied to show their support.
President Donald Trump's decision to end the Deferred Action for Childhood Arrivals, commonly known as DACA, has sparked outrage across the country. In Newark, the University of Delaware campus group HOLA stood in solidarity Monday for documented and undocumented students enrolled at the school.
Nicole Mejia who leads HOLA, a Latin culture group, organized the event. The DACA issue hits close to home, she said, because her parents are undocumented immigrants from Mexico.
"It's something that I'm still, with time, learning to share more. Because even though I'm passionate about it and proud of my background, I know that you always have to be cautious about who's around and who you are telling that to," Mejia said.
Nearly 70 students packed UD's' South Green section on campus to ahow their support for the nearly 800,000 young people who have been granted DACA permits since 2012.
University President Dennis Assanis also showed his support.
"I was an immigrant student myself who came to the United States (as a) first-generation student," Assanis said. "I've been very successful in this country, and I think it's all about enabling the success and access for our students who want to study at the great American universities."
Sophomore Rufino Cruz said ending DACA will do more than just hurt some of his friends.
"A lot of people that I know were in the DACA program, and it hits close because if it does get taken away, it's going to affect so many people," he said. "Families are going to get torn apart."
"If you're 'DACAmented,' it helps you with your educational journey because it can be easier to apply to colleges, it can help you in terms of the finances because you can have access to greater employment opportunities that is legal work," Mejia said. "Sometimes, with your 'DACAmented' status, schools can actually help students get the resources they need to stay in school and be successful."
On Sept. 5, the Trump administration expressed a desire to end DACA, but gave Congress six months to find a legislative solution. Without a solution, many DACA participants will be affected and many work permits may not be approved.
"We will not be silent about this significant issue, and we will use our voice and platform to take action," Mejia said.
José-Luis Riera, the university's interim dean of students, also encouraged concerned students.
"Today, I want to provide those on campus that identify as undocumented and documented individuals with hope. That hope comes through articulating the university's steadfast commitment to attract and retain you as part of our student body," he said. "That hope also comes through encouraging you to stay engaged with your academic work and your campus life experiences. I acknowledge that it is so hard to do this in the midst of a hostile climate toward your presence in this country, but UD must be different."