Trump salutes sacrifice of Flight 93 passengers, crew at 9/11 ceremony
Listen
5:22
Every year, the families and friends of those killed on Flight 93 gather near the Pennsylvania field where the United Airlines jetliner went down, and read the names of their lost loved ones.
Those 40 passengers and crew were flying to California when their plane was hijacked. It's thought the terrorists on board intended to crash in Washington, D.C.
The story of what happened next is well known, especially to the people who attended the memorial.  After the hijackers took control, the passengers and crew took a vote to act. And the plane crashed, not in a major city, but in an empty field.
"At that moment, they took America's fate — and their own fate — back into their own hands," said President Donald Trump who spoke at Tuesday's ceremony.
In praising the 40 people, Trump also called for strong national security.
"We honor their sacrifice by pledging to never flinch in the face of evil, and to do whatever it takes to keep America safe," he told the crowd.
The president shared the stage with first lady Melania Trump, Interior Secretary Ryan Zinke, former Gov. Mark Schweiker, and Gov. Tom Wolf.
"Hero," Wolf said, is "one of the most overused words in the English language."
The 40 passengers and crew on Flight 93 deserve that distinction, he said.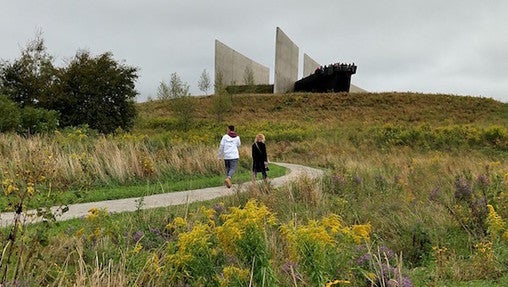 This year, the Flight 93 memorial dedicated its final major feature — a 93-foot-tall Tower of Voices that holds a wind chime for each of the passengers and crew on the flight.
The point of the memorial is to make sure no one forgets what happened 17 Septembers ago, said Gordie Felt, who chairs the Families of Flight 93 organization and lost his older brother Edward in the crash.
"We have to choose to actively remember," he said. "We have to choose to be inspired by the collaborative actions of our heroes. And, most importantly, choose to rise up and be better, as our loved ones did in their final moments."