Trump gets smocked on his own reality show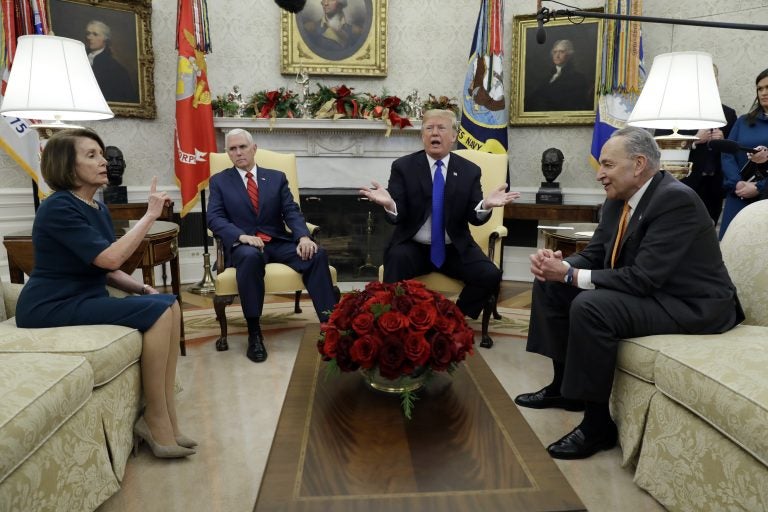 The White House reality show – starring Individual-1 and The Marvelous Mrs. Pelosi – was a master class in presidential weakness. Never before has Trump been stripped so bare in public view (with the possible exception of Helsinki, where he groveled before his Russian master). Never before has his fact-free ineptitude been so fully exposed.
What's important to remember, while watching the Tuesday roundelay, is that it was Trump's idea to bring in the cameras, indulge his obsession with a border wall, and confront Nancy Pelosi and Chuck Schumer on live TV. Delusional as ever, he actually believed that he would humble the Democratic leaders and come off looking good. Instead, he was smoked (or "smocked," as he spells it on Twitter). Instead, this is what happened:
He promised to shut down the federal government – the funding deadline is Dec. 21 – unless he's awarded the billions he wants for a wall. Pelosi and Schumer pushed back so relentlessly, over a span of 15 minutes, that he lost his cool and just blurted it out: "If we don't get what we want one way or the other, whether it's through you, through a military, through anything you want to call, I will shut down the government, absolutely…And I'll tell you what, I am proud to shut down the government…I will take the mantle. I will be the one to shut it down. I'm not going to blame you for it."
Bingo! If the government is forced to shut down (an action that would have negative economic impacts), Trump will own it. He said so himself. His declaration shocked lawmakers on both sides of the aisle, because, as anyone with a scintilla of political wisdom knows, it is stupid for a politician to signal in advance that in the wake of a calamity, he's the one to blame. And it would be doubly stupid to force a government shutdown over an issue that is broadly unpopular with the electorate; according to a new national poll, only 37 percent of registered voters (and only 31 percent of swing independents) believe that a wall is important enough to force a government shutdown.
I love what John Cornyn said. When the Senate Republican Whip was asked yesterday whether he'd seen Trump volunteer to take the blame for a shutdown, he replied:"I did, unfortunately. I wish I didn't."
But there was so much to see! Especially all the times when Nancy slapped him silly.
Trump seemed to think he was at one of his rallies, serenading his naifs. He kept boasting that he has sufficient votes in the lame duck Republican House to get billions to build his wall. That's delusional; the Republican House, on multiple occasions, has either refused to fund it or has approved only a fraction of what Trump has sought. And that House, in its waning days, is heavily populated by Republicans who lost their jobs on midterm election day; they have no interest in financing Trump's border security fantasy.
Still, Trump persisted: "If I needed the votes for the wall in the House, I would have them…It would be done."
Pelosi dared him to try: "Well then, go do it. Go do it."
Trump: "I will win easily with the Republicans."
Pelosi: "You will not win."
And Pelosi, minutes later: "The fact is that you do not have the votes in the House."
Trump: "Nancy, I do."
Pelosi: "Well, let's take the vote and we'll find out."
He won't take that dare. He's too politically weak to enforce lockstep compliance in a lame duck chamber.
(Meanwhile, seemingly roped to a chair, witnessing these contretemps, was Vice President Pence, who exuded less animation than a department store mannequin.)
Trump, at various points, also sought to insult the intelligence of his guests by repeatedly reciting a string of provable lies. For instance: "One thing that I do have to say is tremendous amounts of wall have already been built…So a lot of wall has been built. We don't talk about that, but we might as well start because it's being built right now. Big sections of wall. And we will continue that. And one way or the other it's going to get built."
Wait…If the wall is being built already (supposedly by the military, according to Trump), why does he need tens of billions of dollars for its construction? But never mind that. The truth is, he was lying. The wall is not being built as we speak. The money that the Republican Congress has awarded for border security specifically stipulates that it be spent only to repair and reinforce border fencing that's already there.
He also said this: "People are pouring into our country, including terrorists. We have terrorists. But we caught 10 terrorists. These are over the last very short period of time – 10. These are very serious people. All of our law enforcement have been incredible, but we caught 10 terrorists, these are people that were looking to do harm. We need the wall."
Wait…we caught "10 terrorists" trying to cross the wall-less border? Since when? Since never. He just made it up.
Late yesterday, when the Department of Homeland Security was asked to substantiate Trump's remark, it could not. It merely said that, on average each day, federal authorities identify 10 individuals "that hit against the U.S. terror watchlist by air, sea, or land." Indeed, the State Department reported last year that there was "no credible evidence that any members of a terrorist group has traveled through Mexico to gain access to the United States."
Pelosi was too diplomatic and disciplined to refute Trump's lies in real time, but she whacked him by pointing out that he was "devoid, frankly, of fact." And when Trump boasted that their impromptu TV show was an act of "transparency," she fired back: "It's not transparency when we're not stipulating to a set of facts."
Trump tried to recover by alluding to her intramural fight to become Speaker in 2019 – "Nancy's in a situation where it's not easy for her to talk right now" – thus leaving his jaw exposed for the knockout punch: "Mr. President, please don't characterize the strength that I bring to this meeting as the leader of the House Democrats, who just won a big victory."
That victory (the biggest blue wave since post-Watergate '74), coupled with the squeeze from multiple federal investigations that are only beginning to bear fruit, have weakened Trump so badly, heading into Year 3, that it's no wonder he looked on camera like the emperor with no clothes. Indeed, if Pelosi, with assists from Schumer, could so easily clean his clock, one shudders to think what he gives away in private meetings with foreign thugs. Given what we witnessed yesterday, that's the most worrisome takeaway.