Roots Picnic is back! Plus Philly Pride, The Skirmish in this week's 'Things to Do'
Sister Hazel, KC and the Sunshine Band and a celebration of a classic car are also among weekend highlights in the tri-state for the first weekend in June.
Listen
5:05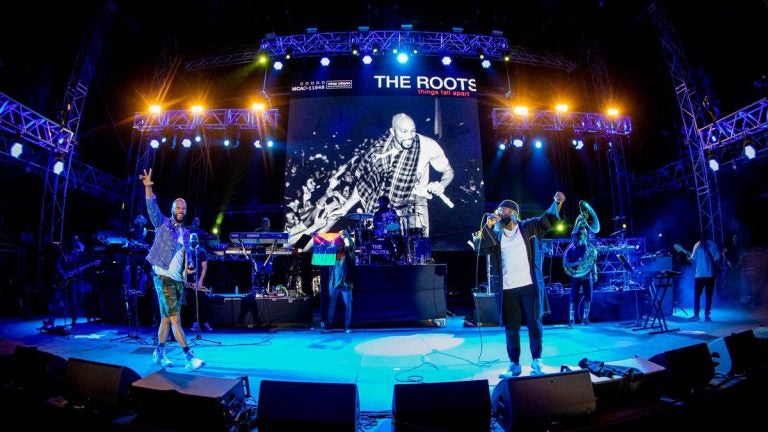 Harry Wayne Casey may not be a household name, but KC and the Sunshine Band sure are. Led by KC, who took his stage name from his surname and home state, the band has been leading the party since 1973 and they're still going strong. Hits like "Keep it Comin' Love," "That's the Way (I Like It)," "I'm Your Boogie Man," "Get Down Tonight" and "Shake Shake Shake (Shake Your Booty)" outlasted the disco era to become pop classics. The Hialeah, Florida native and his band have released 15 albums, including compilations, since their 1974 debut "Do It Good." Their first Christmas release, "A Sunshine Christmas" came out in 2015.
In 1778, the British invaded Haddonfield, N.J., and were met by Continental troops en route to the Battle of Monmouth, which resulted in British troops ultimately retreating to New York. Haddonfield commemorates the skirmish with a reenactment complete with muskets firing, redcoats charging, and mock "looting and pillaging." Kid-friendly events include a yelling contest, colonial dancing, and pony rides. There are also two locations – the Haddonfield Public Library and the Haddonfield Friends Meeting – where kids with sensory processing challenges can find respite if things become too stimulating.
What: Colonial reenactment
Where: On and around Kings Hwy. in Haddonfield, N.J. 
When: Saturday, June 4, 9 a.m.
How much: Free
After the pandemic shut down the live concert business for almost two years, one of the casualties was the Roots Picnic, created and curated by friends, collaborators, business partners and Philly natives Questlove, Black Thought and Live Nation Urban president Shawn Gee. It returns to the Mann Center this year with Philly-born or associated performers, including headliners Mary J. Blige performing with The Roots, DJ Jazzy Jeff with Rakim, Jazmine Sullivan, Tierra Whack, DJ Diamond Kuts, Musiq Soulchild, Bilal and Tye Tribbet. The Kiss and Grind Roots Picnic afterparty featuring Pharoahe Monche, Victor Duplaix, Rich Medina, and other musical acts is on Saturday night at the Fillmore – 21 and up only.
What: Music festival
Where: The Mann Center, 5201 Parkside Ave. 
When: Saturday, June 4, Sunday, June 5, 1 p.m. doors open both days
How much: $225 general admission for both days, and up, no single day tix
Pride has returned to Philadelphia but in a new incarnation. Gone are the floats and parade. The 50th celebration of Pride Month starts with a community march and festival. You can read more about the controversy that surrounded the changes for 2022 here, or listen to the podcast, "March On: The Fight for Pride," which goes even more in-depth about why organizers fought for a more inclusive celebration in a city with such a rich LGBTQ+ history.
What: LGBTQ+ gathering
Where: Departs from the north side of Independence Mall, in front of the Constitution Center at 5th and Arch
When: Sunday, June 5, 11 a.m.
How much: Free
Though West Chester native and civil rights activist Bayard Rustin was one of the organizers of the 1963 March on Washington and a lifelong advocate for social justice, his impact has been somewhat overlooked in the annals of history. In this musical written by Stephen A. Broadnax III, the focus is on the time Rustin, a Black queer man, spent incarcerated in a Kentucky jail, where he began to hone his activism.
Friends or competitors? That is the searing question in this play about two teenage fencers training for the National Fencing Championships competition who have to determine the limits of friendship… and competition. Written by 2017 Relentless Award winner Gracie Gardner, the play made its debut in New York in 2018.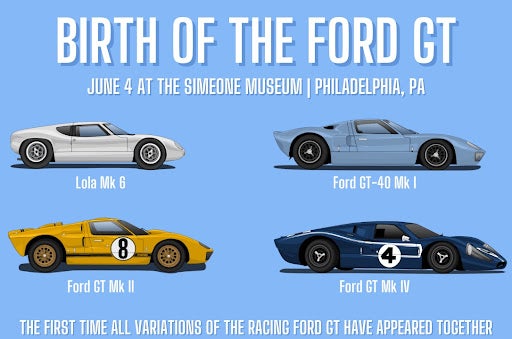 As car enthusiasts know, the Ford GT is a special vehicle. It won LeMans four times in the '60s and inspired the 2019 film "Ford vs. Ferrari" which is based around the race car's development. The Simeone Automotive Museum hosts a panel with former Shelby driver Allen Grant, Mike Teske, car builder and author of "Ford Racing Century," and Janos Wimpffen, who wrote the book "Time and Two Seats," a two-volume history of long-distance car racing. Harry Hurst will moderate. All four of the racing Ford GT variations will be on display –  the Lola Mk 6 (#LGT.P), the  Ford GT-40 Mk I (chassis #1030), the Ford GT Mk II (#XGT1), and the Ford GT Mk IV (#J-8) – for the first time, and several of the cars will be part of a demonstration on the museum's back lot.
Hard seltzer is the focus of an event dedicated to the adult beverage in all its incarnations. Over 100 unique brands will converge on the Navy Yard for two sessions of tasting and fun, including games, music, photo ops and swag. VIP tickets include a commemorative tasting cup and specialty cocktail. Some proceeds go to Forage Forward, a charity that supports communities in need.
A member of the Odd Future music collective with Tyler the Creator, Frank Ocean and Earl Sweatshirt and others, L.A. based R&B singer Syd – also known as Syd Tha Kyd – broke off to front her own band The Internet in 2011, leaving the collective altogether in 2016.  Since then they've put out seven projects, including three EPs. Their most recent, "Hive Mind" came out in 2018. Syd's second solo project "Broken Hearts Club" was released in April, with collaborators including Kehlani and Lucky Daye.
What: Concert
Where: Theater of the Living Arts, 334 South St.
When: Friday, June 3, 8 p.m.
How much: $35.50
The band Sister Hazel was named after a missionary in their Gainesville, Florida hometown who must have given a blessing as the group has remained relevant for almost three decades. Last year, the multi-genre band that has claimed rock, Southern rock, and pop among its musical influences, released a second live acoustic album "Before the Amplifiers 2." In February, they announced their 16th annual "Hang at Hazelnut Island," a three-day beach bash with special performances and interactive fan experiences happening in August.
What: Concert
Where: Ardmore Music Hall, 23 E. Lancaster Ave. 
When: Saturday, June 4, 8 p.m.
How much: $25 and up
Philly Youth Orchestra performances
Philadelphia has a rich history of homegrown musical talent, likely due to the amount of musical training aspiring musicians from varied genres can attain in the area. Two youth orchestras will show the results of their specialized education with separate concerts on Sunday. The Philadelphia Young Artists Orchestra will play their 27th Festival Concert on Sunday, June 5 at 3 p.m. at the Perelman Theater inside the Kimmel Center, and the Philadelphia Youth Orchestra will play their 82nd annual Festival concert on Sunday at 7 p.m. at Verizon Hall. We think they should just duel it out one year, but until that happens, you can check them both out this weekend.
This community block party brings together schools from all over the city to showcase their talents and celebrate parents, guardians, and school communities. Home and school and high school senior awards will be handed out and performances from groups including Temple University's Jazz marching band, J.S. Jenks' Steppers, and the Harding Middle School Bomb Squad will take place during the celebration. Food trucks, vendors, and activities are planned, accompanied by the sounds of veteran Philly DJ Corey DST.
Cross your fingers for any showers to remain at bay, and enjoy yourself at one of these great events in and around the Philly area.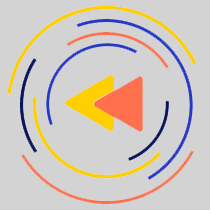 Saturdays just got more interesting.
WHYY is your source for fact-based, in-depth journalism and information. As a nonprofit organization, we rely on financial support from readers like you. Please give today.