TEDxPhiladelphia: Workshopping green stormwater infrastructure
PlanPhilly is a partner for this year's TEDxPhiladelphia event, and for the next few days we're sharing ways we think Philly is becoming a "New Workshop of the World". You can also join us for a tour of South Bank as part of TEDx.
When it comes to handling stormwater, Philadelphia is turning the tide.
Philly is one of roughly 722 communities across the county using a combined sewer system. Normally these systems keep stormwater runoff and sewage separate, but during storms, the sewage and stormwater can mix and discharge into nearby waterways. Under the Environmental Protection Agency's (EPA) Clean Water Act and Combine Sewer Overflow (CSO) Policy, Philly is required to meet certain standards and reduce the amount of sewage-stormwater mix discharged into area waterways.
To meet those requirements, the Philadelphia Water Department (PWD) developed Green City, Clean Waters – a plan to reduce the sewage-stormwater cocktail through green infrastructure (less expensive and hairy than replacing the city's old sewer pipes!). When the plan was approved by the EPA in 2012, it was lauded for its potential to serve as a nationwide model. Since then, Philly has embraced creative approaches to managing stormwater with green infrastructure.
GREEN STREETS, SCHOOLS & REC CENTERS
This winter PWD launched its game plan for handling stormwater runoff on the city's streets. The Green Streets Design Manual is a how-to handbook for adding elements like tree trenches, stormwater bumpouts and permeable pavement to the city's streets. The idea is to use "green stormwater infrastructure" to capture stormwater and release it slowly, either into the soil or the city's sewers.
At South Philadelphia's Nebinger School, PWD (in partnership with the EPA, Partnership for the Delaware Estuary and School District of Philadelphia) installed a bioswale, rain garden, porous pavement and a below-ground water retention basin. The project forged a critical relationship between PWD and the School District that will help pave the way for similar projects at Horatio B. Hacket School, William Mckinley School and William D. Kelley School.
Rec centers are also embracing green stormwater management initiatives. The Shissler Rec Center now stands at the center of Kensington's Big Green Block, an initiative that promotes greening and stormwater management around the rec center. So far the effort has installed stormwater tree trenches that manage runoff from three streets and a parking lot, street trees, two rain gardens and an underground water-retention basin that collects runoff from the rec center's roof.
Green stormwater management at Nebinger School, Photo courtesy of Philadelphia Water Department

Stormwater tree trench at Shissler Rec Center
STORMWATER MANAGEMENT FOR HOMEOWNERS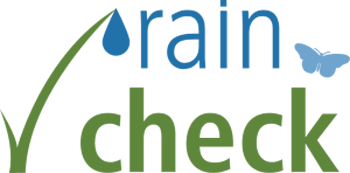 Residents can get onboard the green stormwater infrastructure bandwagon too. To encourage retrofits on private property, the city offers incentives ranging from stormwater fees to free design assistance and low-interest loans to owners of large impervious properties, green roof tax credits, rain barrel giveaways and expedited permit reviews.
Through its Rain Check program, PWD will even share the cost of green stormwater management tools with property owners. For items such as downspout planters, PWD will pay $875, leaving property owners with a $100 bill. PWD will pitch in $15 per square foot (or up to $2,000) for porous paving projects, which usually cost about $30 per square foot, and the department will cover $16 per square foot (or up to $2,000) for rain gardens, which typically cost about $17 per square foot.
SOAK IT UP!
"Rainwater is a problem. Stormwater is an opportunity," that quote came out of Infill Philadelphia: Soak It Up!, a national design competition led by the Community Design Collaborative. The competition asked designers to come up with green infrastructure retrofits for three Philadelphia sites that struggle to manage stormwater runoff. From 28 proposals, three teams rose to the top with solutions like rooftop ponds, modular green roof systems, community rain gardens, permeable streets that act as linear sponges and more.
"Rainwater is a problem. Stormwater is an opportunity."
(Community Design Collaborative)

(Community Design Collaborative)

(Community Design Collaborative)
ABOUT TEDXPHILADELPHIA
TEDxPhiladelphia offers interactive, immersive experiences for all participants. The not-for-profit group, licensed by TED, was created in the spirit of the TED conference and its mission, "ideas worth spreading." While the 2014 conference is SOLD OUT, audiences everywhere can access a free live video webcast of speaker talks at www.TEDxPhiladelphia.org on March 28 and watch talks year-round after the event.
WHYY is your source for fact-based, in-depth journalism and information. As a nonprofit organization, we rely on financial support from readers like you. Please give today.