Taking 'panes' to overhaul Philly visitors center in LOVE Park
The challenge of installing windows in the circular visitors center has delayed its expected reopening until spring.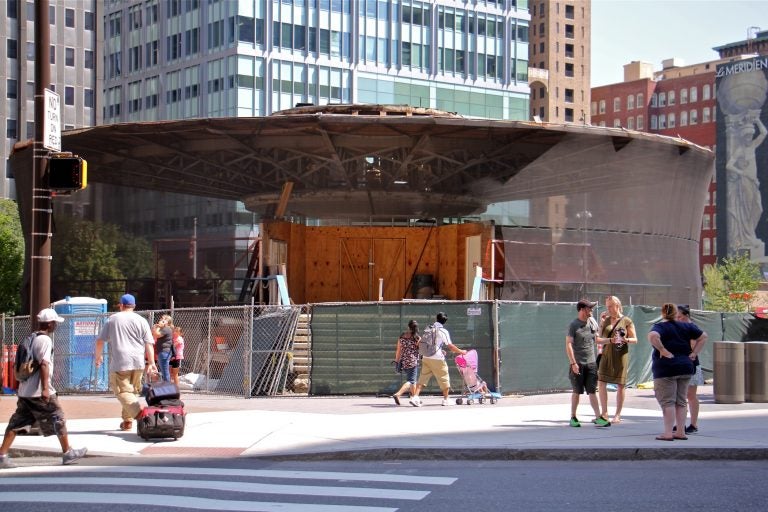 Philadelphia's 1960s-era visitors center near City Hall, known as "the spaceship" because of its shape, has been more of an eyesore for about a year as it's redesigned as part of  LOVE Park's renovations.
The center was supposed to reopen this fall, but it still doesn't have windows.
Now the unveiling is set for spring 2019 — although the bathrooms could open in December, right in time for the city's annual Christmas Village, said Kathryn Ott Lovell, commissioner of the city's Parks and Recreation Department.
The delay, in large part, is because of the windows. The building is a huge circle and getting all the calculations and window glazing for the task is both complex and expensive. The entire project will cost about $3 million, and Lovell said $700,000 of that is just for the glass.
"The glazing, which is the windows, takes an incredible amount of coordination between the surveying and the engineering and coordination to the construction teams and also the manufacturer," she said. "And there is absolutely no margin for error."
The windows are supposed to be finished by October. After that, work can really get going on the interior and exterior.
When it's completed, the welcome center will include a full-service restaurant.
WHYY is your source for fact-based, in-depth journalism and information. As a nonprofit organization, we rely on financial support from readers like you. Please give today.