Takeaways: Zoning Reform Forum
Last night's zoning reform forum offered the audience box seats to negotiations between Deputy Mayor for Planning and Economic Development, Alan Greenberger and council members Frank DiCicco, Darrell Clarke, and Bill Green. It was a rare opportunity to hear from from the key players about where the reform effort stands as Council is actively considering its next move.
Rather than feeling canned, the conversation proved substantive and open, and was kept on track by moderator Harris Steinberg, executive director of PennPraxis. The discussion aired real issues and tensions, and managed avoid descending deeply into minutia or accusations.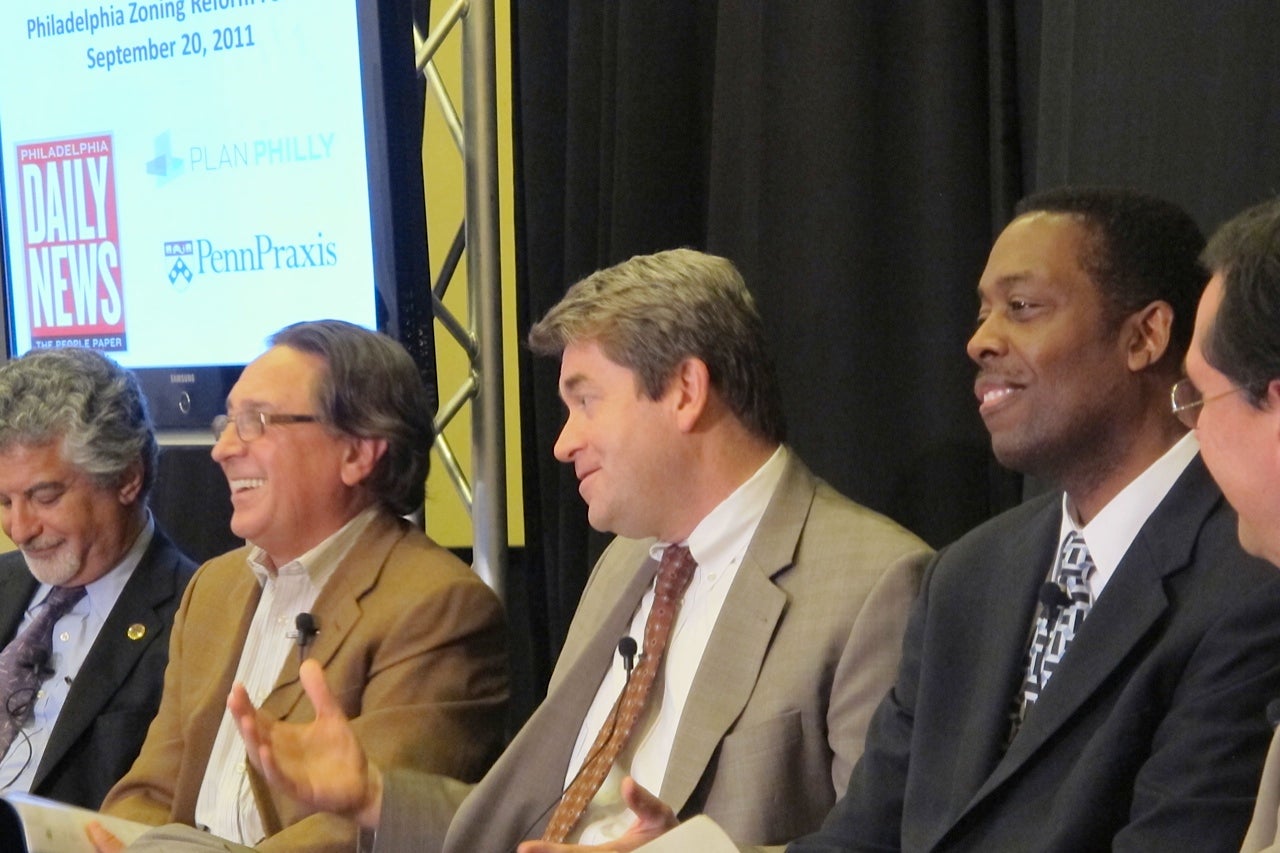 Major Takeaways:
The issues are far from settled, but agreement on several seems within reach. Among the unresolved points of contention:

What can/will be done about the "unintended consequences" that may appear after the new code is applied but before remapping takes place?
What will become of overlays currently in place that disappear prior to remapping? Does the new code build enough restrictions and certainty to protect those geographic areas?
How will Registered Community Organizations really work in representing community concerns? And, based the outcome of that question, has the path for development become too smooth?
There is a spectrum of support for reform. All of the council members present were for reforming the code, but with varying levels of enthusiasm. The seating arrangement (by coincidence, I presume) offered a spectrum: On one end sat Frank DiCicco who expressed a sense of urgency about passing the code this term. ("We need to take action.") In the middle was Bill Green, whose has laid out revisions to the proposed code that he thinks are critical. Then came Darrell Clarke, who often expressed his discomfort with issues he sees as remaining unresolved. ("It's more important go get it right than in a timely fashion.")
Everyone acknowledges that the code will not be set in stone. It can and will be modified to address unintended consequences and problems that emerge only after it is enacted.
Zoning is a mechanical tool that can only do so much. It is fundamentally a balancing act between important, often competing, interestes. You can tell it's a compromise because no one is set to leave the negotiating table with everything on their wish list granted.
Overheard in the audience:
Questions about process: "I'm still confused. When does remapping happen?"
Gripes about process: "There's no transparency." "When were those public meetings?"
Missives about City Council: "I'm going to miss DiCicco." "New council people are what we need. They can do this."
For a full recap of the forum, check out Jared Brey's piece on PlanPhilly today.
Were you there? What were your takeaways? Comment below.
WHYY is your source for fact-based, in-depth journalism and information. As a nonprofit organization, we rely on financial support from readers like you. Please give today.