Take two aspirin and a bunch of Swiss chard: Hospital farm aims to promote patient wellness
Listen
4:36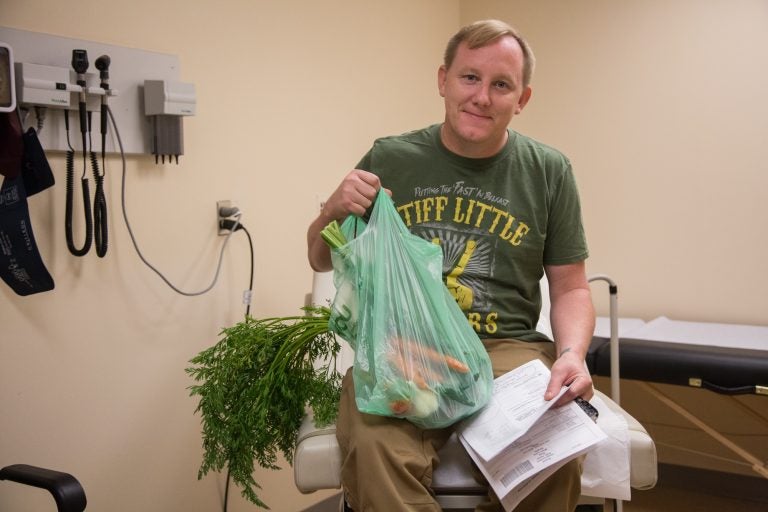 Six years ago, Lankenau Hospital administrator Chinwe Onyekere realized the hospital was sitting on a goldmine.
"We have 93 acres of land," Onyekere said. "It's an amazing asset."
She proposed a kind of radical idea: Why not use some of that land to start a farm?
"We know the direct link between nutrition and health," she said, particularly when it comes to diabetes, heart disease and other chronic conditions.
Onyekere also saw the issue of food insecurity coming up again and again. The hospital sits at the intersection of two extremes: It's technically in Montgomery County, which has one of the highest health rankings in Pennsylvania, but right across the street is Philadelphia County, which has the lowest.
That made her think about not only the nutritional needs of the hospital's patient population, but the social needs as well.
"How can we bring hyper-local food, organic, fresh, healthy food, match that with nutrition education, and support a new day in primary care?" she said.
For her, a farm was the answer, and three years ago, the Deaver Wellness Farm was born — an idyllic half-acre pasture of raised beds, right across from the hospital's ER.
Jen Malkoun runs the day-to-day operations on the farm through the nonprofit Greener Partners, which collaborated with the hospital on the project. For three seasons now, Malkoun has grown everything from juicy tomatoes to fat bunches of collard greens and bright orange carrots. She harvests about 100 pounds of fresh produce a week and distributes those vegetables to patients free of charge.
"Hyper-convenient, hyper-local, and free," Malkoun said. "You can't really beat that."
On Mondays, she loads up the truck and hauls the produce up to the main hospital, where she divides the spoils between a primary care and an OB/GYN practice. All in, she's harvested a little over 11,000 pounds of produce in the past three years.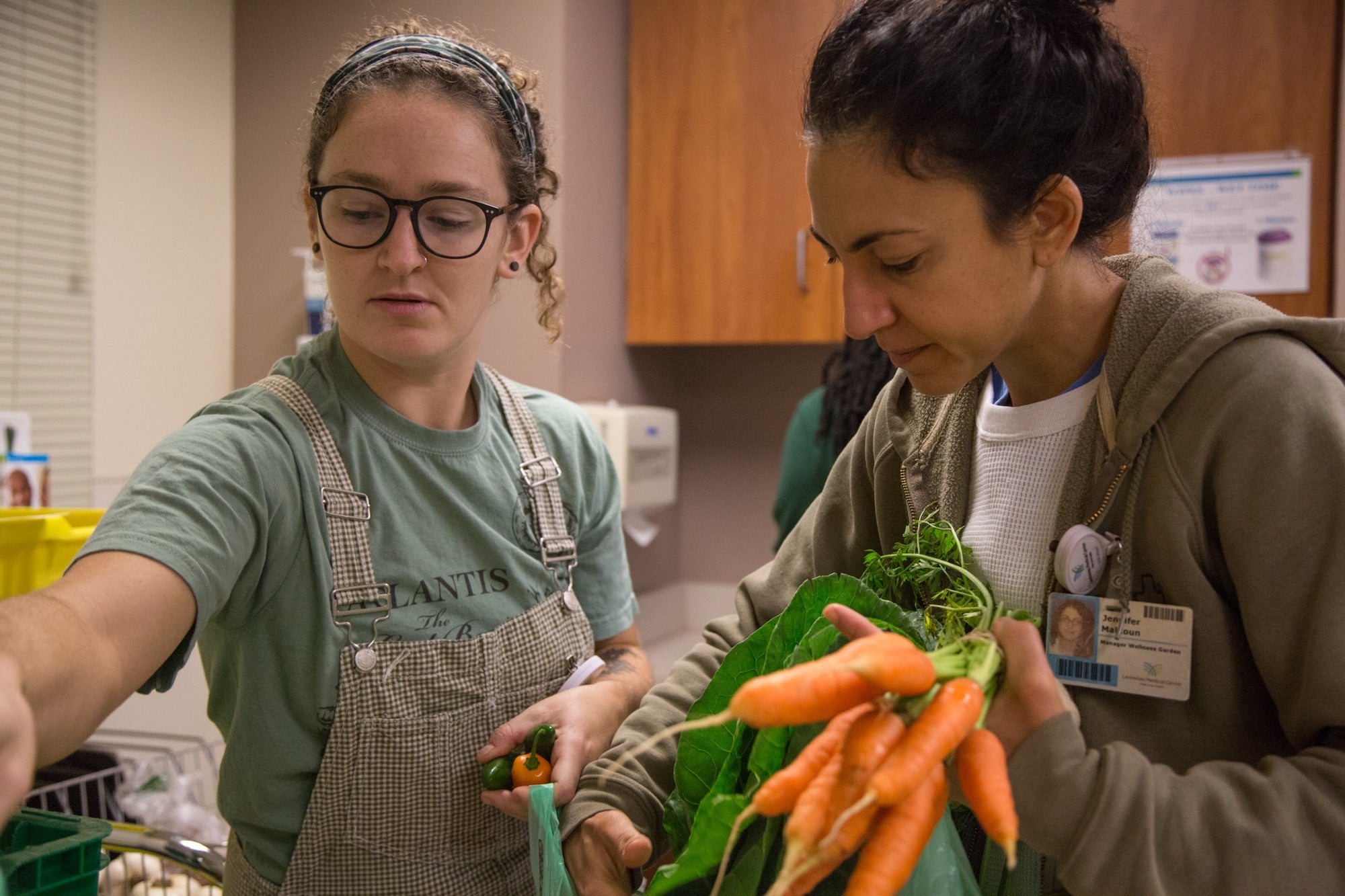 Once she hands off the harvest, two medical educators take over and wheel a cart into the waiting room for a weekly pop-up nutrition lesson. They use the farm's produce as props, but they also give tips on how to cook it — and let people choose what they want to take home.
Onyekere said the idea is to make even the time in the waiting room count.
"So from the time the patient walks in the door to the time that they leave, it's all focused on their health," she said.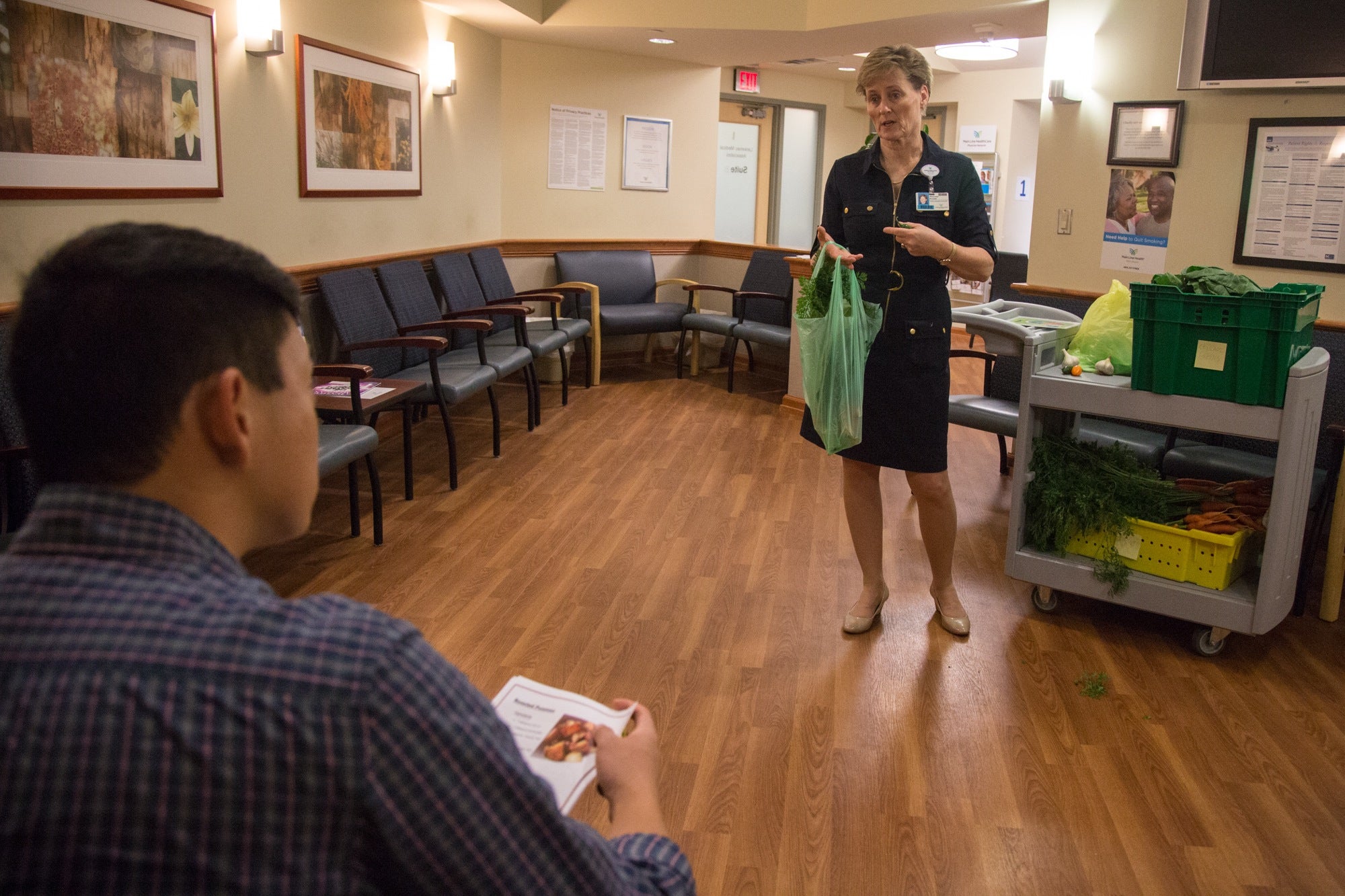 The idea sounds great — maybe even too good to be true, which raises the question: Is giving out fresh produce going to move the needle when it comes to improving health?
Drexel professor Alex Ortega says … not really.
"You don't just give people fruits and vegetables and expect them to start eating them, and, all of a sudden, it's going to be transformative," he said. "You have to understand what are the barriers to continuous health eating for these patients. And, most of the time, you'll find it's not just financial."
That doesn't mean programs like Lankenau's aren't worth doing, he said, but it's important to understand the bigger challenges patients face. Sometimes they don't have regular access to fresh produce. Even if they do, they may choose not to buy it because they'd rather buy something more familiar.
There are also often other challenges, what many refer to as "social determinants" of health. Some patients work multiple jobs and don't have time to shop or cook. Others may not have a car or a way of getting to the grocery store, or they have child care issues that prevent them from doing so.
Lankenau is trying to address some of those barriers, using the farm as a springboard, Onyekere said. The hospital just wrapped up a pilot program where second-year medical students from the Philadelphia College of Osteopathic Medicine delivered food from the farm to patients' homes. Students would ask about the challenges patients faced, whether it was child care, transportation, employment, or food insecurity.
"We want to check in, see if there are any other needs that they might have through the social needs assessment with our medical student advocate, and then work toward trying to address those needs," Onyekere said. "The Deaver Farm is one component that allows us to think about all those other social determinants of health."
Not everyone was eligible for home delivery. The pilot was for patients who had used the emergency room 11 or more times in the last year, which amounted to 24 patients. Most were located in West Philadelphia, though some were in Upper Darby.
The hospital is now looking for ways to expand the project. But opening it up to patients who used the ER more than three times in the past year would increase the eligible pool to 2,000 patients. That's too big for the hospital to do on its own, so Onyekere said her team is looking into potential partnerships with outside organizations.
In the meantime, the farm provides a quiet respite from the often stressful pace of the hospital, a bonus Onyekere calls a pleasant surprise. Nurses will come to the farm's gazebo after a stressful case in the emergency room.
"They'll just take a breath, take a look around, be out there for maybe three to five minutes, and then go back into the emergency department rejuvenated," Onyekere said.
That's one reason she calls the farm her "happy place."
"The idea that I can wake up in the morning, go see Jen, then pluck a carrot from the ground, and it's just amazing, and then see her bring thousands of pounds of produce to our patients — it's really exciting."