Swimming while Black: A new exhibit explores Black resilience at the pool
An exhibition inside the Fairmount Waterworks' dilapidated underground pool explores the history of segregated swimming.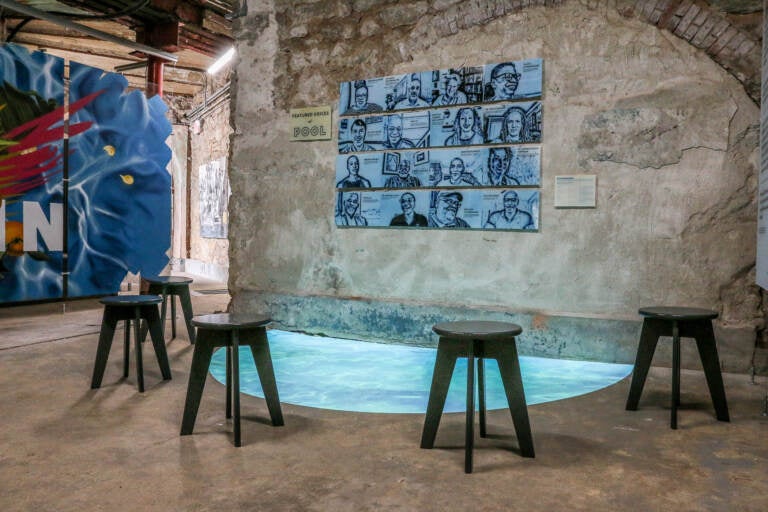 Updated: 12:35 p.m.
Due to severe flooding caused by the remnants of Hurricane Ida, the exhibition POOL has been damaged and its opening indefinitely delayed. Likewise, the Water Works Interpretive Center is closed until further notice. Much of the exhibition's content will be accessible on its website, PoolPHL.com.
___
When Cheryl Anderson Chaney was a teenager in the 1960s, her father taught her to swim in the Kelly pool at the Fairmount Waterworks in Philadelphia. Her father tried to teach her brothers to swim there, but nobody else took to the water.
"It didn't go over too well," said Chaney, 74, who is Black. "You had to come back home and shower and wash your hair, and my hair was long. It was more of a chore for my grandmother because she would handle my hair when I got back from the swimming pool. You always had to wash your hair out."
Still, she loved the water and found joy in her silent laps through Kelly's cool depths.
Chaney was fortunate in that she had a father — an engineer with the city's Water Department — who proactively taught her to swim. She is also fortunate she grew up with access to a public pool at a time when segregation and other exclusionary tactics kept people of color locked out of many opportunities to enjoy the water.
That history of segregation, swimming, and Black joy is now on display at the same pool where Chaney perfected her strokes, in an exhibition, "POOL," created by Victoria Prizzia.
Inspired by "Contested Waters: A Social History of Segregation" by Jeff Wiltse, the exhibition traces the history of the public pool, and access to water generally, as playing a vital role in building African American resilience. Pools were grounds on which people fought for civil rights and built community, the exhibit shows through historical timelines, videos, and artist installations. The show explains how people of the African Diaspora were excellent swimmers with deep cultural and spiritual connections to water before 20th-century restrictions blocked access.
A historic timeline stretches along the pool room's length, between windows overlooking the Schuylkill River. It explains that in the early 20th century, public pools were open to all races, segregated by gender. In the 1930s, swimming became America's number one exercise pastime, and pools became coed. As soon as it became apparent that Black men and white women might share the same water, racial segregation settled in.
In some places, segregation was established outright. In states where segregation was illegal, alternative means to keep Black people out were instituted, like requiring a health card upon entry, a requirement often only enforced on Black visitors.
In 1964, Dr. Martin Luther King Jr. went to a motel in St. Augustine, Florida, to demonstrate for the integration of its restaurant. He was ultimately arrested. As part of that action, a number of Black protesters jumped into the motel's pool, which prompted manager James Brock to pour hydrochloric acid on them. Hydrochloric acid — or muriatic acid — is commonly used to dissolve rust and etch concrete.
The news media were present at the time, and Brock's shocking use of highly caustic acid on Black people was photographed and published in newspapers. The next day, June 19, 1964, Congress passed the Civil Rights Act.
Among the wealth of historic information, the exhibition gives most of its space over to artists. They interpreted the history of swimming while Black — such as an animated film written and narrated by playwright James Ijames — and showcased beauty found in the act of water play.
A flat-screen monitor placed horizontally inside a sunken portion of the pool room — visitors look down on it, as though looking into a body of water — shows a mesmerizing video of Black synchronized swimmers, teenage sisters Rachel and Brianna Holmes of Santa Clara, California.
One of the empty swimming lanes of the Kelly pool has been given over to artist Azikiwe Mohammed, who put two Black sculptural figures on either end. They are bathed in projections of light appearing to flicker on the surface of water. It's called "Two Lifeguards."
Artist Homer Jackson created 15 video vignettes that speak to Black relationships with water, starting from Mami Wata, a river spirit associated with West Africa who continued to be venerated by African people in the Caribbean; and Oshun, a Yoruba river goddess honored annually during Philadelphia's Odunde festival.
Jackson's vignettes include poetic meditations on the Black community's alienation from water. The multidisciplinary artist, who also heads the Philadelphia Jazz Project, grew up in North Philadelphia, where he recalls he did not feel welcome at public pools.
"I lived far enough away from the recreation center that it was like you were risking your life to go to the recreation center, you know what I mean?" said Jackson. "You didn't go there unless it was a really organized situation, like eight of us going to go swimming or eight of us going to play basketball. I think this still holds true for Philadelphia: Recreation centers are the property of the people who live close by. If you don't live close by, you're a guest."
Jackson has always been an active person. As a teenager, he climbed the ranks as an accomplished Boy Scout. He said he had earned enough merit badges to become an Eagle Scout, but never got the necessary swimming badge. Swimming was never something he felt comfortable doing.
"I grew up in the aftermath of Emmett Till," he said, referring to the grisly 1955 murder of a young Black boy by a white mob in Mississippi. "My mother had an invisible leash on me, that you couldn't go too far, anywhere, at any time."
Jackson said he resisted swimming out of a fear he inherited from his mother.
"For a long time, I didn't know who that dude Emmett was, but I hated that dude because he messed up my fun," he said.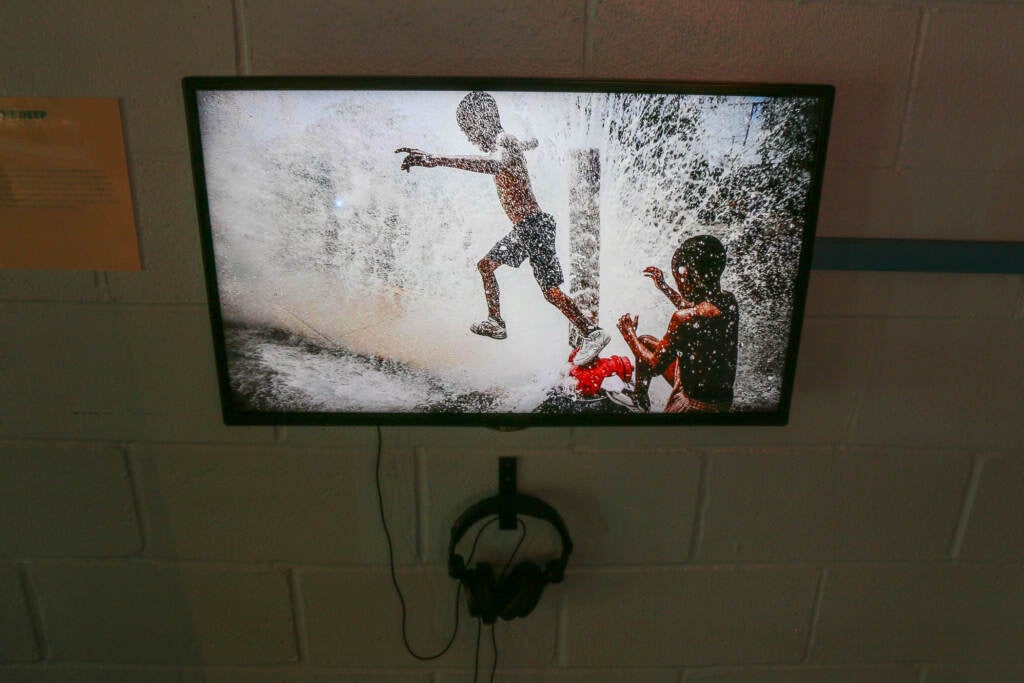 "POOL" shows that Black Americans have forged a path to the pool. Among the many video profiles is Jim Ellis, the legendary Philadelphia swim coach who became the subject of the 2007 movie "Pride," starring Terrence Howard.
In an interview, Ellis recalled starting the city's first Black competitive swim team, called PDR, nominally standing for Philadelphia Department of Recreation, but which Ellis dubbed Pride, Determination, and Resilience.
Many swimmers from Ellis' program became world class, including Michael Norment, the first Black swimmer on the U.S. national team. Only recently, through the work of Ellis and others, have Black swimmers begun to break into the sport's elite class. In 2000, Anthony Ervin became the first Black American to win Olympic medals — the gold and silver — and, in 2004, Maritza Correia McClendon became the first Black woman to win an Olympic medal as part of a swim relay team. Cullen Jones became the first Black American to hold a world record in swimming, in 2006.
"It was my way of finding a way to make a difference," Ellis said. "We were protesting in the '60s and '70s, it was a big movement of finding something to do to help African Americans in this country. My contribution was through swimming."
A photo at the "POOL" exhibition at Fairmount Water Works captures a moment in 1964 when a motel manager poured acid into a pool where Black people were swimming. Such moments in history are juxtaposed with artwork that explores the beauty and well-being that comes from our connection with water. (Emma Lee/WHYY)

Azikiwe Mohammed's "Two Lifeguards" face each other across the empty pool, illuminated by neon umbrellas. (Emma Lee/WHYY)

The Fairmount Water Works Pool operated as a public indoor pool from 1962 until 1972, when it was badly damaged by Hurricane Agnes. Swimmers navigated around the columns that braced the ceiling. (Emma Lee/WHYY)

Curator Victoria Prizzia steps into the projection to show the scale of the central feature of "POOL," an exhibition on the history of segregation at public pools. The exhibition occupies 4,700 square feet at the site of an abandoned indoor pool at Fairmount Water Works, which closed in 1972. (Emma Lee/WHYY)

Azikiwe Mohammed's "Two Lifeguards" face each other across the empty pool, illuminated by neon umbrellas. On the wall behind play videos created by Homer Jackson to explore people's connections to water. (Emma Lee/WHYY)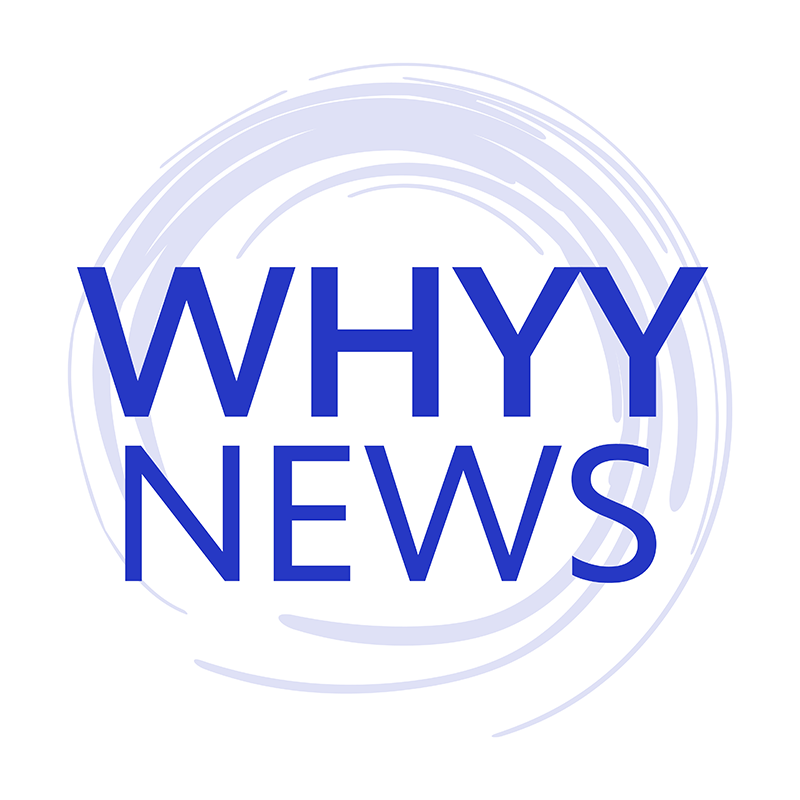 Get daily updates from WHYY News!
WHYY is your source for fact-based, in-depth journalism and information. As a nonprofit organization, we rely on financial support from readers like you. Please give today.