Swank swim club to top off former PHA building
For any more evidence of Philadelphia's changing cityscape, look no farther than the intersection of Ludlow and 23rd streets in Center City.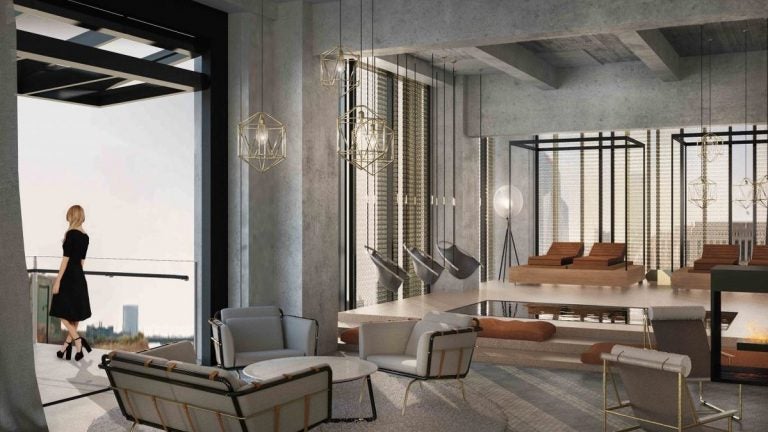 This story originally appeared on PlanPhilly.
—
The city is building a park on top of I-95, the old Royal Theatre is turning into luxury apartments and now, a swanky rooftop swim club is coming to the Philadelphia Housing Authority's former offices.
For any more evidence of Philadelphia's changing cityscape, look no farther than the intersection of Ludlow and 23rd streets in Center City. Construction permits filed last week show plans to build fitness facilities and a pool area with cabanas, dining space and a bar atop the parking and office building sold by PHA in 2014.
The addition will open as an independently operated swim club accessible to members of The Fitler Club, a private social club opening this spring in the adjacent Aramark Headquarters at 2400 Market Street, said Sam Gordon, zoning chair of the Center City Residents Association.
"It's a separate partner that's working with Fitler Club," said Gordon. "They want to build a pool, outdoor game area and sun area for the club members next door."
PMC Property Group bought the 23rd Street building for $9.7 million in 2014. The affordable housing agency's remaining lease on office space expired at the end of last year. The agency's nearby former headquarters at 2012 Chestnut Street is also undergoing redevelopment through a deal brokered in 2016 to put apartments in the building.
The 23rd Street swim club will be built atop several floors of offices and a 312-space parking garage for Aramark employees.
Fitler Club founder David Gutstadt has described his concept as a Union League for today's emerging power elite. Instead of oil paintings and a ban on rubber soles and denim, Fitler will offer fitness facilities, chic co-working spaces and a relaxed dress code.
In a recent interview with the Philadelphia Inquirer, Gutstadt, whose father-in-law is real estate developer Carl Dranoff, said he wants the space to draw a diverse crowd.
"This is a real homegrown thing, not just catering to business, creatives, and athletes, or doctors but to everyone. Anyone in leadership in any industry of any background can be part of it," he said.
But months before the club even opens, it has already generated pushback over how Gutstadt defines diversity, and his plans to achieve his self-stated goal of reflecting Philadelphia.
Gordon said PMC worked out a proviso to deal with concerns from an adjacent condo building, largely related to noise and other nuisance activity, clearing the way for construction to begin.
PHA opened its new headquarters on Ridge Avenue in Sharswood in January.
Correction: An earlier version of this article misstated the ownership history of 12 S. 23rd Street.
WHYY is your source for fact-based, in-depth journalism and information. As a nonprofit organization, we rely on financial support from readers like you. Please give today.