U.S. Supreme Court rules PennEast pipeline project can use eminent domain to take N.J. state land
New Jersey had fought to keep the company from building the pipeline on state-controlled conservation land.
This story originally appeared on StateImpact Pennsylvania.
In a 5-4 decision Tuesday, the U.S. Supreme Court ruled the state of New Jersey cannot block construction of the PennEast natural gas pipeline on state lands.
The decision upholds PennEast's authority – granted by the federal government — to seize the land through eminent domain. New Jersey argued the 11th Amendment, which grants states immunity from private lawsuits, prevented PennEast from condemning the 42 parcels either owned by New Jersey directly or held as conservation easements.
Writing for the majority, Chief Justice John Roberts said Congress, through the Natural Gas Act, allows such condemnation in the interest of building a nationwide system of pipelines, as well as other infrastructure.
"When the Framers met in Philadelphia in the summer of 1787, they sought to create a cohesive national sovereign in response to the failings of the Articles of Confederation," he wrote. "Over the course of the Nation's history, the Federal Government and its delegatees have exercised the eminent domain power to give effect to that vision, connecting our country through turnpikes, bridges, and railroads—and more recently pipelines, telecommunications infrastructure, and electric transmission facilities. And we have repeatedly upheld these exercises of the federal eminent domain power — whether by the Government or a private corporation, whether through an upfront taking or a direct condemnation proceeding, and whether against private property or state-owned land."
Justices Stephen Breyer, Samuel Alito, Sonia Sotomayor and Brett Kavanaugh, representing both conservative and liberal justices, joined Roberts.
Writing for the dissent, Justice Amy Coney Barrett said the 11th Amendment guarantee of a state's sovereign immunity does bar PennEast from suing to seize the land.
"If private parties cannot sue nonconsenting States, the Court says, delegatees would have no practical means of taking state property," she wrote. "And that is inconsistent with the Constitution, the Court tells us, because '[a]n eminent domain power that is incapable of being exercised amounts to no eminent domain power at all.' … The flaw in this logic is glaring: The eminent domain power belongs to the United States, not to PennEast, and the United States is free to take New Jersey's property through a condemnation suit or some other mechanism."
The ruling reverses a 2019 decision by the Third Circuit Court of Appeals that held New Jersey could block construction on state-controlled conservation land. PennEast opponents vowed to continue their fight, while industry praised the ruling. PennEast Pipeline board chair Anthony Cox says it upholds seven decades of legal precedent.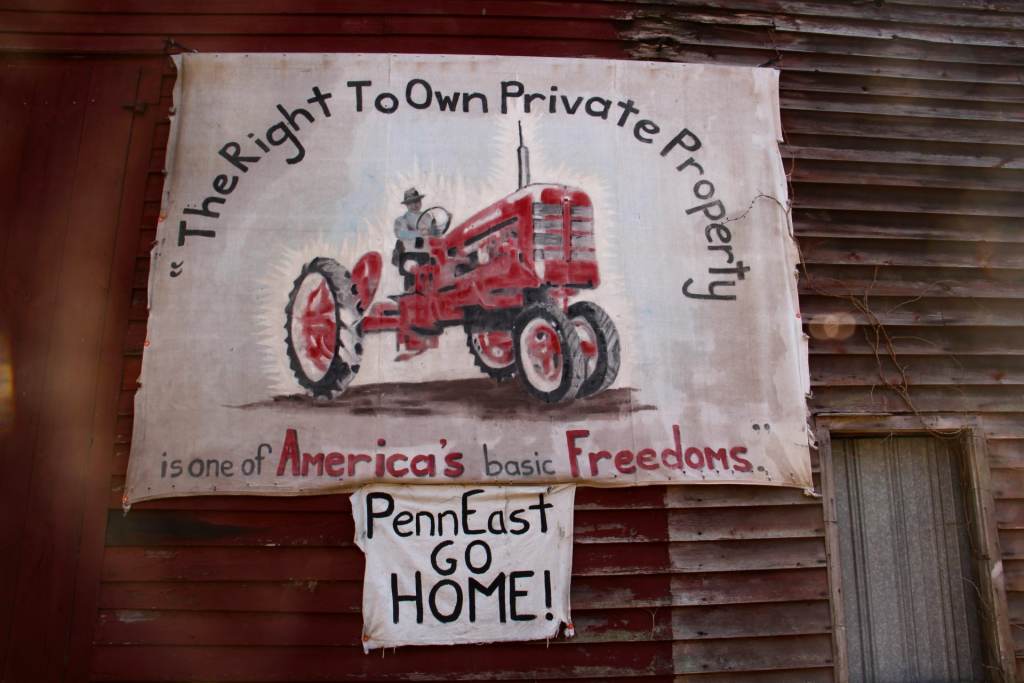 "This decision is about more than just the PennEast Pipeline Project," Cox said in a statement. "It protects consumers who rely on infrastructure projects — found to be in the public benefit after thorough scientific and environmental reviews — from being denied access to much-needed energy by narrow State political interests. PennEast understood that New Jersey brought this case for political purposes, but energy crises in recent years in California, Texas, and New England, have clearly demonstrated why interstate natural gas infrastructure is so vital for our way of life, public safety and enabling clean energy goals."
PennEast had argued the case was of "immense national importance," and could disrupt how the natural gas industry has operated for 80 years, including providing "a road map for converting state lands — including beds of rivers that form state boundaries — into barriers to pipeline development."
The Natural Gas Act, passed in the 1930s, authorizes the federal government, through the Federal Energy Regulatory Commission, to deputize private companies building gas pipelines so they have eminent domain authority to seize land from unwilling property owners. But the two sides disagree over whether Congress meant to allow private entities to sue states for eminent domain takings.
Amy Andryszak, president and chief executive officer of The Interstate Natural Gas Association of America, an industry group, praised the decision to uphold the view that Congress intended to allow private companies to sue states.
"Our nation's interstate natural gas pipelines make up a vast and critical transportation network, moving approximately one-third of the energy consumed in the United States," she said. "In order to continue to harness the benefits of natural gas to achieve our energy and climate goals, we need a predictable regulatory framework that allows improvements and additions to our country's interstate natural gas transmission infrastructure."
The Department of Justice under both former President Trump and current President Biden sided with PennEast.
But opponents say the decision tramples on states' rights and runs counter to the state's and the nation's climate goals by locking in another fossil fuel infrastructure project that will encourage more fracking for natural gas in Pennsylvania. New Jersey Attorney General Gurbir Grewal said he was disappointed by the ruling but vowed to continue to fight the project.
"We still have other, ongoing legal challenges to this proposed pipeline, which is unnecessary and would be destructive to New Jersey lands," Grewal said in a statement. "I am proud to continue this fight on behalf of our residents, and I urge the federal government to take another look at this harmful proposal."
Energy and Commerce Committee Chairman Rep. Frank Pallone, Jr. (D-NJ) called the decision a "dangerous precedent."
"States like New Jersey should be able to retain their right to do what they wish with the lands they own, and no private actor – including pipeline companies – should be able to usurp that right. I am determined to work with my colleagues to do everything in our power to preserve this important State right."
Delaware Riverkeeper Network's Maya van Rossum said there are more avenues to block the project, and the Supreme Court decision is not the final say.
"This is very literally taking the rights of states and subjugating them to the profit goals of private industry, and that is fundamentally and morally wrong," she said. "It's not just about PennEast, it's about the fracking , it's about the end use and ultimately it's about contributing to the climate crisis for future generations."
The project still needs Clean Water Act permits from Pennsylvania and New Jersey, as well as approvals from the Delaware River Basin Commission and the U.S Army Corps of Engineers. Pennsylvania has taken steps to grant those permits; New Jersey has denied them.
The 116-mile pipeline would ship Marcellus Shale gas from Luzerne County in Northeast Pennsylvania across the Delaware River to Mercer County, New Jersey, to provide what the company says is much-needed, affordable natural gas to residents. The project would cross dozens of waterways and wetlands, as well as the main stem of the Delaware River.
New Jersey has withheld from the project the necessary permits to cross waterways. The state says it spent about $1 billion to acquire and control the parcels for open space and to preserve the land for recreation, conservation and agriculture, and that it should not be used to ship natural gas.
The Federal Energy Regulatory Commission first approved the project in 2015, drawing objections from residents, environmentalists and the State of New Jersey. As a result of the FERC rule-making and public comment process, the company changed the route in at least 33 instances.
A number of parties challenged the pipeline in court.
Since the Third Circuit's ruling against the company, PennEast sought FERC's approval to build the pipeline in two stages, starting on the Pennsylvania side, where it has already gained most of the necessary permits. If approved, the line would have interconnections with Adelphia Gateway and Columbia Gas transmission pipelines in Northampton County. The company plans to have the Pennsylvania section of the route completed and in service in 2022, while the New Jersey section would be operational in 2024.
Both the New Jersey Attorney General and Delaware Riverkeeper have challenged FERC's permitting of the project in the D.C. Circuit Court of Appeals, which has been in abeyance pending the Supreme Court decision. That case can now move forward.
WHYY is your source for fact-based, in-depth journalism and information. As a nonprofit organization, we rely on financial support from readers like you. Please give today.