Super-sanitized Delaware hair salon serves grateful customers
Are you on the front lines of the coronavirus? Help us report on the pandemic.
Department stores and other non-essential retail establishments in Delaware that have been closed for weeks were able to start offering curbside service Friday.
Hair salons also were given the green light to open with strict guidelines. Only essential employees can get service, and no more than two at once. Rigorous sanitizing is required.
But on Kirkwood Highway between Newark and Wilmington on Friday morning, it was clear that retail businesses hadn't jumped at the chance to serve customers at their doorway.
The sprawling Kohl's remains closed. So are two GameStops, Pala Brothers Furniture, Sally Beauty Supply stores and several clothing boutiques.
Signs of life were visible, though, at Five Below in Millcreek, where manager Whitney Hausladen reviewed inventory for a Tuesday reopening.
"It's curbside only, so it's basically like a yard sale almost," Hausladen said. "You come up, if you don't see what you are looking for you can definitely ask for it and we can definitely try to seek it out for you."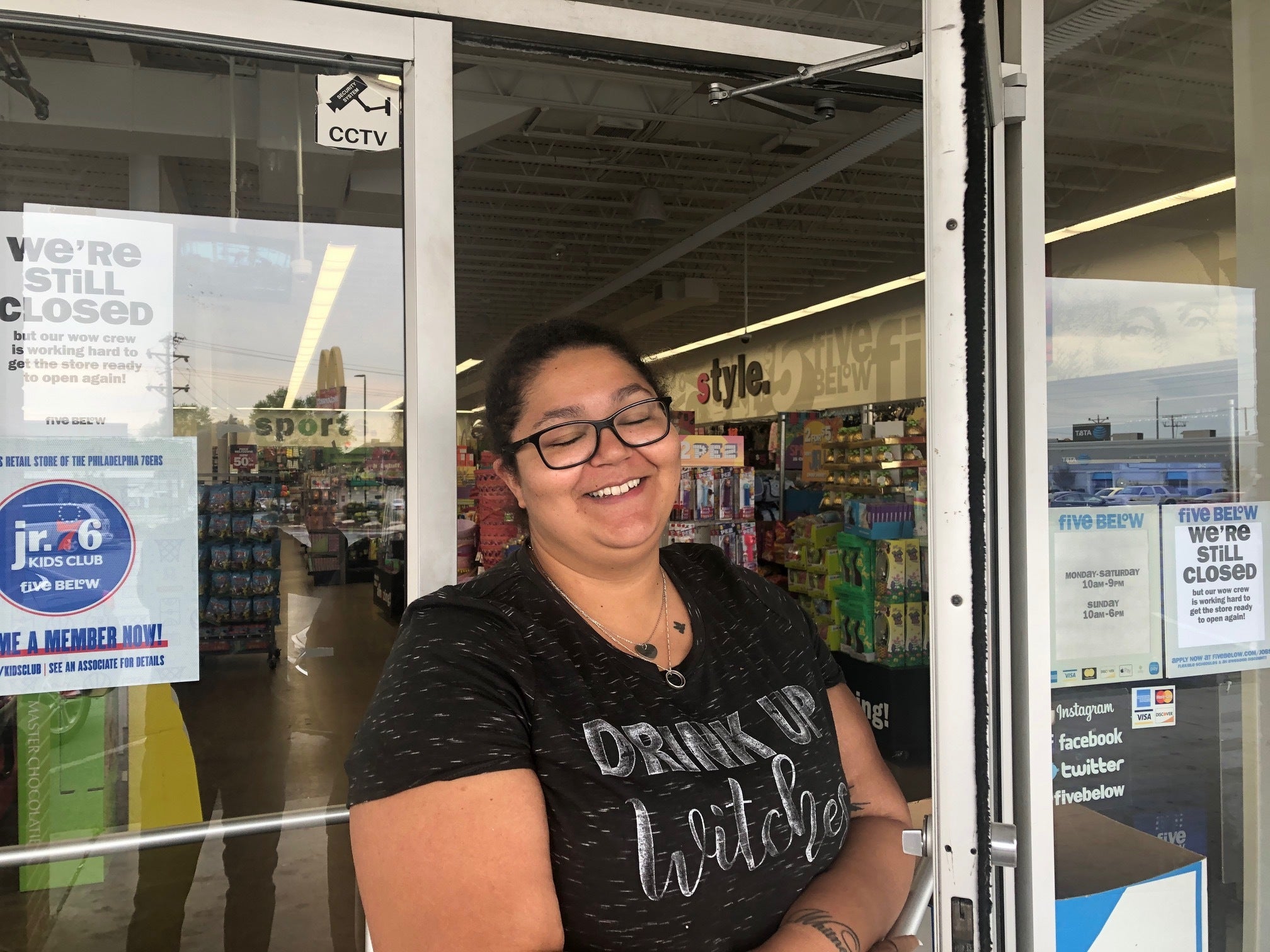 Some salons were closed, but it was a livelier story altogether at the New Trend Hair Salon in Millcreek, where owner Ginger Casper kept a close eye on everything, mindful of following the governor's requirements.
Her salon is technically two shops because she has two units in the strip shopping center, so she can have four clients at a time. All were far apart in the 3,200-square-foot space.
Before she lets workers or clients inside, Casper checks them with a no-touch thermometer. All must use hand sanitizer.
"I'm a rule follower," Casper explained, saying she has been preparing to reopen for weeks, acquiring sanitizing supplies, masks and more. She installed plexiglass shields at the counter.
"We keep the door locked. If their temperature is good, we ask them, have they been in contact with anyone with COVID-19? Do they have a chronic cough? We ask if they lost their sense of taste or smell in the last 48 hours."
Those who pass muster must slather their hands with sanitizing gel, then put their cell phones in a zip lock bag, and other items in a separate bag. "Then we take them back and we take care of them,'' Casper said. "It's one to one."
Casper watches stylist Megan Baranowski sanitize her station — including the client's chair and all surfaces — after a customer departs. They wait 15 minutes before letting another customer inside.
Casper describes how Baranowski "wipes down anything she's used with Clorox wipes. She takes her gloves off, washes her hands and then she'll use hand sanitizer."
Baranowski wishes she could see more clients but welcomes the safety protocols.
"It sucks because we can't take any extra people, so it's hurting our income, but it's nice to know it's safe,'' Baranowski said.
Kaitlynn Maciejewski follows all the protocols and waits until her stylist is ready. It's been a year since she's had anything done to her long brown hair, so she came in to get highlights, layers and curls.
"It's a lot more important that everyone is taken care of,'' to prevent further spread of the coronavirus, which as of Friday had infected 6,111 Delawareans and was linked to 213 deaths, Maciejewski said. "But I'm happy that I can get this done."
New Trend got so many calls that Casper had to take the phone off the hook.
While Casper spoke with WHYY, one woman walked up seeking an appointment, only to get turned away.
"We're all booked up for two weeks,'' Casper told her.
Gov. John Carney called Friday's loosening of restrictions "interim steps" and signaled that he is preparing to ease them further.
"We have heard the voices of small business owners loud and clear, and expect to move forward with a rolling reopening of Delaware's economy," Carney said. "We will not hesitate to allow additional businesses to open before June 1, if we can do so safely."