Sunoco expects hybrid Mariner East 2 to start operating by year's end
Construction and hydrotesting are '100 percent' done, officials tell financial analysts.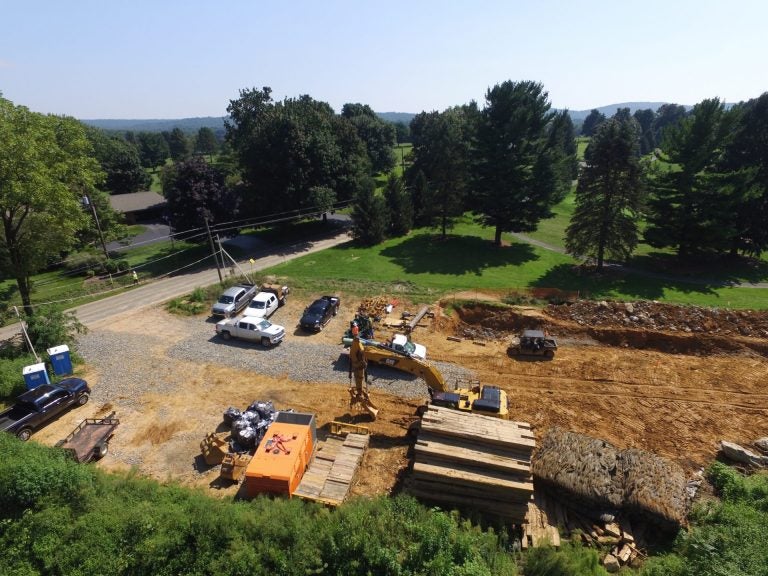 Sunoco's Mariner East 2 pipeline across Pennsylvania will begin operating in the current quarter, the company's parent, Energy Transfer, said on Thursday.
In a quarterly earnings call with Wall Street analysts, ET's chief financial officer, Tom Long, said construction and testing of the pipeline was "100 percent complete" and it would start carrying natural gas liquids before the end of 2018.
Mariner East 2 was planned as a 20-inch cross-state pipeline. But because the full length of the 20-inch line will not be finished until 2020, Energy Transfer has said, the company will join three different pipelines to create a hybrid through which natural gas liquids will flow temporarily. The company says it is calling that hybrid line Mariner East 2.
"Commissioning activities on segments of ME2 are already underway and we now expect to place ME2 in initial service this quarter," Long said in prepared remarks.
He said ME2X, a 16-inch pipeline running along the same route, will start operating in the third quarter of 2019.
He did not explain what he meant by "initial" service, but said the company will be able to fill customer orders.
"As we bring the various segments of the projects into service, they will continue to correspond with ramp-ups in capacity obligations, and we will be able to fulfill all current and future capacity obligations," Long said.
A Bank of America Merrill Lynch analyst who was on the teleconference asked whether, given the statement that ME2 is now complete, the company would not now be using a "workaround" – apparently a reference to the combination of 20-inch, 16-inch and 12-inch pipes that it said in October it would use to start carrying natural gas liquids for the long-delayed project.
Long replied that he didn't know what the analyst meant by a "workaround," then paused in mid-sentence amid some background whispering, and then repeated his forecasts for when the two pipelines would be up and running.
His comments follow a statement by ET spokeswoman Lisa Dillinger, who said Mariner East 2 as originally planned would not be finished until the end of 2020.
"As we continue to finish constructing both ME2 and ME2X, we will be able to put the next segment into service by the end of Q3 2019, continuing to use a combination of 12-, 16- and 20-inch pipe. Then we will be able to complete both pipelines, fully 20-inch and fully 16-inch, in Q4 2020," Dillinger wrote in an email to StateImpact on Oct. 17.
In the same email, Dillinger also said the combination of 20-inch, 16-inch and 12-inch pipe would result in reduced capacity compared with the initial plan for Mariner East 2 to consist entirely of 20-inch pipe.
Another spokeswoman, Vicki Granado, later said that the hybrid pipeline was a temporary solution to get ME2 into service.
Longstanding concern about the pipeline's safety has recently focused on the company's plans to repurpose a 1930s-era 12-inch pipeline as a temporary part of the project. The 12-inch line has a history of leaks, most recently at Darby Creek near Philadelphia, where it spilled about 33,000 gallons of gasoline in June.
An investigation into the Darby Creek incident was one of a series of regulatory requirements that the Public Utility Commission said were still outstanding at the end of September, Sunoco's previous target for starting operations.
On Thursday, the PUC, which is responsible for pipeline safety, did not immediately respond to a question on whether Sunoco has now met all of its requirements and would be permitted to start operating by the end of the year.
The PUC issued a statement saying only: "The Pipeline Safety Division continues to monitor the Sunoco project for compliance with state and federal pipeline safety regulations."
One of the pipeline's customers, Antero Resources, said on its own earnings call with analysts on Nov. 1 that it expects ME2 to come online in phases, beginning in January 2019.
The multibillion-dollar Mariner East project is at least 18 months behind its original schedule after months of drilling fluid spills, three shutdowns ordered by regulators or the courts, and dozens of notices of violation issued by the Department of Environmental Protection. When complete, the project will carry propane, ethane and butane some 350 miles from southwestern Pennsylvania and eastern Ohio to a terminal at Marcus Hook near Philadelphia where most of it will be exported to Scotland for plastics manufacture.
WHYY is your source for fact-based, in-depth journalism and information. As a nonprofit organization, we rely on financial support from readers like you. Please give today.