Struggling Pa. dairy farmers producing alternative milk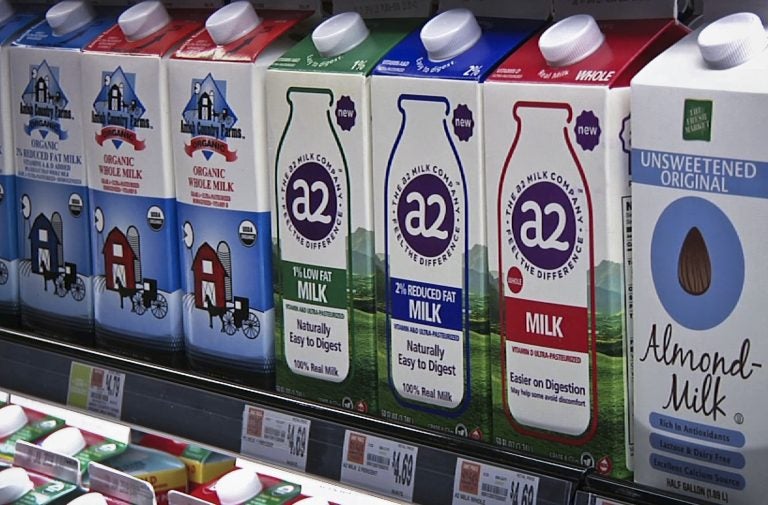 Even as many Lancaster County dairy farmers struggle to hang on despite falling milk prices and demand for their product, at least two small dairies are hooking their future to a controversial but increasingly popular new milk that claims to cure those with milk allergies.
An estimated one in 4 Americans have trouble digesting conventional milk.
But so-called A2 milk has only one of the two proteins normally found in milk. Some scientists and a growing numbers of consumers claim the missing A1 protein is the cause of indigestion from milk in many people.
A2 milk, named for the remaining A2 protein, is becoming more mainstream even as scientists debate its claims.
For example, in Lancaster County, Giant Food Stores began offering A2 milk in February. "It's still early, but our customers have been very responsive to the product offering," says Christopher Brand, a Giant spokesman.
The A2 milk, which doesn't taste different from regular milk, also is sold at Stauffers of Kissel Hill stores and will be found in the new Whole Foods Market when it opens June 27 as well as at Wegmans when it opens in September.
Many small farm markets and organic food stores also carry it locally.
Low-profile product
Like most Americans, Sharon and Lynford Wenger, who run Meadow View Jerseys dairy and a store near Leola, had never heard of A2 milk until several years ago.
About six years ago they sold a Jersey milk cow to a family in western Pennsylvania. A couple of years later, the family asked to buy a second cow. Then the father called a few months after that and asked the Wengers if the first cow produced only A2 milk because the family's children could drink milk from the first cow but got upset stomachs with milk from the second.
"I didn't know what he was talking about," Lynford Wenger recalls. Both cows underwent a simple hair DNA test. Sure enough, the first cow produced milk with only the A2 protein while the second cow, like most cows found in the United States, gave milk with both the A1 and A2 proteins.
The Wengers began researching the benefits of A2 and decided to start producing their own brand. It took them months to slowly accumulate a herd with cows that produced just A2 milk.
Fortunately for them, Jersey cows are much more likely to be A2 only, compared to Holsteins and other breeds.
When they had a barn of 40 Jerseys, they started selling their milk last summer.
The response has been amazing, Sharon Wenger says. "We've had a number of customers who say they can drink milk now that couldn't before.
"For awhile, I was skeptical — is this something or isn't it? But with the amount of people who are saying they can drink it and can't the other milk, I know that it's true."
The family dairy is selling 1,100 to 1,200 gallons of raw or pasteurized A2 milk a week, with customers making pickup milk runs from as far away as Delaware, Maryland and New Jersey.
"Mainly it's by word of mouth," Sharon Wenger says. "It seems these days there's so many people with milk allergies, and so somebody can handle it and they tell the next person."
Buoyed by the success, the couple had their dairy operation licensed by the state, which allows them to sell the milk not just from their farm but in stores as well.
Their A2 milk is now found in local farm stores, as well as in ethnic stores in Harrisburg and at Philly Foodworks in Philadelphia. They have added an A2 line of cheese, butter, yogurt and kefir.
A2 milk also is sold at Central Market at Pure Palate Organic, which sells several varieties of raw milk.
"I'm getting very positive feedback," says standholder Feizal Fakier. "I have steady clients who drink over two gallons a week. Before, they had digestion issues, and now they feel their body functions better having had this milk," he says.
The milk comes from Green Acres Dairy, near Terre Hill. Many of the 150 or so A2 milk customers who buy the raw or pasteurized A2 milk are patients with milk allergies referred by doctors, says the dairy's Plain Sect co-owner who didn't want her name to appear in the newspaper.
Like the Wengers, the couple got rid of their non-A2 cows and have begun a line of A2 cheese and goat's milk.
A2 milk locally is more expensive than regular milk, ranging from about $4.25 to $4.79 a gallon, compared to $3.24 to $4.09 a gallon for whole and low-fat milk in a local supermarket.
A2 milk — milk without the A1 protein — is actually the original milk found in cows in Africa and Asia. Breast milk contains only A2 milk.
A natural genetic mutation occurred thousands of years ago in European dairy herds. A1 spread to breeds of cows there and in the U.S. Most milk produced today contains both proteins.
The evidence
Scientific research into the claims of A2 milk is still scant.
One study, in 2016 by Chinese researchers, found that among 600 people tested with lactose intolerance, those tested experienced significantly fewer digestive problems after drinking A2 milk.
Another study, backed by the New Zealand government, found that a small group of lactose-intolerant women didn't have upset stomachs after drinking A2 milk.
Both studies, however, were partially paid for by a2 Milk Co., a New Zealand-based company that has garnered 12 percent of the milk market there and in Australia and has begun selling milk in the United States.
In April, the National Dairy Council angered A2 proponents when the organization's chief science officer said, "There is no current scientific evidence that A2 milk has nutrition and health benefits beyond regular milk."
The group told LNP it may launch its own research into A2's claims to benefit dairy farmers and consumers.
Asked about the growing trend of A2 milk, Jayne Sebright, executive director of the Pennsylvania-based Center for Dairy Excellence, says, "It's an opportunity for dairy farms. It won't be the solution for everyone, but it's worth looking into."
Adds Lisa Graybeal, a Fulton Township dairy farmer and chair of the Lancaster County Agriculture Council, "The common belief is A2 wouldn't be a quick fix for currently troubled dairy farmers. Others I talked to are a little hesitant about the subject because there still is some testing of the product to be done and claims to be proven or disproven."
A2 may still need scientific vetting to be embraced by all, but there are plenty of happy customers buying A2 milk made in Lancaster County.
Lydiann Leid, of Reinholds, said five of her children experienced temporary rashes and crusty skin after drinking regular milk as babies.
After blood tests ordered by a doctor, Leid switched to goat's milk. That helped but they didn't particularly like goat's milk. Then, an aunt with a sensitive stomach told her about the A2 milk that has helped her.
Leid bought a batch of A2 milk from Green Acres Dairy. "I would say I noticed a difference right away," she says.
WHYY is your source for fact-based, in-depth journalism and information. As a nonprofit organization, we rely on financial support from readers like you. Please give today.