Straight talk to the SRC: Video voices for Sheppard and Stanton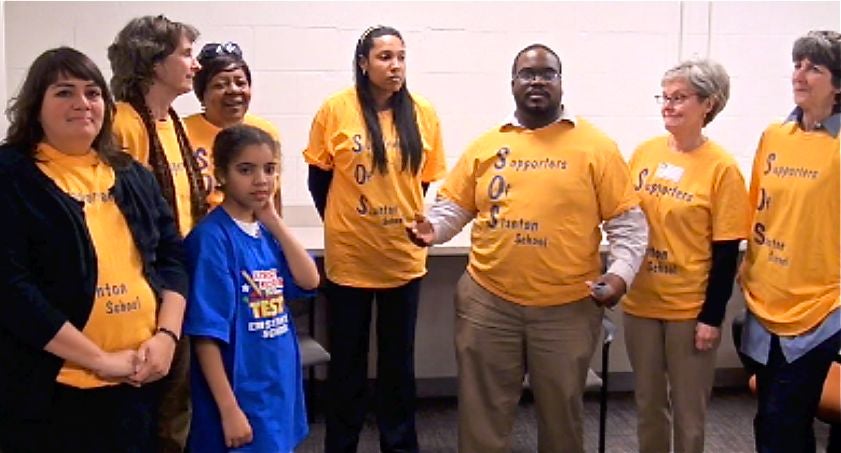 By Dale Mezzacappa
For The Notebook and PlanPhilly
Thursday night bright-shirted supporters of E.M. Stanton (yellow tees) and Sheppard (purple), two of nine schools slated for closing, brought their case to the School Reform Commission during its monthly action meeting. Over 40 speakers were on the agenda, with school closings and charter renewals and expansions among the hot topics.
This was the final public SRC meeting before the commission votes on the school closing recommendations on March 29. Charter school renewals come before the SRC on April 19.
The auditorium was nearly full as the meeting opened. Supporters of charter schools up for renewal – including Hope and Arise Academy – and a number of charters hoping to expand also came out to make their case.
As at other recent SRC meetings, contingents turned out again from two elementary schools targeted for closing, E.M. Stanton and Sheppard. The SRC heard passionate testimony from both schools. Notebook news partner PlanPhilly has compiled video testimony on the topic of school closings from those who came out to the meeting. (Look for that on the Notebook site, coming soon.) Parents questioning the decision to make Creighton a Renaissance charter also presented their case.
The meeting was scheduled to include a presentation on Renaissance Schools, but that was cancelled.
A draft list of resolutions and agenda is available; a new development this month is that the resolution list includes the total cost of items to be voted on (it's $9.2 million, including capital expenditures). For this type of meeting, speakers have to register in advance. The speaker list is not available online.
SRC meetings are streamed online and broadcast on PSTV.
The Notebook is partnering with PlanPhilly to cover this process and inform and help foster that dialogue.
This coverage is supported by a grant from the William Penn Foundation .