Stay or go? Philadelphia sounds off on the Rizzo statue controversy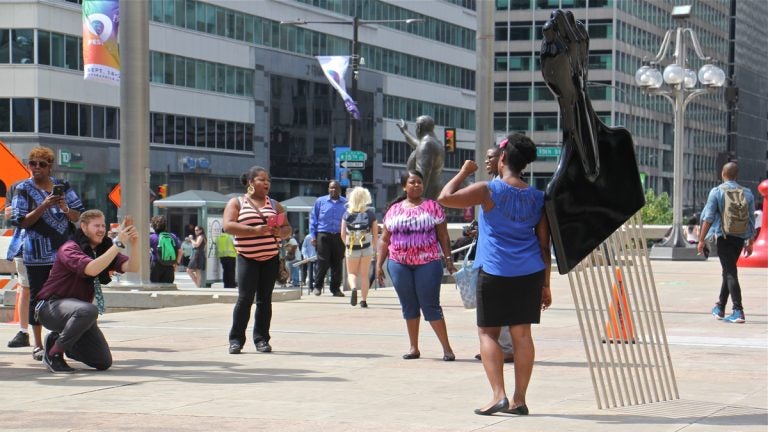 Ask Philadelphians for opinions on the Frank Rizzo statue, and you'll get some serious attitude. The city recently invited citizens to offer their opinions online about what should happen to the statue of the controversial former mayor and police commissioner.
Black Lives Matter and others have called for moving the statue from its place in front of the Municipal Services Building.
Comments closed last Friday, and they were both colorful and plentiful — more than 3,000 in all.
It wasn't a scientific poll, but about 60 percent support Rizzo and favor leaving the statue where it is, while 40 percent felt the other way. Feelings were strong on both sides.
Suggestions for a new location included a museum, the police administration building, the police union hall, Marconi Plaza, the Mummers Museum or other locations in South Philadelphia where Rizzo grew up.
What happens next?
A team of what the city calls "diverse representatives" from several city departments and Mayor Jim Kenney's office will review the comments and consider the issue.
They'll decide sometime next month whether to initiate the process for removing a piece of public art. That would involve hearings, and a decision by Philadelphia's Art Commission.
Here's a sampling of some of the comments, uncorrected for grammar or spelling:
Removing statues is akin to ISIS and the Nazi's destroying civilization's history. We cannot let that happen here. This statue is part of Philadelphia's history and past.
Put a sign in his hand that all lives matter!
Maybe there could be a mayor's park, where statues of various mayors are. A plaque could be added that highlights accomplishments AND controversies of the mayors. Rizzo's plaque could include the controversy over his policies' perceived racial bias. I do not think that, as a society, we can move forward, and create policies, etc, that are socially just and unbiased, without seeing where we have been in the past.
Sell to the highest-bidding white supremacist group and use the proceeds for public parks.
Leave it. He didn't own slaves, he wasn't a tiki-torch carrying Nazi.
Tear it down. Plant a tree.
Leave his boots/shoes and take down the rest of the statue. The same thing was done to the Stalin Monument in Budapest.
Attach it to William Penn statue above city hall so they look as though they are want to engaged in a group hug.
Put Rizzo statue in Kenney's office and put mayor Kennedy in time out chair in the day cares
Leave it where it is. Unchanged. Don't submit to knee jerk liberal bed wetting. Sheesh.
I think it should be replaced with something everyone in Philly enjoys like a Phanatic statue, Harambe (people here seem to love him), Han Chiang, or something that represents Philadelphia like two prideful animals side by side to represent brotherly love.
Frank was a great man. The law and order man. If he is to be moved … his next address will be my address. Right on my front lawn. I would be proud and honored to have Frank!
Line it up with the Rocky statue, so it looks like they're high-fiving. Then relocate both in the bottom of the Schuylkill.
Melt it down and forge it into Rings of Power, distribute those Rings of Power to influential Philadelphians, and then make One Ring To Rule Them All, give it to Terry Gross, and let's just see how it plays out, I guess.
WHYY is your source for fact-based, in-depth journalism and information. As a nonprofit organization, we rely on financial support from readers like you. Please give today.