As SRC nears end, Philly charter schools turn up the heat on City Hall
Hundreds of students and advocates flooded City Hall Tuesday. There they sent a message to the new power brokers in Philadelphia education.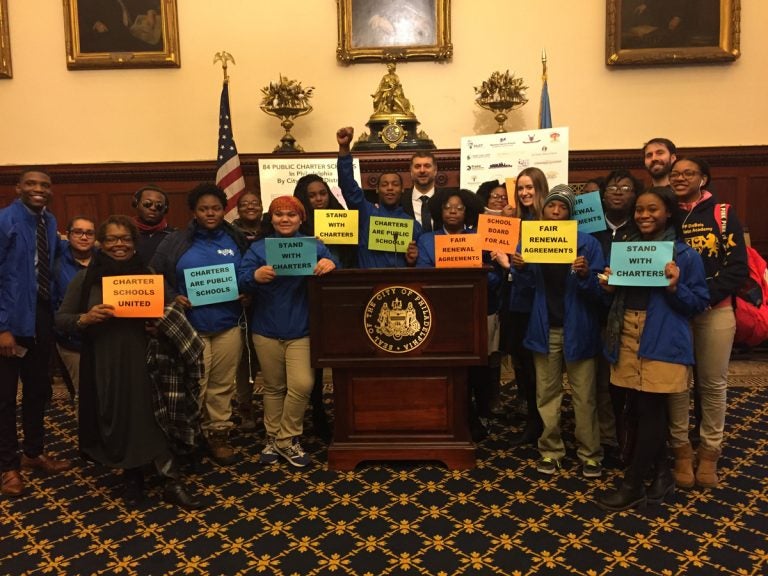 Hundreds of Philadelphia charter school students and supporters rallied at City Hall Tuesday, demanding representation on the new board of education and better charter agreements from the school district.
The turnout and location — City Hall instead of school district headquarters — foreshadowed a new kind of school politics, one where interest groups target city leaders instead of state appointees.
"The message should be loud and clear that the whole educational landscape is changing, the governance landscape, which means that the balance of power is going to start right here in City Hall," said David Hardy, former head of Boys Latin Charter School in Southwest Philadelphia.
"We wanted to get to the people who are going to be making decisions in the future."
Those people include Mayor Jim Kenney and members of City Council, who for years took a back seat to the state-controlled School Reform Commission. With the SRC now phasing out and a new city appointed school board phasing in, City Hall will play a substantially larger role in setting Philadelphia's education agenda. The SRC will cease to exist on June 30. 
Charter leaders used Tuesday's event to outline their preferred course in this new era of school governance.
Representatives from more than 35 charter schools unveiled a pledge they'll ask City Council members to sign. The pledge lists three commitments:
A promise to ensure every child can attend a high-quality public school, whether district or charter operated;

Transparent and fair charter renewal agreements and charter amendment policies;

A new school board that reflects, represents and respects all public schools students, in both charter and district schools.
On Tuesday, council members Jannie Blackwell, Allan Domb, and Al Taubenberger signed the statement.
The charter sector did not specify how exactly it wants to be represented on the new nine-member school board, which will be appointed by the mayor. It's clear, though, charter leaders have a close eye on the process.
"Right now the No. 1 thing that we're paying attention to, obviously, is the composition of this new board," said Marc Mannella, CEO of the KIPP Philadelphia charter school network.
Leaders also highlighted their dissatisfaction with charters agreements the SRC's Charter Schools Office — or CSO — has asked them to sign.
Every five years, Philadelphia charter schools come up for renewal. When that happens, the CSO evaluates each school and recommends it for renewal or non-renewal. Renewed schools are offered charter agreements, which they must sign in order to earn another five-year term.
Deadlock over some charter agreements
In the spring, more than a dozen schools refused to sign the agreements tendered by the CSO, saying they were unfairly vague. At present, 17 charter schools have not signed agreements; five of them belong to Mastery, the city's largest charter network.
The impasse highlights rising tension between the charter sector and the district office tasked with overseeing it.
The specifics of the disagreement are technical, but essentially boil down to how much control the CSO should exert over charters during their five-year terms.
The district says it wants to maintain flexibility because there could be changes in state or federal law that invalidate parts of an existing charter agreement and make it hard to enforce. As an example, one district official, speaking on background, said the district could change its code of conduct but be unable to make corresponding changes in a charter's code of conduct, even though certain charters are supposed to have codes of conduct that mirror the district's
Charter officials, however, worry that the flexibility could be used to undercut them. They envision a scenario where some future version of the CSO switches their academic targets midstream and then uses the new targets as justification for non-renewal.
"I'm no lawyer, but it seems to me if you sign a contract and someone can change that the very next day, then it's not a contract," said Mastery Charter CEO Scott Gordon.
Charter leaders also decried an earlier version of the academic comparison tool embedded in many charter agreements.
When the CSO evaluates charters, it maps their performance against "peer" schools, schools with similar number of low-income students, special-education students, and English language learners. Some charters, because of their demographics, would have been grouped with some of the district's special admissions schools, which have academic criteria for entry. Charter leaders said that grouping was unfair because charters must admit all comers on a lottery basis.
The district says it has since removed those special admissions schools from the comparison pool, although officials stand by the concept of comparing charters wih all district schools with similar demographics.
Lastly, charter leaders are unhappy with language that they say allows the district to withhold funds automatically if it feels it overpaid a charter. A separate lawsuit is pending on this topic, and it emerged as a major talking point last year when the district lowered its payments to charters.
Gordon of the Mastery Charter network asked for new charter agreements within the next 30 days.
"This is a problem that was created under this SRC," he said. "Let's fix it in the next 30 days."
Charter leaders aren't the only ones lobbying to ensure their place on the next school board and in the future of Philly school politics.
The immigrant advocacy group Juntos created a petition to get two of its preferred candidates on the next school board. On Wednesday, the left-leaning Our City Our Schools Coalition will hold a town hall with a slate of school board candidates it is endorsing.
Charter advocates, meanwhile, say they've reached out to every City Council office and generally received positive feedback. Kenney said he met Monday with ten charter leaders to discuss the school board appointment process so far and heard positive reviews.
So far, charter leaders have made their voices heard, but generally avoided criticizing the mayor. Right now, they say, they're happy with his attitude toward school choice.
"The mayor's committed to making the schools better, all the schools," said Hardy.
WHYY is your source for fact-based, in-depth journalism and information. As a nonprofit organization, we rely on financial support from readers like you. Please give today.