SPOTTED: Pergolas on the Schuylkill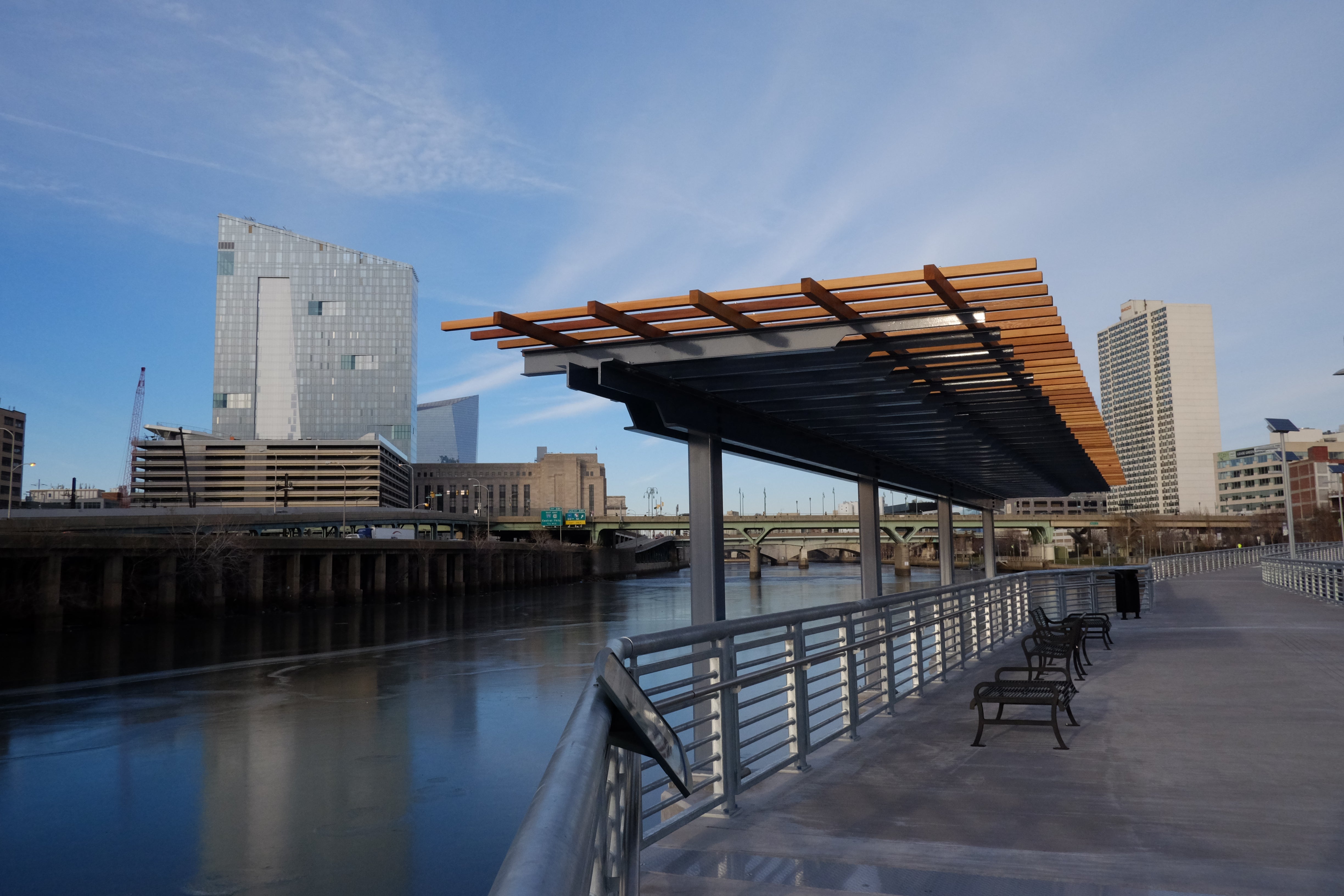 It may be the season for contemplating cross-country skiing on the Schuylkill River's celebrated new boardwalk, but soon enough visitors will enjoy relief from the sun thanks to new pergolas recently installed at two of the boardwalk's overlooks.
I spotted the new pergolas from the South Street Bridge as they were being installed in late December, and checked them out up close on a walk this week. The two airy structures built of steel and cedar rise above the boardwalk's northerly overlooks, framing seating areas and adding a bit of interest to the boardwalk's durable minimalism.Their long lines echo the intervals of the boardwalk's steel railings and their design is similar to structures at various entrances along the trail. (Think of the entrances from South or Chestnut streets.)
"The 63' long pergolas should provide some shading for users sitting on the benches or just enjoying the view from the railing," said Lane Fike, Director of Capital Programs at Schuylkill River Development Corporation.
Fike noted that the boardwalk's pergolas and solar lights were part of the original designs but budget constraints forced them to be cut. Funding was identified for the lights during construction, so they were added back into the contract. The boardwalk was built with the anchors in place to support the pergolas once funding became available. That funding came in the form of $199,500 in "stakeholder contributions," which Fike said covered design and construction costs.
Lots of lines, purlins and rails. Schuylkill Banks Boardwalk, January 2014

Schuylkill Banks Boardwalk, January 2014

New pergola on the Schuylkill Banks Boardwalk, January 2014