South Philly group asks chocolate factory developer for community benefits
S. Philly residents are playing hardball with developer Ori Feibush over a $100 million residential redux of the 150-year-old Frankford Chocolate Factory on Washington Ave.
This story originally appeared on PlanPhilly.
—
South Philadelphia residents are playing hardball with developer Ori Feibush over a  $100 million residential redux of the 150-year-old Frankford Chocolate Factory on Washington Avenue.
The South of South Neighborhood Association (SOSNA) wants the developer to negotiate a community benefits agreement in exchange for support from the registered community organization when the project goes before the Philadelphia Zoning Board of Adjustment.
A community benefits agreement, or C.B.A., is a community-brokered contract that requires developers to provide specific public amenities like affordable housing or a local jobs guarantee to residents affected by a large-scale development.
In this case, SOSNA is asking for a smorgasbord of benefits including a promise to hire minority contractors, include affordable housing, underground parking for neighborhood residents, and open space in the project. A signed C.B.A would win Feibush community support for the zoning variances Feibush needs to transform the industrial site into a dense village of townhomes, shops, and apartments.
An increasingly popular strategy in major U.S. cities, C.B.A.s have typically been used locally with larger projects such as the Sugar House Casino along the Delaware River in Fishtown or the Schuylkill Yards development in University City. The city does not track or supervise such agreements, a spokesman said.
For SOSNA's leadership, Feibush's project is a perfect candidate for the equitable development tool.  The 2101 and 2201 Washington Ave. project spans two city blocks and includes 278 apartments, 63 townhomes, and 43,000 square feet of retail space.
"SOSNA has an opportunity to represent our neighborhood, which has gentrified rapidly in the last 15 to 20 years," said Kevin Brown, president of SOSNA. "One part [of the CBA proposal] that people are really excited about is using these properties on Washington Avenue for job opportunities  and affordable housing that ultimately leads to mixed-income neighborhoods."
But Feibush said that he will not come to the table to negotiate a C.B.A. He said such an agreement would threaten not only the chocolate factory project but all future development along Washington Avenue.
Feibush has developed hundreds of properties adjacent to the South Philadelphia artery in Point Breeze and Graduate Hospital. Now he has bet big on Washington Avenue's transformation from a blight-pocked industrial corridor into a walkable, mixed-use connector for the two gentrifying neighborhoods. His corporate headquarters sits across the street from the old chocolate factory.
"This is not a productive give and take, they just want a moral victory of forcing a developer to do something," said Feibush, who is President of OCF Realty.  "We are proposing something that will make a profoundly important change to a corridor that has been abandoned for decades and a tremendous amount of risk and uncertainty has been injected into the process [at the last minute]."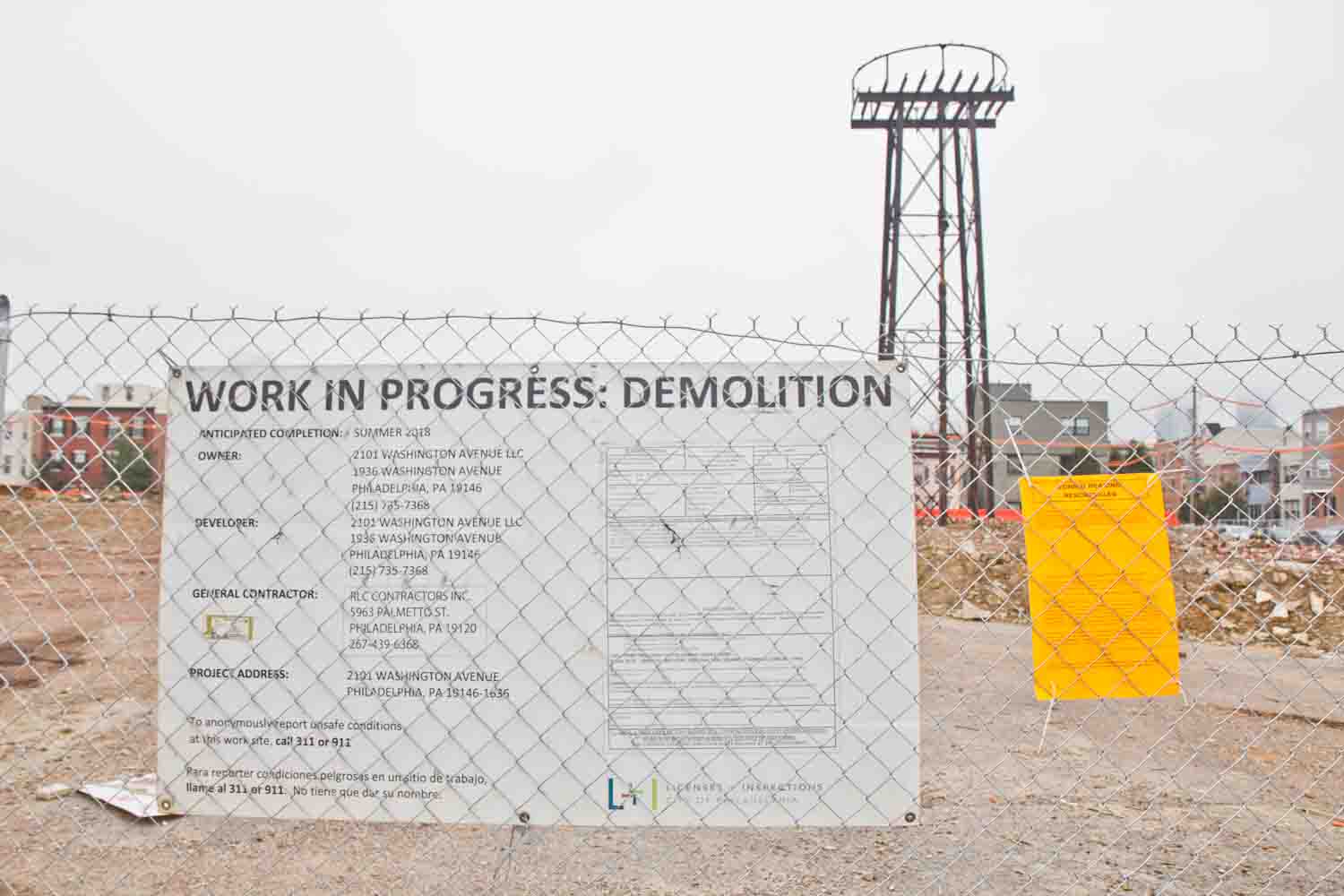 The community benefits agreement drafted by SOSNA is ambitious. The community group wants 20 percent of the units in the development's multi-family building designated for families living at 70 percent of area median income which is $49,000 for a family of four. They also included a provision that would require commercial tenants to ensure local workers from three neighboring zip codes comprise 30 percent of their employees.
In a nod to South Philly's notorious parking wars, the group also wants more than one underground parking space for every two units, with 20 percent reserved for area residents who don't live in the new development. The C.B.A. also includes open space and minority business provisions.
Brown said the demands reflect a starting point for dialogue. He is under no illusion that a final deal would include all, or even most, of the demands. The affordable housing and the underground parking, for example, would both be very expensive and he acknowledges that it would be realistically impossible to win both.
Although Feibush isn't receiving public subsidies beyond the 10-year property tax abatement most city developers take, SOSNA's leaders believe the group has leverage because the project hinges on securing the variances from the ZBA and there is a chance that community opposition could sway the board to vote the variances down.
The draft C.B.A. is a first for SOSNA, one of the city's most sophisticated RCOs.  In the past, the group has been largely supportive of development in the area, including OCF Realty projects. While they have extracted design and environmental concessions for past projects, none were codified in a C.B.A.
If Feibush were to agree to negotiate, there could be a precedent for future projects that need variances on the northside of Washington Avenue, where SOSNA's territory extends, and the south side that is covered by other community groups, including the Concerned Citizens of Point Breeze, which has battled Feibush before.
Feibush said clashes with neighborhood groups in Point Breeze had deterred large-scale development in the past and he fears SOSNA's introduction of a C.B.A. indicates that the climate of poor relations between community groups and real estate developers may be jumping across Washington Avenue.
"The process is murky and unpredictable because of the community organizations that have discretion on the south side," said Feibush. "On the north side there historically has been a profound amount of development and proposed development. That occurred because there was a predictable process with SOSNA. But that all changed in the last couple weeks."
Building with old maps
Most projects around Washington Avenue need zoning variances, which require community feedback, opening the possibility of project-derailing opposition.
That dependence on variances can be blamed on zoning maps that haven't been updated since the days when manufacturing was booming along the wide road, and no one had any interest in building housing there. Councilman Kenyatta Johnson, who defeated Feibush in a bruising Democratic primary four years ago, rarely remaps land in his council district.
Precise proposals to update Washington Avenue's zoning were drafted by the Planning Commission after extensive community engagement in 2015. But Johnson's communications liaison, Kaitlyn Manasterski, said the Councilman does not plan to remap the area except on a project-by-project basis. That strategy will preserve community input on large-scale projects, she said.
"Rezoning Washington Avenue so that large-scale developments can be built by-right means there would be no required public community meetings with SOSNA for the former chocolate factory site," said Manasterski in an email. "Residents who care deeply about development in Point Breeze and Graduate Hospital [would] lose a big opportunity and forum to engage with developers and their neighbors about major projects in their backyards."
SOSNA's next community meeting about Feibush's variance request will be held on October 15. The Zoning Board of Adjustment will hear the case on October 17.
WHYY is your source for fact-based, in-depth journalism and information. As a nonprofit organization, we rely on financial support from readers like you. Please give today.