South Jersey fans turn out for 'hometown hero' Ariel Versace's debut in 'RuPaul's Drag Race'
Listen
3:33
The Emmy Award-winning reality TV show "RuPaul's Drag Race" started its 11th season this week with a contestant from Cherry Hill. Fans who follow the South Jersey drag scene are bursting with pride.
They were out in force Thursday evening to salute their hometown hero at Vera Bar and Grill in Cherry Hill.
Two minutes before the show appeared on the bar's big-screen TV, a speaker blasted out notice to the standing room only audience.
"Everyone that's raising their hand, if you are excited to see Ariel Versace on 'RuPaul's Drag Race,' make … some … noise!"
The crowd of about 200 people were hyped for two hours of reality television — and Ariel Versace's debut on the show.
As she strode across the television screen, the drag queen of the hour also presided in the bar,  greeting her many fans, and offering nonstop commentary on the proceedings. With her hair swept up in a voluminous blond ponytail and wearing a princess-inspired dress with neon highlights, Versace exuded the confidence that could be her ticket to drag stardom.
"'RuPaul's Drag Race' is simply just a crazy competition where entertainers from all walks of life, from all parts around the country and the globe really, compete for the chance to be America's next drag superstar," explained Michael Oxley who drove in from Atlantic City with his best friend, Danielle Riek, to be at Vera's.
Whoever wins the TV competition will be the reigning face of drag — until a new winner is crowned next season, Oxley said.
Oh, and the winner also gets $100,000.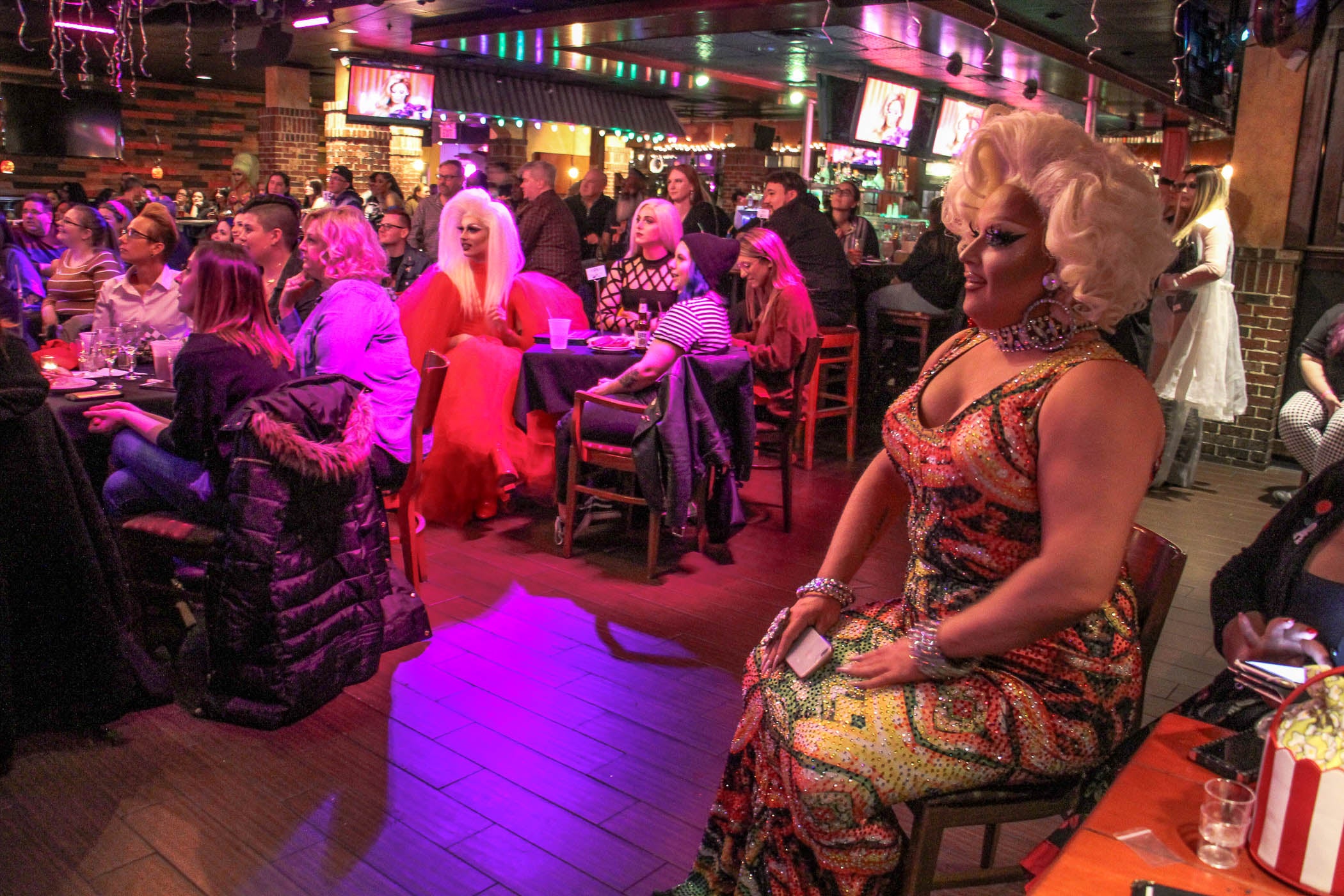 A star is born
Bryan Neel, aka Ariel Versace, was obsessed with the animated Disney movie "The Little Mermaid" and its main character. Ariel, when he was younger.
That's how Ariel made it into Neel's stage name; the Versace comes from a desire to sound "bougie" or fancy.
"Ariel is basically like Lisa Frank threw up on a drag queen," Versace explained during her "Drag Race" introduction Thursday evening. Lisa Frank is the colorful brand popular in the '90s with children.
Versace said she likes big hair and big makeup, likening herself  to a life-size Bratz doll.
During her debut on "Drag Race." she positioned herself as an entertainer, someone who can sing, act and dance — though she puts air quotes around dance.
The last contestant to claim New Jersey as home was Carmen Carrerra who was on the third season of the show.
"There have been Jersey queens, but they're more North Jersey, New York-based," said Andie Boberick of Marlton. "This is like the first real South Jersey queen that's representing us."
That's a big deal for Oxley who arrived at Vera's an hour before showtime to snap a selfie with Versace. He's been following Versace's work for a long time.
"We're just rooting for our hometown hero and hopefully she slays the competition," he said.
The hometown crowd
During a hosting break, Versace said she's representing the New Jersey drag scene on the show — not just herself.
"And I'm super proud of … being able to represent our state," she said. "It's just literally amazing, you know what I mean?"
Versace's also thankful for her supporters, including her parents who were in the audience Thursday.
"I know this is going to sound corny, but I've always known that he was going to be here, ever since he was a little boy, I just knew he was destined for the spotlight," said Susan Neel, Versace's mother. "I just love sitting back and watching."
Asia Monroe of Philadelphia said Versace's bringing a deeply personal art form to a much larger stage.
"Drag means being yourself and expressing your art, whether it's looking pretty or dancing, comedy, singing, whatever it is. Drag is what you want it to be," she said. "It's whatever you let the world know about you and your art."
An inspiration
And for the next generation of aspiring queens, Versace is a role model.
James Gonshery, who just turned 21, said he's still trying to get familiar with the scene. He's trying to work up the courage to perform in an amateur drag night. When his friend told him Ariel Versace would be hosting a viewing party in Cherry Hill, Gonshery made the drive from Camden.
"This is like my breakout, I'm just really excited for it," Gonshery said wearing bright red lipstick, a blonde wig and a RuPaul T-shirt.
Drag is how performers let their personalities shine, fans say.
"Pure self-expression, I love it. You make your body the canvas," said Vincent McGovern of Mount Laurel.
"To me it's freedom, you are who you are, you love it, you embrace it, you have a good time with it," said Joyette Alston also from Mount Laurel. "You don't care what anyone else thinks."
Versace strikes a similar tone later in the evening, reminding the audience that there's so much more to drag than what's shown on the show, the art is constantly evolving and queens are pushing boundaries in their own backyards.
Still, Versace's fans will have at least another week to see her serve looks on the show.
She made it through this week's challenge crafting a poison ivy themed leotard.