Soak It Up!: Green infrastructure design competition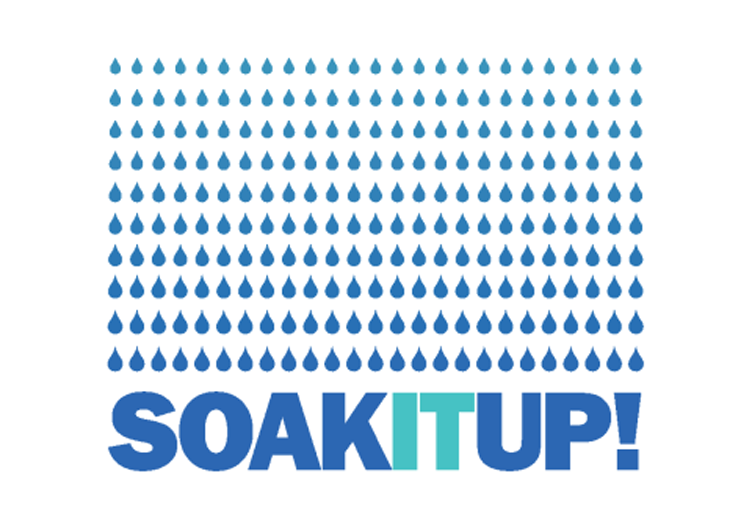 Philadelphia's pioneering Green City, Clean Waters plan to manage stormwater using green infrastructure is slowly rolling out through early action projects like streets with permeable paving and green schoolyards. But greening 1/3 of the city's impermeable surfaces within 25 years is going to take a ton of work, and there is a lot of room for truly creative solutions.
So to stimulate fresh ideas about green infrastructure – and drum up a little excitement – the Philadelphia Water Department, Environmental Protection Agency, and Community Design Collaborative are hosting Infill Philadelphia: Soak It Up!, a design competition asking designers to develop green infrastructure retrofits for three city sites with an eye toward managing stormwater while creating community assets. Green infrastructure interventions will ideally meet multiple bottom lines by creating neighborhood amenities, providing cost-effective solutions for property owners, fostering community engagement, and even spurring development.
The design challenge asks teams to focus on one of three sites, each with specific urban challenges and opportunities. At an old factory/warehouse complex in Hartranft, building green infrastructure could help beautify the neighborhood, possibly even attracting new investment, while helping a business reduce its stormwater fees. At a strip mall in Grays Ferry, green infrastructure could help weave the shopping center into the neighborhood by creating community spaces, improve the pedestrian experience, and make buildings more energy-efficient. And in Queen Village, the intimate grid could create a fine-grained network of small-scale interventions that add up to a effective stormwater management system.
Teams of design professionals interested in competing must register for the competition by midnight on Friday, November 30. [See the competition packet for details.] Submissions are due in January, and from nine finalists winners will be announced at a ceremony at the Academy of Natural Sciences in March. The winners get a $10,000 cash prize, as well as the satisfaction in knowing that the Water Department and property owners are interested in implementing some of the solutions proposed through the competition.
To whet (or perhaps wet) your appetite, here's a closer look at the three design challenge sites:
Industrial: Warehouse Watershed, Hartranft
Edward J. Darby & Son Pennsylvania Wire Works is a family-owned wire mesh distributor and manufacturer that takes up an entire city block in Hartranft (between 8th and 9th, Dauphin and Susquehanna). Because the complex has 100% lot coverage and zero permeable surfaces, the stormwater charges for Darby & Son have increased by 1100%.

Standing on the industrial complex's roof with owner Dan DiBruno (yes, of those DiBrunos) and the Collaborative's Linda Dottor, you can appreciate just how big the building actually is. Its huge roof is irregular and undulating, complicated by successive building additions and the property's many lives (including decades as a trolley barn). The roof is in fair condition, but DiBruno says it leaks during heavy rain and snow melt and that good drainage is a perpetual challenge.
Given the challenges of collecting and directing water off of the roof and the high stormwater charges, DiBruno says is open to hearing all solutions, but they've got to be cost-conscious and effective.
"All of us want clean air, clean water. We also want to be in business," DiBruno said looking over his rooftop.
There is still a lot of vacant land in Hartranft, including several parcels directly across 9th Street from Darby & Son, a portion of which is publicly owned. So one of the special considerations for this site is how the public property could be adapted to absorb stormwater in a way that creates an attractive neighborhood amenity that, in turn, could spur development on the adjacent privately owned vacant lots. It might also be possible to manage some stormwater on-site. (Seeing the factory's enormous but out-of-commission boiler got my wheels turning.) Bonus points for figuring out how to use Darby & Son wire mesh in the solutions.
Commercial: Retail Retrofit, Grays Ferry
The Grays Ferry Shopping Center at 29th Street and Grays Ferry Avenue is a suburban-style strip mall, set back from the street and surrounded by an ocean of asphalt pocked with puddles. More than 80% of the site is impervious, creating high stormwater charges for the owners and an unattractive environment for customers and retailers. The challenge here is finding green infrastructure tools that will work on a formerly industrial, riverfront site while creating a more appealing environment.
The shopping plaza backs up to the railroad tracks that hug the banks of the Schuylkill River in an industrialized pocket that is walking distance from residential neighborhoods. So one of the opportunities here is to soften all of this hardscape, find ways to improve the pedestrian environment – maybe even connecting to the Schuylkill River – and create some space for community activities like a farmer's market.
As with Darby & Sons, reducing the stormwater charges for owners is a design objective. But here, designers are also tasked with helping make the building more energy-efficient, possibly by taking advantage of the flat roofs to develop a green roofing system of some sort.
Because the site is so large teams may consider solutions that help manage runoff from adjacent properties as well. But such solutions, like a large subterranean collection system, would be complicated by the site's industrial pollution and major utilities running underground. Adding to the retrofit challenge: 440 of the 480 parking spots must remain.
Neighborhood: Greening the Grid, Queen Village
Queen Village's intimate grid is densely built. That means that any green infrastructure solutions for the area between 3rd and Front, Queen and Carpenter are seriously space constrained. But neighbors here have a history of working together for community-minded goals. Unlike the other two sites, greening Queen Village's grid is a challenge that will likely require more granular solutions.
How might historic Queen Village's charming tiny alleys and street stubs play a part in a neighborhood system for managing runoff? Maybe the historic cobble- and brick-paved streets could be treated as permeable systems? Could a network of drainage systems from rowhouse roofs add up to a serious stormwater management system?
In Queen Village, I can see green streets and tree trenches taking their place alongside larger green infrastructure projects implemented at public spaces like the triangle created by Moyamensing Avenue at Christian Street, Beck Park, Shot Tower Rec Center, and Mario Lanza Park.
———
Design teams must register for the competition by midnight on Friday, November 30. Check the competition packet or visit the Infill Philadelphia: Soak It Up! website for more information.