Small staff left to maintain Longwood Gardens during shutdown
Listen
0:51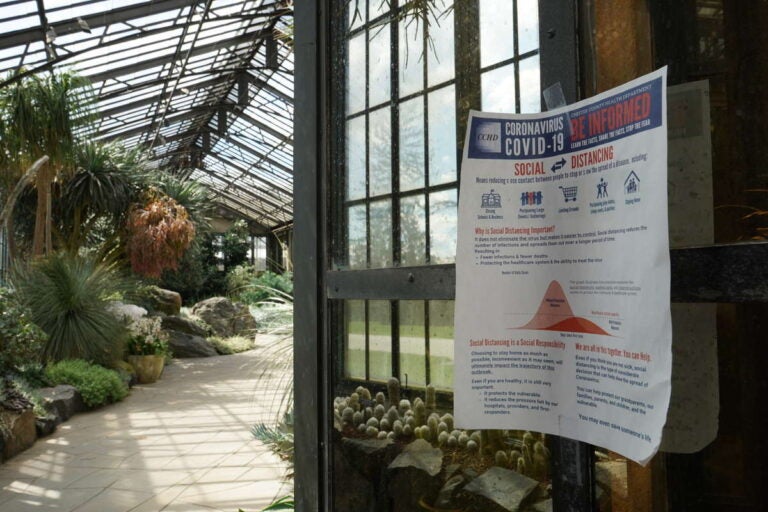 Are you on the front lines of the coronavirus? Help us report on the pandemic.
Longwood Gardens was on track for a banner year for attendance. More than 1.5 million people were expected to take in the flowers, fountains and natural beauty stretching across 500 acres in Kennett Square.
But like so many other cultural attractions, no visitors are able to enjoy the bursts of color and new growth that happen here every spring. Seasonal plants in the conservatory's beds have been removed. Empty pots hang on the walls of the orchid house.
"It has just been quite the ride for all of us here, just like it has been for everybody," said Paul Redman, Longwood president and CEO. "Being the gardeners that we are, we're always planning for the future and that's what we're trying to do right now."
While there are certainly far more serious effects from the coronavirus, Redman also lamented the loss of community connection with visitors to Longwood. "People need beauty in their lives right now and they need that escape for their own mental health and well-being. They've been cut off from that right now, and that has been very difficult for us."
On an average day, about 400 people work to care for and maintain the plants at Longwood. But these are not average days. Now there are about 45 people caring for the plants. They work rotating shifts to keep with social distancing guidelines.
Normally, Longwood's staff would be growing this time of year to about 900 in preparation for the summer season. Instead, Longwood's volunteer and student programs have been suspended since March 13. Only about 300 workers are still on the payroll.
The size of Longwood Gardens makes it impossible to keep up the level of care with such a dramatic decrease in staff. "Our primary goal right now is risk management and mitigating loss. We're truly providing for the fundamental basic care of the place to keep it alive," Redman said. "Early on it was a bit overwhelming in that we are all very aware how quickly it could be lost, you can't just turn off the lights and walk away, it's a living organism and a living institution and it requires care."
Among the priorities for care are the orchids that were removed from their traditional display location and are being maintained in a greenhouse. The 300-feet long, 14-feet high Green Wall is also a priority. "That's a highly sophisticated vertical garden, and if any one plant in that wall begins to decay or to develop pests or disease symptoms, we could lose that entire wall just in a matter of days, if not weeks," he said. "If we were to lose that, the cost and the tragedy of having to replace that would be morally unacceptable and not an option."
Redman isn't only focused on maintaining what is growing now. He's also looking ahead to what will be put in the ground in the near future. "That's the fundamental core of being a gardener," he said. "We live by the seasons and the crops that we plan for. For us, our eyes are set on summer."
While it's unclear when Longwood will reopen, workers are preparing as if they'll be able to welcome visitors back in the summer. "When we do open our garden gates, our guests may not see the full-blown Longwood display that they have seen in the past, but they are going to see something that is beautiful and extraordinary."