Shh! This is a… jungle gym? Philly libraries remade for play
Three Philadelphia libraries now have "play-and-learn space," designed to bust up the old notion that libraries are quiet places.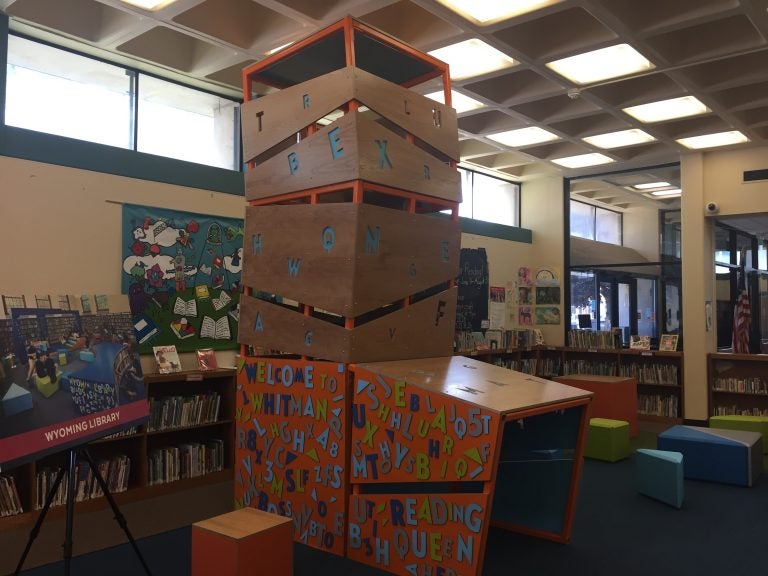 Seven-year-old Olivia Kinkel and her family visit the Whitman library in South Philadelphia a couple of times a week, enough to feed Olivia's appetite for "chapter books."
She already likes the library. Now, she has a ten-foot reason to like it even more.
Officials formally unveiled a new "play-and-learn space" inside Whitman Monday, anchored by a letter-covered structure that looks like the tower of Babel gave birth to a jungle gym.
"It has like three ladders and it's really, really, really tall," Olivia said of the new installment. "It goes all the way up to the ceiling!"
Whitman is no longer your hush-and-read kind of library.
Its new play space is designed for kids like Olivia to scamper and discover. The theory, officials say, is that kids absorb information better when they're actually doing things. Libraries, they reason, shouldn't simply encourage quiet, solitary reading.
"We are not your grandmother's library anymore," explained Siobhan Reardon, president and director of the Free Library of Philadelphia.
The facelift at Whitman is one of three throughout the city. The Cecil B. Moore Library in North Philadelphia now has a miniature climbing wall, while Feltonville's Wyoming Library features a scaled-down amphitheatre and magnetic letter board.
"These new Play-and-Learn Spaces … illustrate the evolving role of libraries today in creatively engaging children around learning and literacy," said Janet Haas, Board Chair of the William Penn Foundation, which helped fund the initiative.
Philadelphia's library system, like many around the country, is trying to reinvent itself to keep pace with advancements in technology and pedagogy. Some libraries have been remade with communal openness in mind, replacing the traditional circulation desk with more welcoming entrances.
Whitman still has its front desk, but its vibe is decidedly less quiet with the addition of its play area. There's a tiered platform where kids can read in groups and moveable stools for those who'd rather not sit still.
That said, there are still little nooks carved into bookcases where a kid can retreat and do what kids have always done at libraries: read a story.
And the best part, said Olivia Kinkel?
"No one can disturb you."
WHYY is your source for fact-based, in-depth journalism and information. As a nonprofit organization, we rely on financial support from readers like you. Please give today.