Shania Bennett, 18, is the elected voice of South Philadelphia's youth
Morning Edition host Jennifer Lynn talks with Shania Bennett about her community work and her election as treasurer in Philadelphia's 48th Ward's 12th Division.
Listen
6:51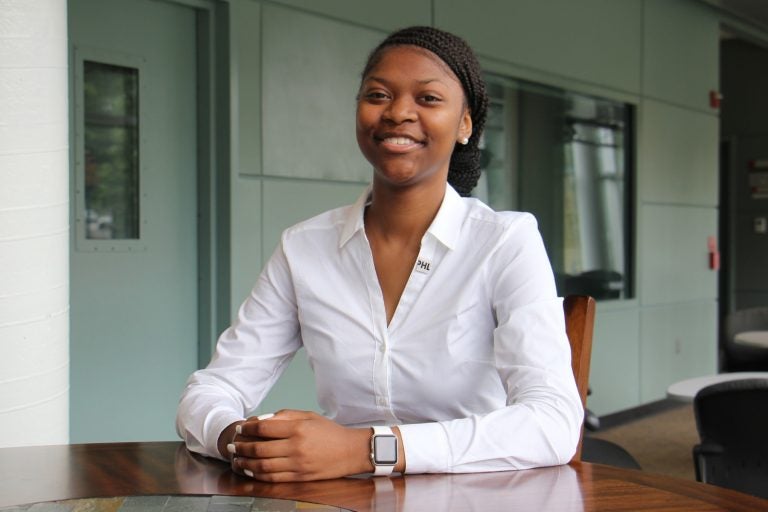 Shania Bennett has a lot to celebrate.
This month, she'll graduate from Philadelphia's Girard Academic Music Program, one of the city's magnet secondary schools. She's a few credits away from earning an associate degree in criminal justice from Community College of Philadelphia. And she's been elected to a committee post in her South Philadelphia neighborhood that straddles homes of the well born and powerfully poor.
She is just 18 — and may well be the youngest committee member the city has known.
This bright, collected young woman is also involved in many extracurricular activities. This month, she will graduate from New Creations Bible Institute with a certification in evangelism.
A member of two student advisory council boards within the School District of Philadelphia, she also served as a student government senator at Community College of Philadelphia's main campus.
For four years, she has volunteered for state Rep. Jordan Harris of the 186th Legislative District. At Smith Playground in South Philadelphia, Bennett mentors youth. In May, she organized a memorial basketball tournament called "Reach 4 Peace" at Smith Playground for youth affected by gun violence.
In the fall, Bennett will begin her college career at Pennsylvania State University's main campus.
Morning Edition host Jennifer Lynn talks with Bennett about the path she's taking in these trying times for students — and her attraction to politics.
—
I really got into politics kind of on my own in a way. I was on Instagram, and I came across an Instagram posting of a town hall. I absolutely loved the meeting. The only part that I wasn't so pleased with was that I didn't see any young people there at all. I knew from that moment that was going to be my opportunity to be that young voice from my community.
What does a young voice at the table have to offer? 
Just more insight. You know, we're affected by the same things older people are affected by in terms of everything.
You've just been elected to the committee for the 48th Ward 12th Division. Describe that area of the city. 
It's South Philadelphia. It's literally like a border of what makes South Philly, I guess, what people consider good or bad. Some people, if they were on a good side, I guess they don't really care or aren't as interested. People don't like the bad side. I guess they feel like they want change.
What do you mean by good side bad side? 
More minorities live on one side — or you have Girard Estates. And then you're South Philly, Snyder Avenue side.
And what differences do you notice in those two sides?
More community cleanups on one side. Not so many community cleanups on the other side. More gun violence on one side, not so much gun violence on the other.
OK. You must be a very good networker, because a committee person has to be a very good networker. Are you prepared to do that kind of work? 
Yes.
What duties do you look forward to doing?
I look forward to voter registration and getting more young people involved in the voting process. Understanding how local government works, who their elected officials are, how to connect with them. Just being a better citizen.
You just voted for the first time. How did that feel? 
I felt like,"Wait, my first voting, and I'm voting for myself." It was just funny. It was a good feeling.
How did you drum up votes? 
I actually went campaigning. I went door to door, and people were so interested with me.
Did you feel like there were two or three things you'd share with people when you went door to door about yourself?
Yeah, one that I was 18. I volunteered for Larry Krasner's campaign. So I used that a lot. 
That's the district attorney in Philadelphia.
Yes. I used that I volunteer for Jordan Harris, who is my state rep, and my passion for wanting the community to be better. And they were just blown away.
You're about to receive a high school diploma, and you completed a dual-enrollment program in criminal justice. You've been accepted to Penn State where you're going to study criminology. Why criminology? 
My brother, that's my biggest inspiration.
How so? 
He finished school when he was 16, and he went to Temple, graduated with his bachelor's at 20. In the house, we have a bookshelf [with] all these criminal justice books, and the one that captivated me the most was, "The New Jim Crow." I read that book and when I actually got a dual enrollment, my English class was reading that book again, and I just loved it more. So that's when I declared my major to be criminology. I simply loved it from reading that book.
I read that you lost four close friends to gun violence, and that that fuels your drive toward taking on surface activities. Tell us about that. 
It started actually when I was 14. I lost my friend Aseem Chadwin. He was in eighth-grade. I couldn't really understand it — a 14-year-old. When it happened the second time, it was another friend. I felt like, 'Man, what can I do about this?' It's like never ending.
And when I got to my fourth friend, I felt like these are my friends, and I loved them, and I feel like I can't do anything about it. And it seems like no one in my community or my city or any leaders are really doing anything about it. In the moment they come out to the candlelight vigil, they'll say put the guns down. We need justice. But when no one is being killed, it's like it's not talked about at all.
Yeah I wanted to get to that with the national school walkout this year. Did you participate in that? 
Yes, I did.
That was when students across the country walked out of their classrooms for 17 minutes to honor 17 people killed in Parkland, Florida, in a high school shooting in February. After that, some people were worried that the student movement that was part of that would peter out. Do you think that it is petering out?
For the students that are really passionate about it, not at all. I hear friends talking about it all the time. Like yeah, we walked out today, but what would we do tomorrow? My school, we have a whole memorial still up.
Shania, you mentor at-risk youth, teaching them about nonviolence and peace. What do you tell them?
I try to steer them right. I try to tell them about their endless possibilities if they apply themselves. I tell them, "Be the person that you want to be when you were younger." That's the way I live my life. I didn't have too many role models growing up. I actually didn't even know any African-American professionals until I started doing internships or taking a risk in trying to see who would mentor me. I had my parents, but I never knew anyone outside of them.
There are all kinds of graduation speeches this time of year. You're going to be addressing a group. What's your message? 
I will tell them, "Do what you love, what you're passionate about." And that education is important, and it's not just about moving up today, but it's about moving up until you get to 12th grade and graduating.
I want to share a text I just sent to my kids. I wrote, "Whatever your talent, fulfill it." 
That's exactly what you want to tell them.
WHYY is your source for fact-based, in-depth journalism and information. As a nonprofit organization, we rely on financial support from readers like you. Please give today.