Serious illness gives way to comic relief as Philly hospice patient helps craft comedy
Despite his 93 years and end-stage renal disease, Harry Azoff is surprisingly active.
Listen
0:00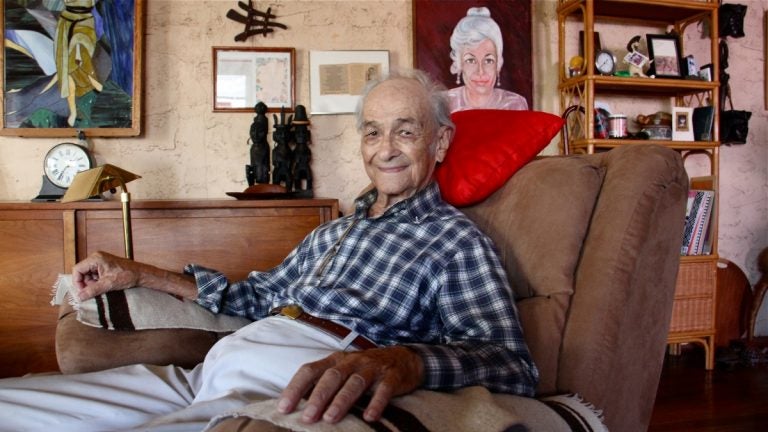 Despite his 93 years and end-stage renal disease, Harry Azoff is surprisingly active. He lives by himself in an apartment in Philadelphia's Queen Village, his home of 35 years since retiring as a jeweler.
He stands at the top of the stairs, hands in pockets, waiting for visitors to come up.
"Lot of steps, there," he warns, before offering a reporter the overstuffed easy chair and a glass of water.
Azoff still drives himself around town in a 2000 Toyota Camry ("It's a great car") without incident, although passengers note he sometimes forgets where he's headed. He has been an avid, daily harmonica player since he bought his first instrument at age 12 — from money he earned by cleaning blood off butcher's blocks — and he often spends time listening to music on an iPad.
"Death. I expect it. When the ugly guy comes to get me, OK. So be it," said Azoff. "I had a nice time. I had a good life — a beautiful wife, nice kids. What else is there?"
Azoff has outlived his wife and one of his children (his son Mitchell died two years ago at age 65), but he will not outlive kidney failure. For over a year, he has been in home hospice care; most people last about 60 days in that situation.
"I think the process has been stressful. He has been in hospice so long," said Morgan Thompson, a hospice volunteer who visits Azoff once a week. "He has questions, 'Why am I still here? I'm ready. I'm tired.' He bounces back, sometimes by the next visit, he says, 'I'm almost human today!' That's his favorite joke, 'I'm almost human today.'"
Recently, Thompson helped her own mother pass away. Now, when she and Azoff get together they crack jokes about dying.
"When do you start making jokes? When it still stings," said Thompson. "Like, when you put peroxide on a cut. You start making jokes when it still hurts, so the healing process starts."
Laughing matters
Over the summer, while sitting under a tree in Queen Village, they hatched an idea to compile their jokes into a short, comic play. Called "Hospice-tality" (according to Thompson — Azoff claims there is no title), the 30-minute play was performed Thursday evening at the Penn Hospice Center in Rittenhouse Square by members of Philadelphia Improv Theater.
The script is a series of interactions with a hospice patient and his team of caregivers. The jokes are broad, mostly one-liners sandwiched between observations about dying.
The patient asks his visiting nurse: "Did you always dream of being a hospice nurse, or did it come to you in a nightmare?"
It got a laugh, but Azoff isn't expecting to win any awards.
"I like things like slipping on a banana peel," said Azoff. "It's not funny anymore, but, when I was a kid, we would laugh like the Dickens when somebody slipped on a banana peel."
He may or may not write another script. In what time he has left, Azoff wants to learn to play the mandolin — his friends chipped in to buy him one. He's waiting for some arthritis in his thumb to subside.
Until then, he plays the harmonica every day, from Mozart to blues to pop. After the premiere of his play, he treated the audience to a version of "Let Me Go, Lover," a hit for Joan Weber in 1954:
Let me go,
Let me go,
Let me go, Lover.
Let me be, set me free
From your spell.
"You wouldn't know that song — it was way before your time," he said. "It's a heart-wrenching song. Just the song to fit my personality."
WHYY is your source for fact-based, in-depth journalism and information. As a nonprofit organization, we rely on financial support from readers like you. Please give today.