SEPTA's doomsday prophecy eliminates 9 regional rail lines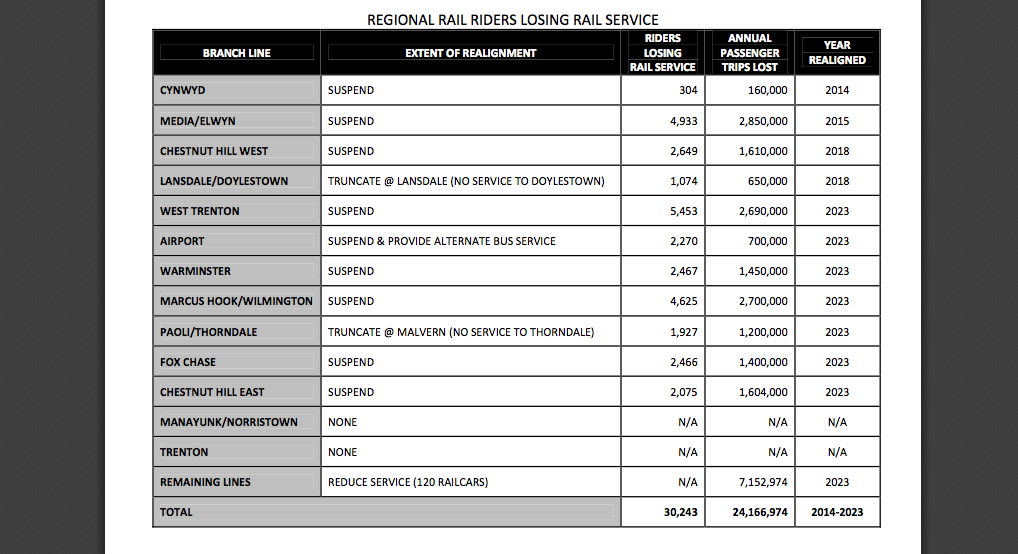 Unless SEPTA receives an additional $6.5 billion for capital projects over the next 10 years, the network will lose nine regional rail lines and face other significant cutbacks. A potential 89,000 daily riders will be directly impacted, and SEPTA will lose an estimated 40.7 million annual trips.
SEPTA shared this bleak outlook Thursday during testimony at a Pennsylvania Senate Transportation Committee hearing held at Temple University. SEPTA's need for funding is nothing new. What is new is just how much additional funding for capital projects is required to keep the system running and how much the network stands to lose if that funding is not found.
Without the $6.5 billion capital funding increase, SEPTA will have to end service on nine of 13 regional rail lines, truncate an additional two regional rail lines, truncate the Norristown High Speed Line, reduce service on the Media-Sharon Hill Lines, convert all trolley routes to bus routes, suspend the Broad-Ridge Spur line and end all Broad Street Line express service.
If SEPTA does not receive an additional $6.5 billion for critical capital projects over the next 10 years, the authority will be forced to make the following cut backs in order to keep the system safe and reliable.
On regional rail:
Suspend nine regional rail lines including:
Cynwyd in 2014

Media/Elwyn in 2015

ChestnutHill Westin 2018

Airport, Warminster, MarcusHook/Wilmington, West Trenton, ChestnutHill East, and FoxChase by 2023
Truncate two lines: Lansdale/Doylestown (at Lansdale) in 2018; and Paoli/Thorndale (at Malvern) by 2023.
On suburban transit:
Truncate the Norristown High Speed Line (at Bryn Mawr) in 2016
Reduced service on the Media‐Sharon Hill Lines in 2018, followed by conversion to bus by 2023
On city transit:
Convert two trolley routes to bus in 2014, and the remaining four trolley lines to bus in 2018
Suspend of the Broad Ridge Spur in 2018 and Broad Street Subway express service by 2023
SEPTA detailed these potential changes, their impacts and the funding required to avoid these cuts in a "Service Realignment Plan." (Find the full document attached below.)
The funding needs and potential system reductions are spread over a 10-year period, but in a letter to Pennsylvania's Secretary of Transportation Barry Schoch, SEPTA made it clear that, "Unless steps are taken in the near term to address state of good repair needs, SEPTA will begin to implement the Service Realignment Plan beginning in calendar year 2014."
Beginning in 2014, SEPTA is requesting an additional $454 million. That number will increase year-by-year until it reaches $1 billion in 2019, when it will begin to decrease year-by-year, back to $453 million in 2023.
Without the additional funding, the Cynwyd Line would be the first to shut down. That could happen in 2014, and at that time, two city trolley routes would be converted into bus routes. On city trolleys alone, 50,670 weekday riders stand to lose service.
Being old isn't cheap
"This can be kind of an abstract concept for people to wrap their head around," said Greg Krykewycz, manager of the Office of Transit, Bicycle and Pedestrian Planning at the Delaware Valley Regional Planning Commission (DVRPC).
Aging rail and vehicle infrastructure is largely to blame. Krykewycz explained that, because SEPTA inherited much of its infrastructure from former transit agencies, much of the infrastructure actually predates SEPTA. He said SEPTA has done a good job of keeping the system going with band-Aids, rubber bands and bubble gum.
But, "You can only paint over cracks for so long," he said. "… The bill is finally coming due for lots and lots of maintenance over time."
A full 70 percent of SEPTA's capital need is in fact associated with addressing aging rail infrastructure and vehicles. Of the $6.5 billion SEPTA is asking for, $4.5 billion is needed for rail-related infrastructure and the remaining $2 billion is needed for vehicle repair.
Among the rail-related infrastructure needs, two projects exemplify the system's age. The Crum Creek Viaduct, which was built in 1895, needs to be replaced, and the Jenkintown Substation, which has been in service since the early 1930s and which powers three regional rail lines, is so old and deteriorated that SEPTA must "cannibalize" other substations to keep Jenkintown running.
By 2016 more than two-thirds (284 of 404) of SEPTA's regional rail fleet will be beyond its useful life. According to the Service Realignment Plan, by 2023 SEPTA will have to retire 231 Silverliner IVs and 53 push-pull coaches, leaving SEPTA with 120 Silverliner V railcars. The Silverliner V fleet makes up less than one-fourth of SEPTA's current regional rail seating capacity, which is already at 95 percent utilization during peak periods.
Additional factors: Federal mandates and parking limitations
In addition to aging vehicles and infrastructure, two federal mandates are putting extra pressure on the already squeezed finances.
Starting in 2014 an unfunded federal mandate will increase SEPTA's capital and operating contribution requirements for rights to operate on Amtrak territory. SEPTA is also chiseling away at the unfunded federal mandate to implement Positive Train Control – a specific signal safety technology – on all of its regional rail lines by December 31, 2015. SEPTA is on track to fulfill the requirement, but the cost of the signal work is more than 20 percent of SEPTA's capital program for the next two years.
The doomsday prophecy does spares four regional rail lines: Manayunk/Norristown, Trenton, Paoli/Malvern and Lansdale. These were identified because they provide the maximum geographic coverage and serve the greatest number of passengers.
Driving to and parking at some of the remaining stations may not be a viable option for passengers on lines expected to close since SEPTA's parking facilities are already approach 90 percent capacity. Driving anywhere could be a less appealing option given the fact that SEPTA expects these changes could add a significant number of vehicles to Interstates 76, 276, 476, 95 and US Routes 202/422/30 and 309.
Just how likely is this almost unimaginable outcome, where SEPTA is reduced to city transit and a skeletal regional rail "network"?
DVRPC's Executive Director Barry Seymour likened SEPTA's current doomsday prophecy to warnings PennDOT made this past spring. At that time, PennDOT warned that if additional transportation funding was not made available, the department would lower weight limits on as many as 1,000 bridges. State legislators did not decide on a transportation-funding package before leaving Harrisburg for the summer, and PennDOT has indeed announced new, lowered weight limits on approximately 1,000 bridges.
"What had been talked about as potentially this could happen sometime in the future is becoming more and more real," Seymour said.
WHYY is your source for fact-based, in-depth journalism and information. As a nonprofit organization, we rely on financial support from readers like you. Please give today.