SEPTA restoring service from storm, some lines won't be back this weekend
SEPTA is restoring service to some regional rail lines starting today, but at least a few might not have trains rolling until Monday.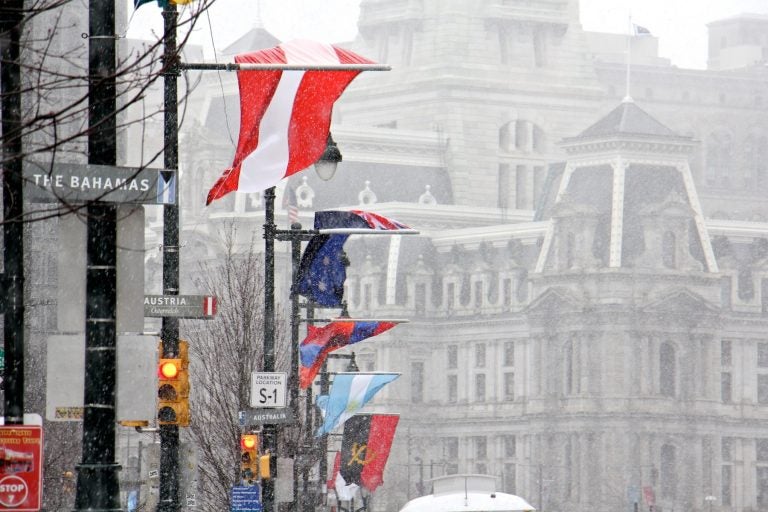 Updated: 4:10 p.m.
A fierce nor'easter along the Atlantic coast that flooded streets, snapped trees, and knocked out power to more than 1.8 million homes and businesses has left transportation services scrambling.
Philadelphia International Airport has lots of canceled or delayed flights.
Amtrak suspended service along the Northeast Corridor, from Washington to New York, until at least Saturday. Amtrak Keystone Service (New York/Philadelphia/Harrisburg) is operating on a modified service plan.
And in New Jersey, a tree hit overhead wires, forcing the suspension of some New Jersey Transit commuter service.
SEPTA is restoring service to some regional rail lines starting today, but at least a few might not have trains rolling until Monday.
SEPTA General Manager Jeff Knueppel said service is running, though there could be delays on the Warminster, Manayunk/Norristown and Fox Chase lines. They are hoping to resume full service today on the Wilmington/Newark, Media/Elwyn, Paoli/Thorndale, Lansdale/Doylestown lines.
The Trenton line, which depends on Amtrak restoring service could be back late Saturday or Sunday, Knueppel said.
He said restoring full service on the Airport and Chestnut Hill East lines is possible for Sunday.
The West Trenton and Chestnut Hill West Lines could be back for the Monday commute.
Knueppel said the combination of downed trees and compromised power lines took many of the lines out of service.
Trees also landed directly onto two buses but caused no serious injuries.
At times on Friday, he said wet snow weighed down the part of the train that connects to overhead power lines, either slowing down trains or preventing them from moving at all.
On Friday, regional rail service slowed to a virtual standstill he said and the lines that were running were experiencing delays of more than an hour.
Knueppel apologized to customers that so many of them were stranded Friday, noting that the storm was more intense than expected.
The routes 101 and 102 trolleys are not running, though shuttle service is being offered instead.
For people trying to get to the Philadelphia Flower Show, Knueppel said their best bet for SEPTA is getting to the Market Frankford or Broad Street subway lines.
PECO reported 292,000 customers remained without power in the five-county Philadelphia area as of Saturday at 9 a.m.  In New Jersey, PSE&G listed 18,000 without electricity and Atlantic City Electric is working to restore service to 12,000 customers. Delmarva power lists 20,000.
Gov. Tom Wolf said Saturday that about 445,000 utility customers remained without power Saturday, down from nearly 600,000 affected at the height of the storm, and vowed support for utility crews working to restore power.
In a message sent to Upper Darby residents, Mayor Tom Micozzie requested people "be extremely careful" when using generators, stoves, and candles, which pose a risk of carbon monoxide. While  roads are 95 percent clear there were over 40 trees down throughout the Township complicating power restoration, he said.
The Township has authorized warming and charging stations opening at noon Saturday:
Watkins Senior Center
Garrettford Fire House
Highland Park Fire House
Primos Secane Fire House
Pilgrim Gardens Senior Center.
In Delaware County as of 12 p.m., 82,000 homes and businesses were without power.
According to an email alert, Delaware County Council Chairman John McBlain has issued a declaration of disaster emergency for the entire county. Officials there are working to arrange warming centers as well.
In Montgomery County, officers found a 45-foot portion of a tree fell on a car at about 7 p.m. Friday in Upper Merion Township.
Police said the tree fell on front windshield, dashboard and front seat, killing a 57-year-old man. His name wasn't released pending notification of relatives.
Governor Tom Wolf activated the Pennsylvania National Guard to help deal with the storm and said about 65 National Guard soldiers had been performing wellness checks and using large heavy-duty vehicles capable of moving large vehicles such as tractor trailers from roadways, including Interstate 380. State police troopers walked along queues of cars stuck in traffic to check on stranded travelers, making sure people had food and water and to assess other needs.
The National Weather Service said almost two feet of snow was reported in parts of the Pocono mountains, with 23.6 inches recorded on Coolbaugh Township and 20 inches reported in Tobyhanna. The American Red Cross of Eastern Pennsylvania reported that highways in the region remained "clogged with travelers left stranded by the storm." Officials said they opened several shelters Friday night and expected to open or support several more, and many other communities opened warming centers and charging stations.
Associated Press contributed to this report.
WHYY is your source for fact-based, in-depth journalism and information. As a nonprofit organization, we rely on financial support from readers like you. Please give today.