SEPTA launches pilot plan to reduce deadly falls and jumps onto tracks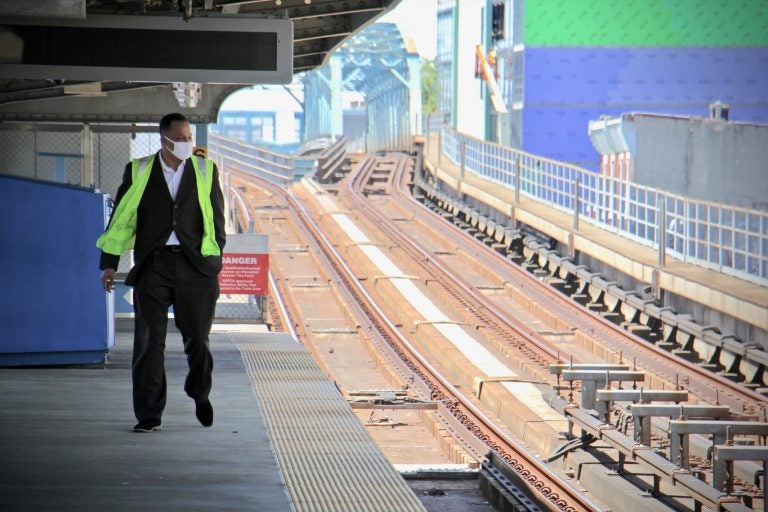 SEPTA Police Chief Thomas Nestel stopped at the corner of 15th and Market streets last week on the west side of City Hall.
He was on the scene after a man jumped in front of a Market-Frankford Line train at 15th Street Station and died — the third reported suicide on the subway system this year.
"Sadly, it's more common than not," said the chief.
The tragedy is one of several moving SEPTA officials to try out guardrails to decrease the number of falls and jumps onto its tracks.
Kate O'Connor, SEPTA's chief engineer of bridges and buildings, said the authority plans to install galvanized steel barriers along the length of the platforms at Somerset Station. The authority recently revamped the station with a deep clean, elevator repairs, and the addition of SEPTA police and social workers on-site. The pilot program would be an extension of this work.
The barriers will probably be around six feet tall or at least high enough to prevent people from easily climbing over the top, and will be spaced out so people can enter and exit the train. They'd be placed near the edge, just before the yellow caution pad.
"We're just doing it at Somerset for right now. That's our pilot location," said O'Connor. "And then if it works out there and we see a significant drop in the falls in track from having that in place, then we'll start looking at other locations."
SEPTA did not provide the cost of the project in time for publication.
SEPTA reported 79 falls this year as of May 23. All but nine falls occurred on the Market-Frankford Line with four occurring at Somerset.
The authority also reported 11 deaths this year, including six suicides, which are not counted among falls, as of May 25. The subway and elevated lines account for six deaths, with four happening on the Market-Frankford Line.
These numbers seem to continue an upward trend of falls in recent years. Between 2016 and 2020, 522 people fell on SEPTA tracks. Of that number 411 occurred on the Market-Frankford Line.
The authority saw 183 falls in 2020, nearly double the number in 2019, and a five-year peak. In 2016, the number of falls was 72.
However, injuries and fatalities from falls dropped to a five-year low in 2020. Last year there were 155 injuries between Regional Rail, subway, and trolley stations, with 18 fatalities.
There were 20 fatalities in both 2018 and 2019. Overall injury counts haven't been below 200 since 2017.
The boost, according to SEPTA officials, may be due to people using SEPTA stations as de facto shelters or individuals experiencing addiction. Some of those people may fall onto the tracks because they're under the influence of drugs.
The authority is currently looking to address addiction and homelessness with initiatives that pair law enforcement with social workers to respond to incidents.
While track falls may be a result of a mental health crisis or addiction on the system, with their Watch Their Step campaign, SEPTA officials point out that some falls occur for more mundane reasons, such as when riders lean over the edge of the platform to see the next train or are distracted by their phone.
The authority also plans to include a more intricate barrier as part of its City Hall renovation project.