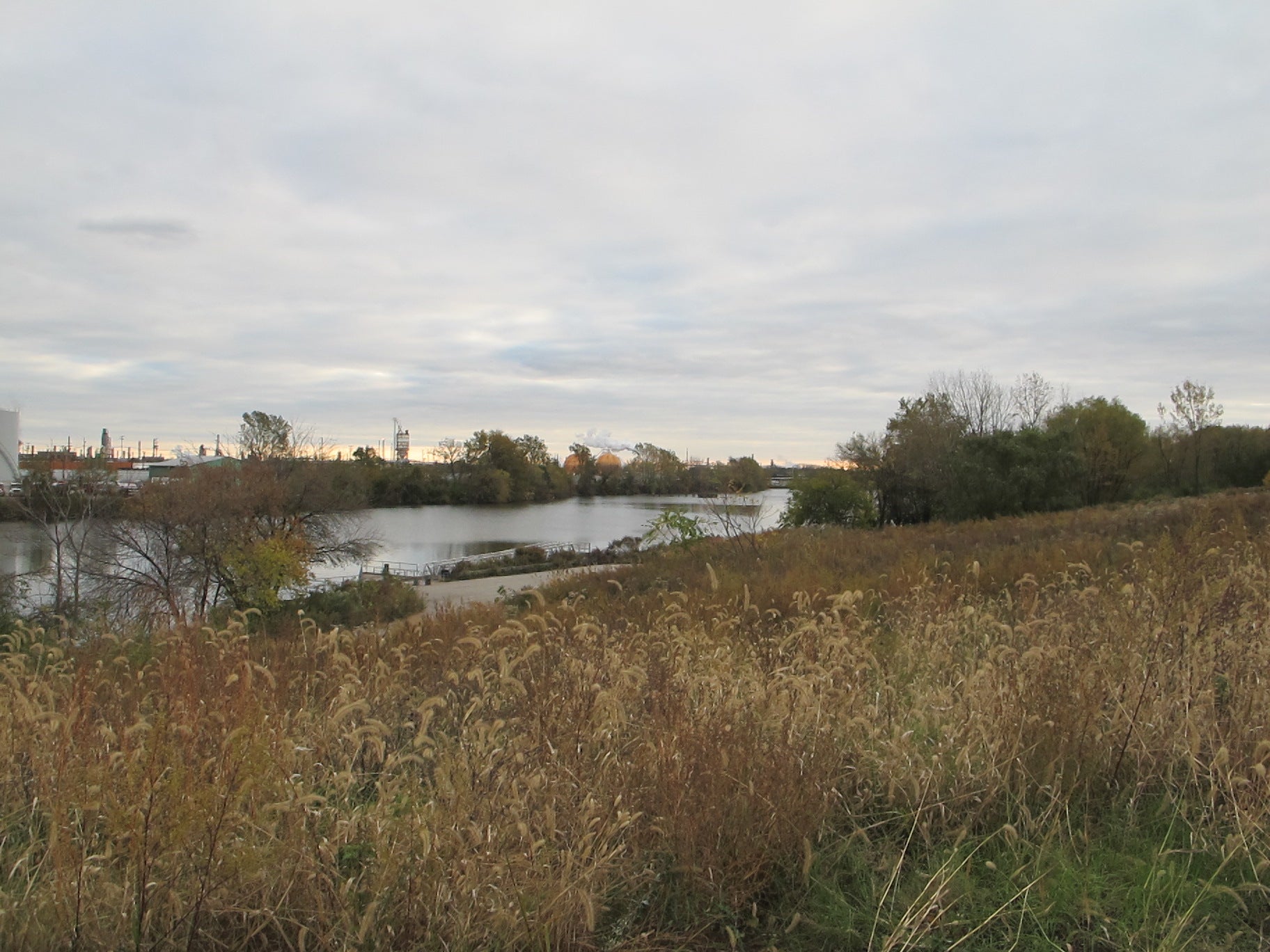 This past weekend I joined a walking tour of the industrial lands surrounding Bartram's Garden to check out the route of the forthcoming "Bartram's Mile" trail segment and get a closer look at some typically inaccessible properties.
Bartram's Mile represents a long-awaited trail segment that would help extend Schuylkill Banks southward, and in the near-term create a connection from the Gray's Ferry Crescent, past Bartram's Garden, and out to the 58th Street Greenway. Philadelphia Parks and Recreation is planning Bartram's Mile – in partnership with the John Bartram Association, Schuylkill River Development Corporation, Philadelphia Industrial Development Corporation (PIDC), PennPraxis* – even as PIDC, the Commerce Department, and Planning Commission work to complete a Master Plan for the Lower Schuylkill.
PlanPhilly's Christine Fisher headed out on Saturday's afternoon's bike tour of Bartram's Mile, and explains the route of the future trail, some bike-specific considerations, trail connections, and what the landscape looks like today.
Last weekend's bike and walking tours are part of a larger effort to involve the public in planning Bartram's Mile. And this week two input sessions aim to get more input to inform Bartram's Mile planning: PlanPhilly's JoAnn Greco attended a dinner conversation about Bartram's Mile on Monday evening, and a community design workshop is planned for Saturday, November 10.
To write about a trail and explore it are two different things, so here's a look at what we saw on our tours:
Bartram's Garden:
Bartram's Garden, the historic estate of early American botanist John Bartram, is set like an emerald in the Lower Schuylkill's rough industrial landscape. And because it's such a treasure the Bartram's Mile trail will be "informed and influenced by Bartram's Garden," Mark Focht, Deputy Commissioner of Philadelphia Parks and Rec, told the crowd on Sunday.

These days Bartram's Garden's is growing: The one-year old Community Farm and Food Resource Center, orchard, greenhouse, and community planting beds are all taking root, and planning for a garden restoration project in the works. But this historic and well-tended green space are rare along this stretch of the Schuylkill. At Bartram's Garden a new trail segment was completed this summer, and on the riverfront there's a nice boat dock that affords great views of the city skyline, and a restored wetlands near the farm.
Bartram's South [Gypsum/Transmontaigne]:
If the tranquility of Bartram's Garden makes it feel like a world apart from the city, the industrial parcels surrounding it feel like the land that time forgot.

If you head south, past the farm, and cross through a chain link fence onto 56th Street the contrast is stark. Across 56th Street from Bartram's Garden is "Bartram's South," the former Gypsum/Transmontaigne site, owned by PIDC. At various times this property has been used for manufacturing and as an oil transloading facility. As PIDC's Tom Dalfo said on Sunday, Bartram's South is "not the cleanest place around." The site undergoing remediation to remove petroleum-contaminated soils. Saturday's bike tour got to go inside the locked 56th Street gates to the water's edge.
Streets Department Facility:
Heading north along the new Bartram's Garden trail, we walked/biked underneath an old, but still very active, CSX rail bridge and emerged onto Botanic Avenue. On the waterfront side of Botanic Avenue is an interesting pile of buildings used by the Streets Department, some of which built more than 100 years ago. There is an especially tall corrugated metal structure – visible from several points along the trail northward and from the Grays Ferry Crescent – oriented toward the river, and set of smaller brick warehouse buildings that frame a yard filled with Streets odds and ends (including four kinds of city street trash bins, big blue recycling bins, dead air conditioning units). From the yard we followed a ramp up along the river side onto the remains of a high dock. This industrial-scenic outlook was my favorite discovery of the day. It's entirely possible that Streets will vacate this property soon, so it could be really interesting to see if this city-owned land could be redeveloped as some sort of trail hub – particularly if these buildings could be reused.
Bartram's North [National Heat and Power]:
North from the Streets Department Facility, at 49th Street and Botanic Avenue, is another former oil-industry site that has, as PIDC's Tom Dalfo described Sunday, become "very naturalized." As we traveled up a weedily wooded path (bushwhacked for the occasion), leaves and twigs crunched underfoot. The path is framed by overgrown crater-like forms (remaining of the site's storage tanks) sprouting with vegetation and mounds of illegally dumped debris. Here the river becomes harder to see as the terrain slopes up from the water. From this site, possibly using an old railroad swing bridge, Bartram's Mile will connect to Gray's Ferry Crescent by crossing the river, thus completing another crucial piece of Schuylkill Banks.
——–
Share your thoughts about the Bartram's Mile trail at a design workshop on Saturday (11/10) afternoon, by taking this survey, or via email.
*PlanPhilly is an independent news gathering entity affiliated with PennPraxis.
WHYY is your source for fact-based, in-depth journalism and information. As a nonprofit organization, we rely on financial support from readers like you. Please give today.