Search for border agents brings recruiter to Temple job fair
Listen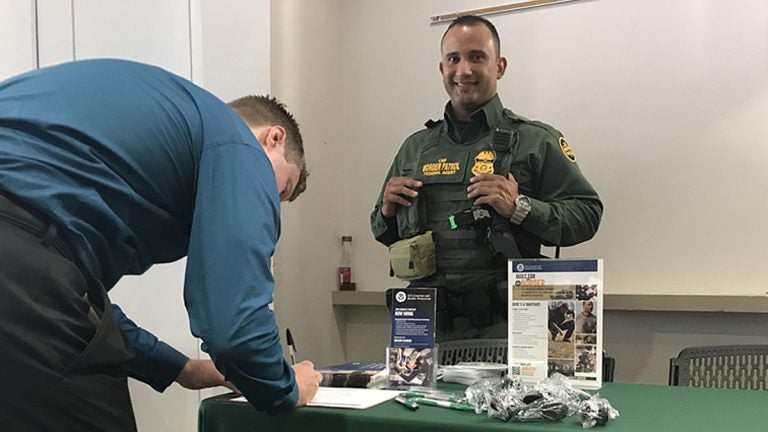 Border Patrol agent Lanllony Molina stood next to a folding table, covered in tote bags and pens emblazoned with the U.S. Customs and Border Protection seal.
Molina attended the Temple University job fair Thursday to recruit some of the 5,000 new employees President Donald Trump directed the agency to hire in one of his earliest executive orders.
Two 20-somethings with backpacks approached, and Molina began answering their questions — in Spanish. These Colombian exchange students don't qualify to work in federal law enforcement, but they took some pamphlets and put their names down anyway.
"They were asking me just how to apply, what are the requirements, things like that," said Molina afterwards, before directing all other questions to Customs and Border Protection's public affairs office.
In order to fulfill campaign promises to deport more undocumented immigrants from near the U.S. border — and within the rest of the country — Trump called for a massive hiring effort earlier this year.
Almost immediately, groups within and outside of the government pointed out challenges to meeting the 5,000 goal.
A report this summer from the Department of Homeland Security's inspector general — a kind of internal watchdog — found that the agency's hiring process can take a long time, and that the numbers of border patrol agents have been going down since 2011. It also found Customs and Border Protection did not have a system in place for allocating human resources at the border; some agents face impossible workloads, while other outposts are relatively sleepy.
The agency did not respond to a request for official comment for this story, so it's not clear how the new push is going.
At this event, job seekers who approached Molina mostly fell into two categories — the young and unfocused, or military veterans looking for jobs away from the action.
"I'm a little long in the tooth to be doing border patrol and things of that nature," said veteran Curtis Keyes. He served in the military during the 1990s and now works in human resources.
Willie Porter, a veteran of the Iraq War, said he has friends from the service who work on the border. He picks up some materials, but he said that kind of law enforcement job sounds too much like Iraq.
"You gotta be on your toes," he said. "And the drug war seems like it's a never-ending thing."
Not everyone was looking for a desk job. Temple student Raashid Harrison said he plans to fill out an application — but the agency has some competition.
"I have a couple of different applications here," he said, waving around a manila envelope of handouts, noting one from the security firm Allied Universal. Or, he said, maybe he'll go into finance, and leave law enforcement to someone else.