Sculpture of Harriet Tubman coming to City Hall
Wesley Wofford's "Journey to Freedom" will be temporarily installed outside City Hall during the city's 10-week celebration of Tubman's bicentennial.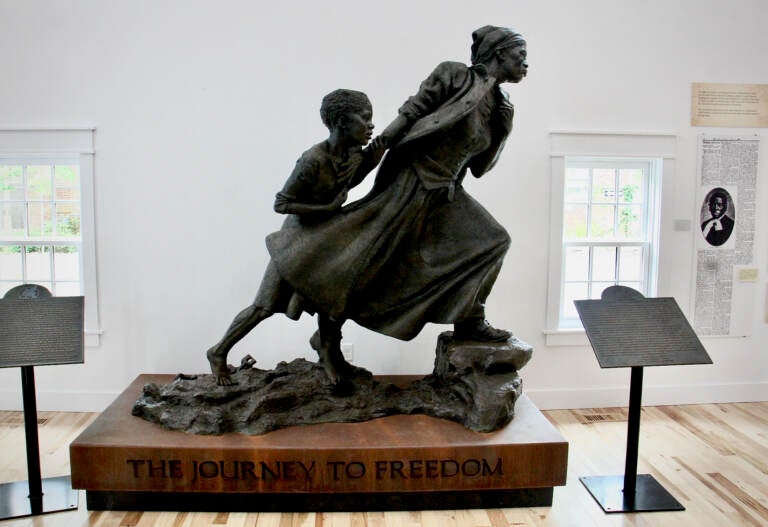 On Tuesday, a 9-foot sculpture of Harriet Tubman will be unveiled outside Philadelphia's City Hall, on its apron near North Broad Street.
Seen running while guiding a small boy, presumably out of enslavement, the appearance of "Harriet Tubman — the Journey to Freedom" marks the start of a 10-week series of events throughout the city marking Tubman's bicentennial.
"March of 2022 will be Harriet Tubman's 200th birthday. We don't know the exact date that she was born, only the month of March," said Kelly Lee, Philadelphia's Chief Cultural Officer. "So we're going to have a birthday party. It's going to be a way to celebrate this role model who means so much to so many people and represents so many things."
"Journey to Freedom," by Wesley Wofford of North Carolina, will not be a permanent part of the Philadelphia streetscape. The traveling sculpture has been moving around the country since 2020. Last summer, for example, it was in Cape May for the grand opening of the new Harriet Tubman Museum. It will remain outside Philadelphia's City Hall until March 31.
During its stay in Philadelphia, the sculpture will be used to mark both Black History Month (February) and Women's History Month (March).
Lee said the city's Office of Arts, Culture, and the Creative Economy partnered with many local organizations to plan dozens of events through March, including the Philadelphia Orchestra, The Philadelphia Clef Club of Jazz and Performing Arts, Harriett's Bookshop in Fishtown, the Colored Girls Museum in Germantown, and the African American Museum Philadelphia in Center City.
The full list of events is still being finalized and will be posted online on Tuesday when the sculpture is unveiled. Lee said that list will be updated frequently as the celebration unfolds, and is sure to include concerts, performances, lectures, exhibitions, and movie screenings both in-person and online. City Hall will feature an exhibition of quilts inspired by Tubman.
Tubman was born into slavery in the early 1820s. At 27, she escaped from Maryland to Philadelphia, returning at least 13 times to help about 70 people escape slavery via the Underground Railroad, often through Philadelphia. She was a well-known figure in the city in her time, known to have spoken from the pulpit of Mother Bethel A.M.E. Church.
Later in life, Tubman was an active advocate for women's suffrage. She died in 1913.
"We are just so happy and so excited to have a piece of public art that represents hope, strength and courage — especially to have it today during these tumultuous times," said Lee. "It's just really wonderful to have such an inspiring piece of public art on public property on the apron of City Hall."
"Journey to Freedom" will not be the only sculpture in the region marking Tubman's birth: there's already a permanent statue of her in Bucks County at Bristol's Waterfront Park.
WHYY is your source for fact-based, in-depth journalism and information. As a nonprofit organization, we rely on financial support from readers like you. Please give today.